Survey: Budgeting Is the Most Important Money Skill That Isn't Taught In Schools
An Annuity.org survey found that 53% of Americans consider budgeting to be the most important money skill that should be taught in schools but currently isn't. Other essential personal finance topics emphasized in the survey included managing debt and investing.

Written By

Jennifer Schell

Jennifer Schell

Financial Writer

Jennifer Schell is a professional writer focused on demystifying annuities and other financial topics including banking, financial advising and insurance. She is proud to be a member of the National Association for Fixed Annuities (NAFA) as well as the National Association of Insurance and Financial Advisors (NAIFA).

Read More

Edited By

Savannah Hanson

Savannah Hanson

Senior Financial Editor

Savannah Hanson is an accomplished writer, editor and content marketer. She joined Annuity.org as a financial editor in 2021 and uses her passion for educating readers on complex topics to guide visitors toward the path of financial literacy.

Read More

Financially Reviewed By

Timothy Li, MBA

Timothy Li, MBA

Business Finance Manager

Timothy Li, MBA, has dedicated his career to increasing profitability for his clients, including Fortune 500 companies. Timothy currently serves as a business finance manager where he researches ways to increase profitability within the supply chain, logistics and sales departments.

Read More

Updated: January 30, 2023
7 min read time
This page features 13 Cited Research Articles
Key Survey Findings
Annuity.org conducted an online survey asking participants, "What is the most important money skill that should be taught in school but currently isn't?" Three hundred responses were recorded, with the most popular response being learning how to budget. Respondents also highlighted other aspects of financial literacy, such as building credit and managing debt.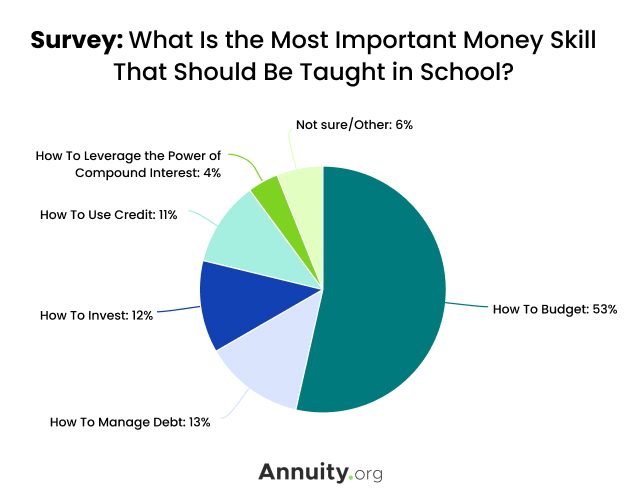 Source: Annuity.org Survey
A majority — 53% — of respondents chose budgeting as the most important money skill not currently taught in schools, making it by far the most popular answer of the survey. The second, third and fourth most popular choices showed that respondents valued skills surrounding managing debt, investing and using credit. The least important money skill — according to the survey — was leveraging compound interest, which only 4% of respondents ranked as the most important.
How To Budget
Creating a budget is a vital personal finance skill that involves keeping track of one's income and expenses. The process of budgeting requires you to analyze and even change your spending habits to be able to live within your means while setting aside money to pay down debt or save for emergencies or big-ticket purchases.
Budgeting is an important tool because having a defined budget is often regarded as the first step toward achieving financial wellness. Making a budget gives you control of your money and can help you prioritize what's worth spending your hard-earned money on.
How To Manage Debt
The survey found managing debt the next most popular answer, with 13% of respondents naming it the most important money skill not taught in schools. It's not surprising that many people consider taking care of debt a priority — the latest data available from the U.S. Census Bureau reports that the average American household with debt owes a staggering $131,800.
Getting out of debt can be extremely difficult, especially for those who are already struggling to make ends meet. But the longer you wait to tackle debt, the harder it gets. Debt management requires careful calculation of your personal finances and making hard choices about how to spend money while you work toward paying off what you owe.
How To Invest
Twelve percent of respondents chose investing as the most important money skill not taught in schools. In the 21st century, as pension offerings have declined in the private sector, most Americans must turn to investments in retirement accounts like IRAs and 401(k)s to prepare for retirement.
Investing simply refers to putting money into an asset with the expectation that its value will grow over time. Investing is a long-term financial strategy that can help you grow wealth faster than other options like savings accounts and certificates of deposit (CDs), but carries more risk in return.
How To Use Credit
Next, 11% of survey respondents chose using credit as the most important money skill not taught in schools. Building and maintaining a healthy credit score is key to unlocking important financial opportunities like getting approved for a mortgage or qualifying for lower rates on insurance.
Many young Americans who don't learn about the importance of good credit are destined to make costly mistakes. Poor decisions that result in a lower credit score can have long-lasting consequences on your personal finances, so it's important to teach these skills early.
How To Leverage Compound Interest
Finally, only 4% of survey participants responded that the most important money skill not taught in school was leveraging the power of compound interest. Compound interest refers to the interest earned on interest. The longer you invest your money, the faster it will grow because the rate of return is applied to both the initial investment and to the interest it has earned so far, generating even more interest.
The earlier you start saving and investing money, the better you can leverage compound interest to work for you. Here are three easy ways to earn compound interest on your savings:
Compound Interest Strategies
Put your emergency fund into a high-yield savings account to take advantage of higher interest rates while maintaining liquidity.
Tuck away savings for long-term goals in a CD, and look for one that compounds daily for the best growth.
If you contribute annually to a retirement account like an IRA, consider switching to monthly contributions. This way, you can compound the interest earned throughout the year.
Why Isn't Financial Literacy Taught in Schools?
Proponents of teaching financial literacy in schools argue that it can have a profound impact on young Americans, empowering them to make better choices for their personal finances. So why isn't financial literacy education widely included in school curriculums?
America's public education system has faced a number of challenges in recent years, including a dramatic decline in funding over the last decade. Compounding that problem is the fact that many schools are overcrowded. The National School Board Association reported that in 2019, 60% of fourth-grade students and 66% of eighth-grade students in the U.S. attended schools with overcrowded classrooms.
Further adding to the stress on America's public education system is the fact that many states are experiencing a teacher shortage. Tennessee's education commissioner Penny Schwinn reported in April 2022 that her state was short 1,200 teachers. "We've got about 10,000 students who don't have a credentialed math teacher in front of them every year," Schwinn said in an interview with public radio station WBUR.
The COVID-19 pandemic has only exacerbated these issues, as more than a year of virtual learning and social isolation has left a lot of students behind in their educational development. To help students catch up, many schools are dropping subjects considered non-essential, such as arts and personal finance classes, to focus on the material that's tested by standardized assessments.
Efforts To Incorporate Financial Literacy Into Education
Financial Literacy Courses and Resources
There exists a wealth of online resources to learn essential skills and concepts related to personal finance for those without access to financial literacy education in school. Organizations like Money Management International offer debt relief, counseling and financial education services at little to no cost.
Many websites feature personal finance courses you can access online for free. Visit sites like Udemy, Coursera and Khan Academy to find free videos and course modules on topics like financial planning, taxes, investing, retirement planning and more.
Parents can use software, apps, lessons and activities available online to teach their kids about money, empowering them to make good financial decisions later in life. Websites like The Mint and Finance in the Classroom provide free resources aimed at students of all grade levels.
Advertisement
Connect With a Financial Advisor Instantly
Our free tool can help you find an advisor who serves your needs. Get matched with a financial advisor who fits your unique criteria. Once you've been matched, consult for free with no obligation.
Please seek the advice of a qualified professional before making financial decisions.
Last Modified: January 30, 2023
Share This Page:
13 Cited Research Articles
Annuity.org writers adhere to strict sourcing guidelines and use only credible sources of information, including authoritative financial publications, academic organizations, peer-reviewed journals, highly regarded nonprofit organizations, government reports, court records and interviews with qualified experts. You can read more about our commitment to accuracy, fairness and transparency in our editorial guidelines.
Your web browser is no longer supported by Microsoft. Update your browser for more security, speed and compatibility.
If you are interested in learning more about buying or selling annuities, call us at 855-995-1277