How To Write a Check
With the increase in online banking, writing checks is a less common skill than it used to be. Checks are oftentimes still required for large payments, like rent or payroll, so understanding how to write a check can be a valuable financial skill to have. There are six simple steps to help you write a check properly.

Written By

Lindsey Crossmier

Lindsey Crossmier

Financial Writer

Lindsey Crossmier is an accomplished writer with experience working for The Florida Review and Bookstar PR. As a financial writer, she covers annuities, structured settlements and other personal finance topics for Annuity.org.

Read More

Edited By

Lamia Chowdhury

Lamia Chowdhury

Financial Editor

Lamia Chowdhury is a financial editor at Annuity.org. Lamia carries an extensive skillset in the content marketing field, and her work as a copywriter spans industries as diverse as finance, health care, travel and restaurants.

Read More

Financially Reviewed By

Timothy Li, MBA

Timothy Li, MBA

Business Finance Manager

Timothy Li, MBA, has dedicated his career to increasing profitability for his clients, including Fortune 500 companies. Timothy currently serves as a business finance manager where he researches ways to increase profitability within the supply chain, logistics and sales departments.

Read More

Updated: October 11, 2022
6 min read time
This page features 6 Cited Research Articles
6 Steps to Writing a Check
Understanding how to write a check is a valuable skill to have for managing both business and personal finances. If you don't have any checks on hand, you can order them for free from your bank.
Keep in mind that if your check is filled out incorrectly, then it is not valid, and there could be legal repercussions or a fine.
The only section on a check that must be written in cursive is your signature, the rest can be written in either print or cursive, as long as everything is legible.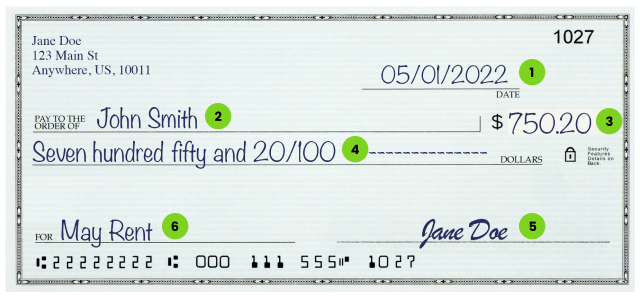 1. Date the Check
Write today's date in the top right corner of your check. It should be written out in numerical form with the month, date and year.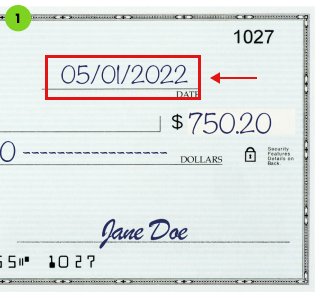 Be sure to write legibly to avoid any issues.
2. Address the Check to the Recipient

On the top left corner of a check, next to the line that says "pay to the order of," write the name of the person or business who will receive the check.
For example, if you were paying your rent with a check and you live in an apartment, you will write the name of the apartment complex on this line.
If you have an independent landlord, who isn't affiliated with a business, you will write your landlord's first and last name.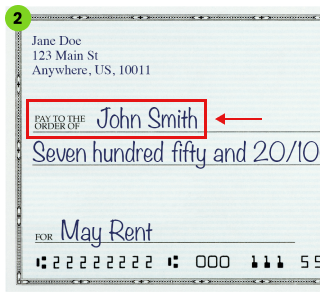 If you're not certain whether to put a business name or an individual's name, contact who you're writing the check to before filling out this section.
3. Payment Amount in Numbers

On the right-hand side, below the date section, write the amount of the check in numerical form. Include the dollar value and cents.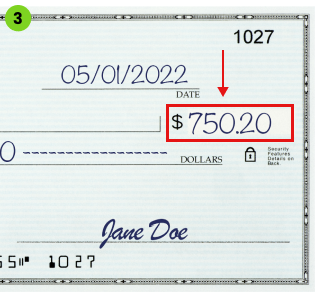 This is the first section that indicates the amount you are paying — step four is the second.
Both sections are required to be filled out for the check to be accepted.
4. Payment Amount in Words

On the line in the middle of the check, below the recipient's name, you must write out the amount of the check in words.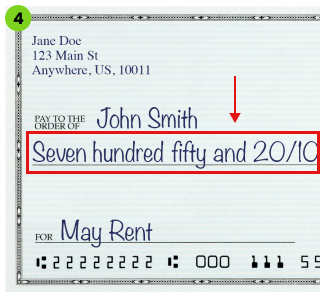 Keep in mind that cents are written out of 100 in this section.
For example, if your check amount is $1,542.45, you would write "one thousand five hundred forty-two and 45/100."
5. Sign the Check

Write your legal name in cursive on the bottom line, to the right of the memo section.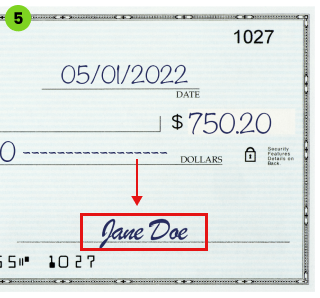 Do not deviate from your usual signature. You should try to match the signature you used when you first opened your account, so no fraud is suspected.
6. Write a Memo

This is the only step that is optional to fill out. If you leave the memo section blank on a check, it will still be accepted and considered complete.
Most who fill out the memo section do so for records purposes. Some businesses that accept checks may ask you to include a note in the memo section such as an account number or what the check is for.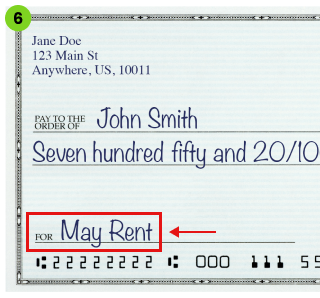 You can leave this section blank with no legal repercussions.
How To Record Written Checks in a Check Register
A check register is a ledger used to record and document checking account transactions manually. The main benefit of using a check register is to have an accurate balance of your account.
Since most checks take a few days to clear, you could believe you have more money in your account than you actually do, which could lead to overdrafting by accident. Most banks have overdraft fees, and multiple bad checks could hurt your credit score.
Record your checks in a register to help ensure you do not overdraft from your account. An example of a register entry is pictured below.

You should always have your balance written in your check register. At minimum, you should include the check number, payee name, deposit amount and date during this process.
Security Tips for Writing Checks
According to the Independent Community Bankers of America, checks continue to be the most common way financial crimes are committed in 2022.
Luckily, there are some precautions you can take to avoid fraud.
Security Tips
Pick up your checks in person

Many of the checks stolen and put up for sale were taken out of mailboxes. Getting your checks in person removes that risk.

Use permanent ink

Using a pencil makes your check information easy to erase and change. Using permanent ink ensures the amount will remain the same.

Don't sign until the amount and payee sections are filled out

Some try to save time by signing all their blank checks once they receive them. While this will make filling out a check faster, it also places a high risk. If a signed check falls into the wrong hands, it could be harder to convince a bank you've been scammed if your signatures match.

Don't leave space in the amount section

Write your numerical amount in large print to help fill the space. Some prefer to even draw a line through leftover blank space to avoid any room for alterations to the original amount written.
According to NBC Washington, mail thefts for checks have increased more than 150% since the start of 2022. Be extra wary of checks being stolen in the mail.
Use the simple security tips above to help prevent common scams with checks.
Frequently Asked Questions About Writing Checks
Advertisement
Connect With a Financial Advisor Instantly
Our free tool can help you find an advisor who serves your needs. Get matched with a financial advisor who fits your unique criteria. Once you've been matched, consult for free with no obligation.
Please seek the advice of a qualified professional before making financial decisions.
Last Modified: October 11, 2022
Share This Page:
6 Cited Research Articles
Annuity.org writers adhere to strict sourcing guidelines and use only credible sources of information, including authoritative financial publications, academic organizations, peer-reviewed journals, highly regarded nonprofit organizations, government reports, court records and interviews with qualified experts. You can read more about our commitment to accuracy, fairness and transparency in our editorial guidelines.
Your web browser is no longer supported by Microsoft. Update your browser for more security, speed and compatibility.
If you are interested in learning more about buying or selling annuities, call us at 855-995-1277