How To Switch Banks
To move your money from one bank to another, you'll first choose a new bank and open an account. Once you've transferred all your recurring deposits and withdrawals to the new account, you can move your money over and officially close the account with the old bank.

Written By

Jennifer Schell

Jennifer Schell

Financial Writer

Jennifer Schell joined Annuity.org in 2022. She is a professional writer with more than three years of experience creating content for a variety of industries ranging from travel to tax accounting. She combines her strong writing skills and her passion for educating others to write engaging and informative financial content for Annuity.org.

Read More

Edited By

Savannah Hanson

Savannah Hanson

Senior Financial Editor

Savannah Hanson is an accomplished writer, editor and content marketer. She joined Annuity.org as a financial editor in 2021 and uses her passion for educating readers on complex topics to guide visitors toward the path of financial literacy.

Read More

Financially Reviewed By

Timothy Li, MBA

Timothy Li, MBA

Business Finance Manager

Timothy Li, MBA, has dedicated his career to increasing profitability for his clients, including Fortune 500 companies. Timothy currently serves as a business finance manager where he researches ways to increase profitability within the supply chain, logistics and sales departments.

Read More

Updated: November 21, 2022
6 min read time
This page features 8 Cited Research Articles
Step One: Choose a New Bank and Open Your Account
The first step towards leaving your current bank is choosing the institution where you'll move your accounts. When choosing a new bank or credit union, ‌consider what's most important to you in a financial institution. Here are some questions to ask about the institutions you're researching:
Questions To Ask About Your New Bank
Does the bank have physical locations near you?
Does it offer competitive interest rates?
Does it offer special products like high-yield savings accounts?
Does the bank have an app for mobile banking?
What account fees does the bank charge?
You should also ensure that federal insurance backs the financial institution you've chosen. The Federal Deposit Insurance Corporation (FDIC) insures banks and the National Credit Union Administration (NCUA) insures credit unions.
Once you choose the bank or credit union you'd like to switch to, you'll need to open an account. Find out what the minimum initial deposit is and how you need to fund it — by cash, check, debit or credit card, or through a wire transfer from your other account.
When making the minimum deposit to open the account, you should also set up the account's other features. This could include signing up for an overdraft protection plan, downloading the mobile banking app or ordering checks and a debit card for the new account.
Step Two: Update Automatic Deposits and Withdrawals
Now that you've set up your new account, it's time to move over any automatic payments or deposits you have set up in the old bank account.
If you receive direct deposits from your job, first fill out the required forms to tell your employer to send your paychecks to the new account. Then take time to look through your old account's statements and make a list of all the automatic payments you have. These might be utility bills, credit card bills or subscription services.
Go down the list and transfer each of these automatic payments over to your new account. (You should do this after you've received the first direct deposit in your new account to make sure you have enough funds to cover the automatic withdrawals.)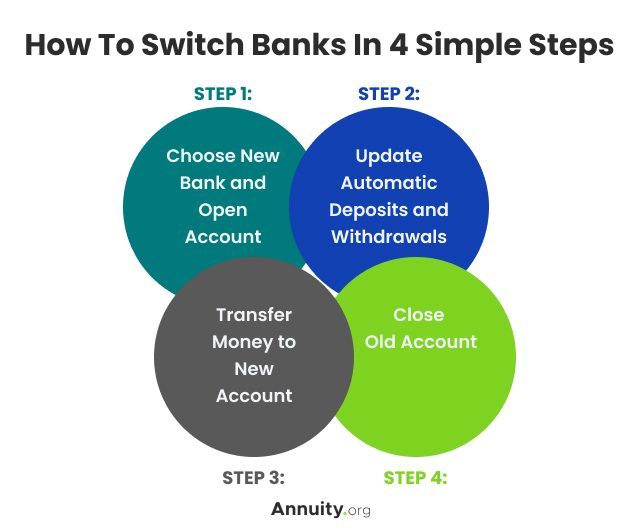 Step Three: Transfer Money to Your New Account
If you've moved over all the automatic deposits and withdrawals, you can now start transferring your money from your old account to your new account. You should move over most of the money in your checking account — but not all of it yet.
Leaving some money in your account is a safeguard against any automatic withdrawals you may have forgotten about. Make sure it's enough to avoid falling below any minimum balance your bank requires for checking accounts. Otherwise, you may have to pay a maintenance fee for having too low of a balance.
It's best practice to leave your old checking account open with some money deposited for at least one billing cycle. Doing so will help you catch any recurring transactions or accounts you forgot to update to your new bank.
Step Four: Transfer Remaining Funds and Close Account
When you're satisfied that you've updated all recurring transactions to the new bank account, you're finally ready to break up with your old bank.
To close the account, you'll probably have to go to the bank in person, call a customer service line or submit a written request. When you speak to a bank employee on the phone or in person, be sure to have the account number and routing number of your new bank account with you so the former bank can arrange for the remaining funds to be transferred to your new account.
You should also request a written confirmation that your account has been closed. Institutions will sometimes reactivate closed accounts if an automated bill payment or billing error attempts to withdraw money from the account. Having a written acknowledgment that the account is closed can help you settle any issues that may arise.
Should I Switch Banks?
Now you know how to switch to a new bank or credit union, but how do you know if that's the right decision? A study conducted by the Morning Consult in July 2021 found that these are some of the most common reasons customers decide to switch banks:
Most Popular Reasons To Switch Banks
Protection of customer data
Prices and fees
Online and mobile banking capabilities
Value for your money
Convenience of branch location
Customer service experience
If you have concerns about your financial data being protected or feel that you're paying too much in fees, it may be time to switch banks. You may also want to switch if your bank doesn't have branches near you, or if they don't offer the convenience of online and mobile banking.
You may also be more inclined to switch banks if you feel like your current bank doesn't support you in tough economic times, according to a 2022 survey of 101,000 retail bank customers by J.D. Power. The annual Retail Retail Banking Satisfaction Study found 63% of customers would definitely stick with their bank and 78% would definitely reuse the bank if it delivered this type of support.
You might simply want a bank or credit union that gives you more value for your money. Shopping around for competitive interest rates and low fees can have a significant positive impact on your personal finances.
Ask an Expert
Annuity.org's credentialed experts are here to help you find your path to financial freedom. Have a question for Thomas Brock about how to switch banks?
Frequently Asked Questions About Switching Banks
What is the easiest way to switch banks?
Many banks and credit unions offer "switch kits" to make it easy to move your money to their institution. These kits contain all the resources you need to make the switch, including checklists and transfer forms.
How do I change from one bank to another?
To change from one bank to another, you should first open a new bank account. Once you've moved most of your money and updated all your recurring transactions to the new account, you can close the old account by contacting the first bank.
Advertisement
Connect With a Financial Advisor Instantly
Our free tool can help you find an advisor who serves your needs. Get matched with a financial advisor who fits your unique criteria. Once you've been matched, consult for free with no obligation.
Please seek the advice of a qualified professional before making financial decisions.
Last Modified: November 21, 2022
Share This Page:
8 Cited Research Articles
Annuity.org writers adhere to strict sourcing guidelines and use only credible sources of information, including authoritative financial publications, academic organizations, peer-reviewed journals, highly regarded nonprofit organizations, government reports, court records and interviews with qualified experts. You can read more about our commitment to accuracy, fairness and transparency in our editorial guidelines.
Who Am I Calling?
Calling this number connects you with an Annuity.org representative.
If you're interested in buying an annuity or selling your annuity or structured settlement payments, we will connect you with one of our trusted financial partners for a free quote.
855-995-1277
Your web browser is no longer supported by Microsoft. Update your browser for more security, speed and compatibility.
If you are interested in learning more about buying or selling annuities, call us at 855-995-1277