How To Fill Out a Money Order
Money orders are easily accessible and an alternative payment method to cash and checks. While the process to fill out a money order is simple, incorrect entries may lead to financial losses. There are five simple steps that can help ensure your money order is accepted without any issues.

Written By

Lindsey Crossmier

Lindsey Crossmier

Financial Writer

Lindsey Crossmier is an accomplished writer with experience working for The Florida Review and Bookstar PR. As a financial writer, she covers annuities, structured settlements and other personal finance topics for Annuity.org.

Read More

Edited By

Lamia Chowdhury

Lamia Chowdhury

Financial Editor

Lamia Chowdhury is a financial editor at Annuity.org. Lamia carries an extensive skillset in the content marketing field, and her work as a copywriter spans industries as diverse as finance, health care, travel and restaurants.

Read More

Financially Reviewed By

Chip Stapleton

Chip Stapleton

Expert Contributor

Chip Stapleton is a financial advisor who has spent the past several years of his career working primarily in financial planning and wealth management. He is a FINRA Series 7 and Series 66 license holder and CFA Level II candidate.

Read More

Updated: September 20, 2022
5 min read time
This page features 3 Cited Research Articles
5 Steps to Filling Out a Money Order
A money order is a secure option to transfer funds or make a large payment since they typically clear quickly. Typically, you can purchase a money order for under $2 from a banking institution, credit union, post office or retail store like Publix or Walmart.
Learning how to fill out a money order can help you manage your personal finances while also ensuring the intended recipient can successfully deposit or cash out the amount listed.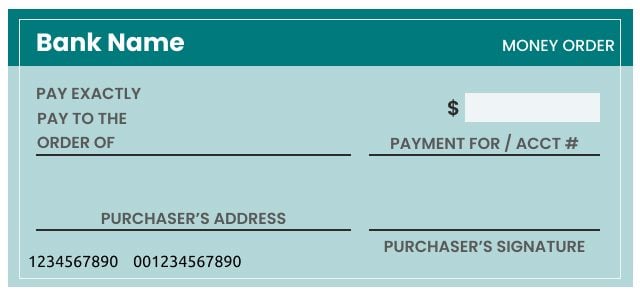 Keep in mind that the date and dollar amount will be automatically filled out for you when you purchase the money order.
1. Gather All the Necessary Information for the Money Order
Make sure you have all the required information before purchasing your money order. You should also confirm what forms of payment are accepted for your money order as the approved payment types may vary depending on where you purchase. Most places do not accept a credit card, so it is recommended to have cash, a debit card or a check handy, since these are widely accepted.
Required Information for a Money Order
Payee's name
Payee's address
Payment amount
Payer's name and address
What the payment is for/billing account number
Cash, check or debit card to purchase the money order
2. Fill in the Name of the Recipient
Fill in the name of the payee as soon as you get the money order. If the name is not filled out and another person finds your money order, they can fill in their own name and cash it out.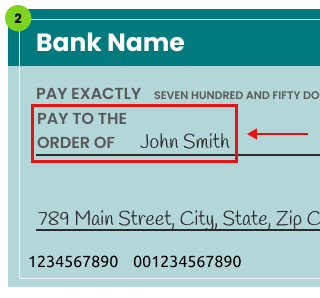 To avoid possible fraud, make sure you write the payee's name in ink. Write legibly and be sure to spell their name correctly.
3. Fill in Your Address
Below the line of the payee's name is a section titled "address" or "purchaser's address" — write your own address on this line. Some checks may leave space to include the address of the payee as well.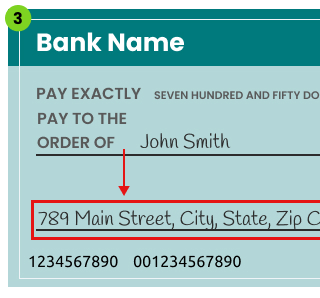 If there is space for your address as well as the payee's, then include both. If there is space for only one address, then only write your own.
4. Fill in the Account or Order Number
In the section titled, "payment for," "account number" or "memo," fill out the account or order number. If the payee gave you an account or order number, this is where to put that information. For example, if you are paying for an electric bill, you can write your electric account number.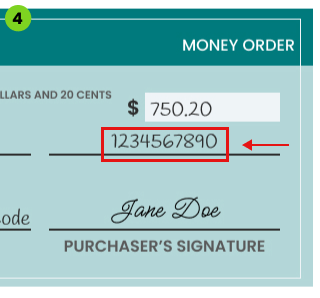 Tip
This section may require specific information depending on the recipient. For example, you may need to put your Social Security Number on this line if it is being sent to the IRS for tax purposes. Before you submit your money order, be sure to verify with the recipient what information to include.
5. Fill in Your Name
The section where you sign your name is located under the memo or order number line, and it is typically labeled "purchaser's signature," "from," "signer" or "drawer."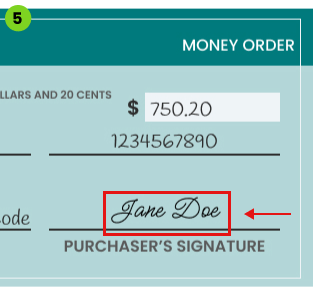 By signing your name in this section, you are agreeing to the terms on the back of the money order. As the purchaser, you are not responsible for signing the back of the check — that is for the payee to sign.
Save Your Money Order Receipt
Save your money order receipt for extra financial protection and assurance. Your money order receipt includes a tracking number, which has multiple purposes.
Reasons to Keep Your Money Order Receipt
You can track your order.
You can confirm if your money order was cashed by the right payee.
You can use the tracking number to get a replacement if your money order got lost or stolen.
You can cancel the payment if the money order hasn't been cashed.
Money Order Frequently Asked Questions
Advertisement
Connect With a Financial Advisor Instantly
Our free tool can help you find an advisor who serves your needs. Get matched with a financial advisor who fits your unique criteria. Once you've been matched, consult for free with no obligation.
Please seek the advice of a qualified professional before making financial decisions.
Last Modified: September 20, 2022
Share This Page:
Your web browser is no longer supported by Microsoft. Update your browser for more security, speed and compatibility.
If you are interested in learning more about buying or selling annuities, call us at 855-995-1277