When you're beginning the search for life insurance coverage, you're probably curious about the difference between term versus whole life insurance. It comes down to how long your beneficiaries will need financial support in the event of your death.
Need to cover costs that have a set end point like a mortgage or higher education? Term insurance could be the right coverage for you. If you need (or want) to leave something to your family after you've passed away, whole life policies cover you for as long as you pay the premiums.
Not sure if you need life insurance? Forty-four percent of households would experience financial hardship within six months of the death of the primary wage earner. Most people with life insurance have reported feeling more financially secure than those without it. With those numbers, doesn't it make sense to take a step toward better financial security for your family?
Let's learn more about how buying life insurance now can help pay for your last expenses and provide for your beneficiaries after you've gone, as well as other options, like annuities, that can help provide for your family after your death.
Term life is necessary if there are dependents relying on your income. I've helped clients calculate the total death benefit by understanding the total amount of money they'll need to take care of their beneficiaries. A common guide used in the industry is 10 times yearly income. It's important to remember this is just a guide and not a rule. Each individual and family will have different circumstances that will need to be taken into consideration.
What Is Term Life Insurance?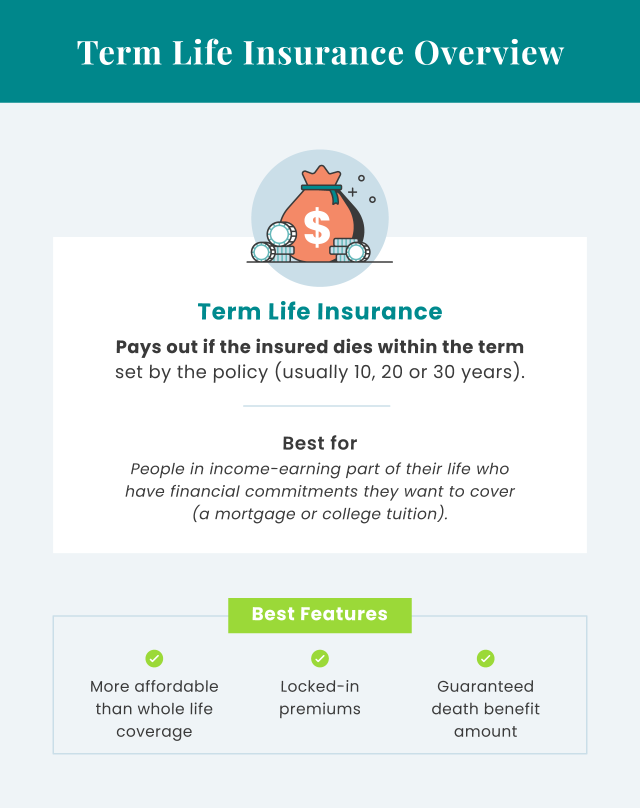 Term life insurance is life insurance coverage with locked-in premiums that will pay out a death benefit if the insured person dies within the period set by the policy (usually 10, 20 or 30 years). Many people use term life to ensure that their beneficiaries receive enough money after their death to replace lost earnings, pay off a mortgage or fund a child's college education.
Benefits
Term coverage is less expensive than whole life insurance.
Term policy has a guaranteed death benefit amount.
Drawbacks
Coverage lasts for a finite period.
Policies have no cash value to draw from.
What Is Whole Life Insurance?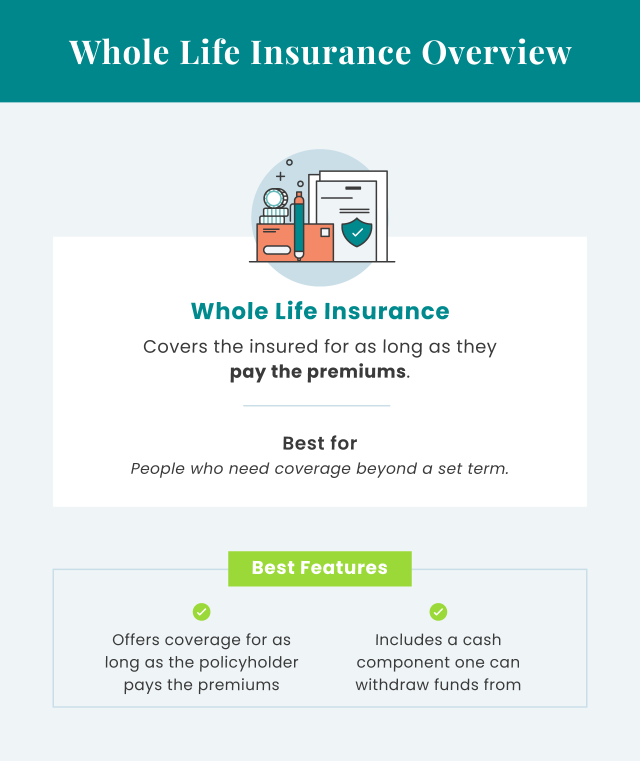 Unlike a term policy, a whole life insurance plan is a type of permanent insurance that covers the insured for as long as they pay their premiums. The extended benefits mean that these plans are more expensive than term policies.
Benefits
Fixed premiums mean you won't have to deal with fluctuating rates.
Policy has cash value, meaning you can withdraw from it before death.
Drawbacks
Policies are more expensive than term life policies.
Withdrawing cash without repaying the funds could reduce the plan's death benefit.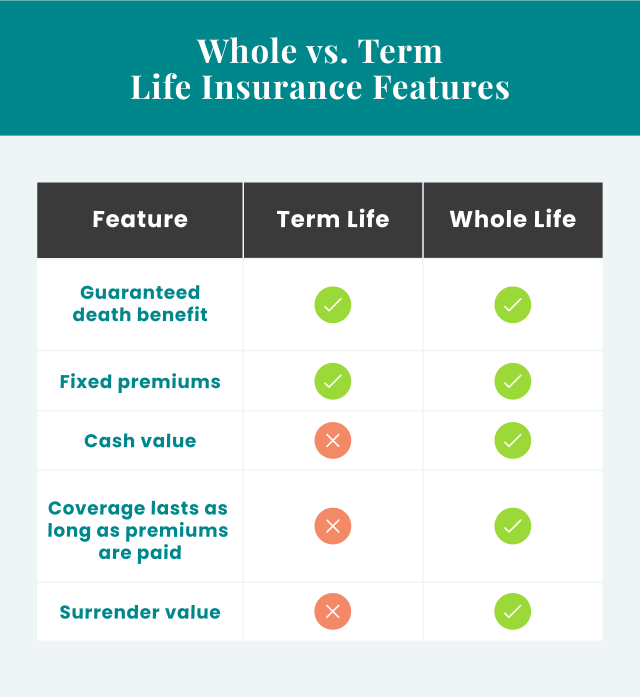 Term vs. Whole Life Costs
Curious about what the difference between whole life and term life insurance costs are based on? Insurance companies evaluate several risk factors to determine how much to charge you for coverage.
Factors that influence the cost of life insurance:
Gender
Age
Health

Weight
Family medical history
Smoker status
Substance abuse

Driving record
Occupation
For an average 30-year-old man, the cost of a term life policy with a death benefit of $500,000 costs approximately $27 per month. An average 30-year-old woman would pay about $22 per month for the same coverage.
Whole life policies are significantly higher. A 30-year-old man would pay nearly $413 per month for $500,000 of coverage, and a 30-year-old woman would pay about $356 each month.
Keep in mind that the older the policyholder is, the higher rates are. Getting life insurance coverage when you are younger and healthier will keep your premiums lower, especially if you choose a policy that locks in premium costs.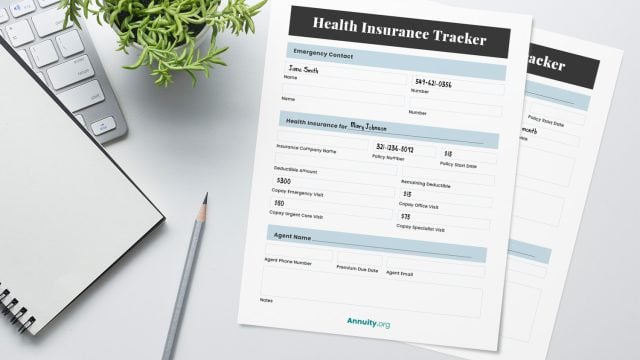 Should I Get Whole or Term Life Insurance?
There are several situations where choosing one kind of life insurance is a better option. We've outlined a few of the most common scenarios for each type, but your needs may differ. Check with your financial advisor if you aren't sure which insurance is right.
Get term life insurance if:
You only need coverage for a certain length of time. Term policies are a way to replace your income in the event that you die before you've paid off a mortgage or put your children through college. Many people opt for a policy that covers the working years they have left before retirement.
You need affordable coverage. Because term policies expire (and there is no cash value component), they are more affordable than whole life policies.
You aren't interested in making life insurance your primary investment option. Some people buy whole life policies so they can leave money to their heirs after they die. Instead, you could invest the money you'd pay for premiums into stocks, bonds or other investment products.
You are considering getting whole life coverage in the future. Some companies will let you convert a term policy into a whole life policy. While the rates after converting to a whole life policy will be higher than the term rates, they might be less expensive than buying a new policy.
Get whole life insurance if:
You won't have trouble paying the premiums, even after retirement. Committing to whole life means you need to continue paying premiums past your earning years. It could be the right thing to do if you can afford it.
You want to provide money to your heirs after you've passed away. A whole life policy's death benefit goes to your beneficiaries. If you set it up correctly, it might not even go through your estate and probate.
You want to have cash value guaranteed by the insurance company. With a guaranteed cash growth rate, you can see a higher death benefit than with a term policy.
You have financial commitments for lifelong dependents. If you have dependents who will require long-term financial help after you're gone, whole life insurance can help you fund a trust.
Alternatives to Term and Whole Life Insurance
There are other types of life insurance, as well as other financial products like annuities, that might be a better fit (or a good supplement) for your needs compared to term or whole life insurance.
Other Types of Life Insurance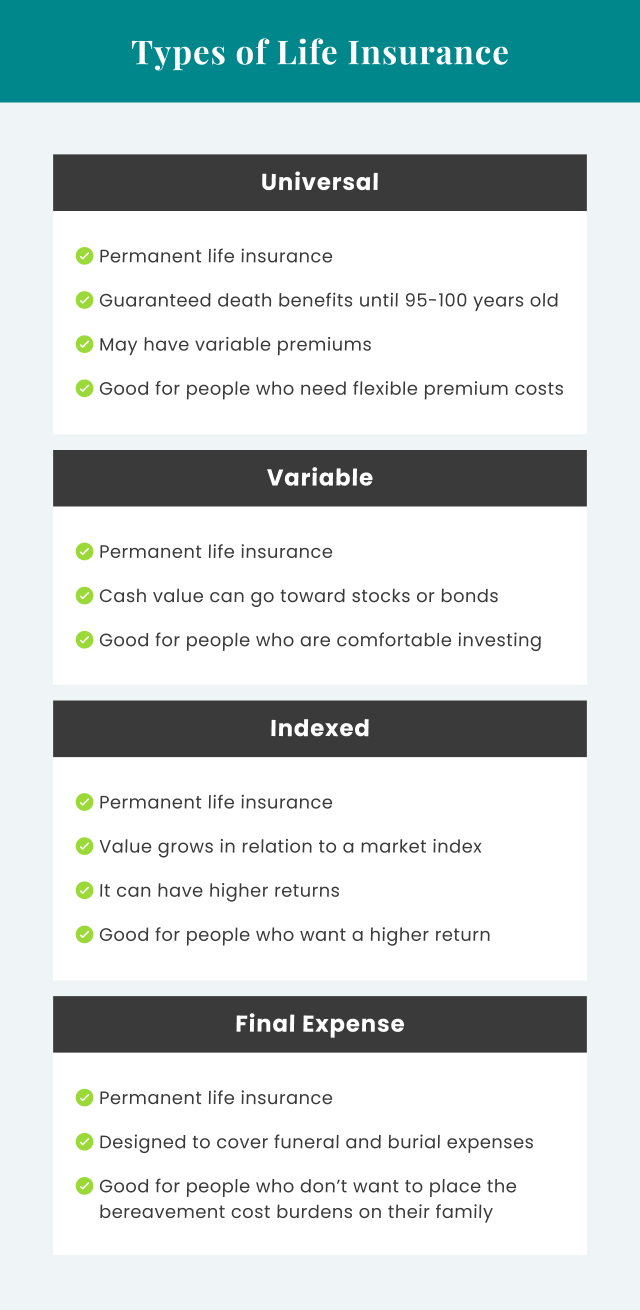 Universal Life Insurance
Universal life insurance is similar to whole life insurance because it provides coverage without a set term but differs in a few key ways.
These policies usually have a guaranteed death benefit until the age of 95 or 100 years old.
After the policy reaches maturity, you are paid the cash value.
The cash value component is similar to a whole life policy, but unlike the fixed rate growth of a whole life plan, a universal policy invests your cash in various funds, stocks and bonds to grow the value of the cash account.
With some universal insurance policies, you can adjust how much you pay as a premium. If you pay over the premium, that additional money will go into the cash account. If you need to pay less, the cash account covers the difference. This can be a big help for people whose income fluctuates.
The death benefits are different from other types of life insurance, too. If you later decide you don't need as much coverage, you can lower the payout (and your premiums). You also choose between a level death benefit and an increasing death benefit.
The more affordable option is a level death benefit. This policy covers a set amount that doesn't change regardless of how much money is in the cash account.
For example:
If you had $250,000 of coverage and $100,000 in the cash account, after your death your beneficiaries would receive $250,000.
Variable Life Insurance
If you want insurance that allows you to actively invest some of the money you're paying into several investments, variable life insurance provides that.
While smart (or lucky) investments can help grow the policy more quickly than other types of coverage, the potential for loss is there, too. Some policies have a minimum death benefit locked in, while others may decrease if the investments lose too much money.
Indexed Insurance
An indexed policy earns interest based on the growth of a market index like the NASDAQ. When connected to the right index, it could grow at a considerable rate over time that a policy with guaranteed growth may not be able to match.
Final Expense Insurance
With a final expense policy, you won't burden your family with any costs associated with your funeral or burial. Its limited scope means that the premiums are generally more affordable than other types of permanent life insurance.
Annuities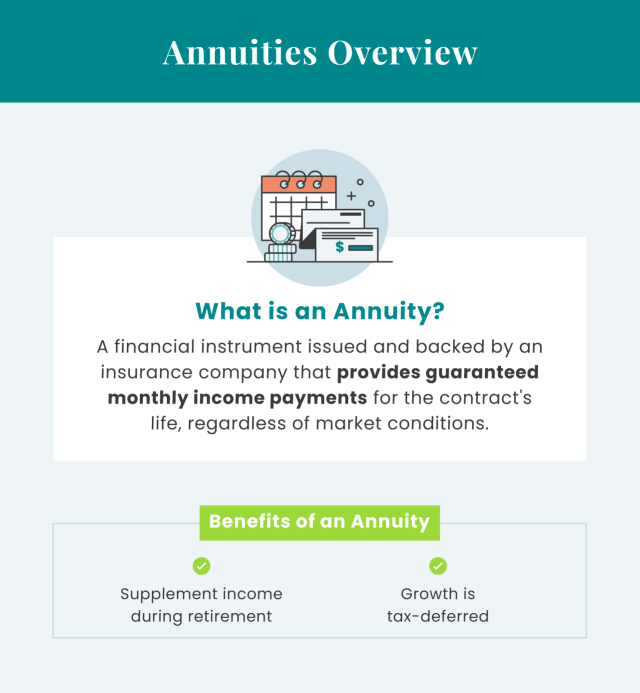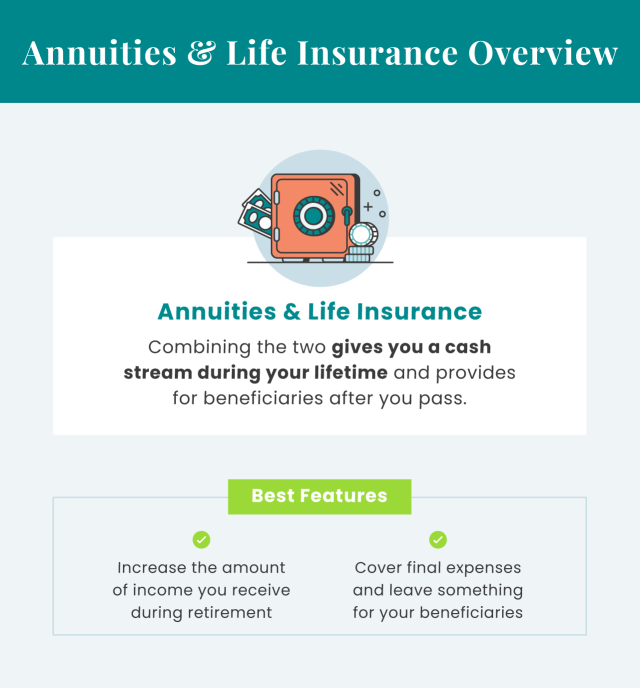 An annuity is a financial product that provides income (or supplements it) over time. Annuities sometimes stop paying out after the annuitant passes away, but some allow a beneficiary to receive the remaining funds.
An annuity offers some benefits to your heirs especially when combined with life insurance. Some life insurance policies can be converted to annuities to provide you with income you won't outlive. A balance of an annuity and an insurance policy could help cover gaps in income before and after you die, so it is an option that you should discuss with a financial expert.
Life Insurance FAQ
Can you convert term life to whole life?
Yes. Some term policies have conversion options, otherwise you'll have to cancel your term policy and get a new whole life policy. However, the premiums are likely to be considerably higher than when it was a term policy.
Am I able to withdraw money from either of these life insurance types?
Yes. You can withdraw cash (or take out loans against the cash value) of a whole life insurance policy. Term policies do not offer this benefit.
Is long-term care part of these types of insurance?
It depends. Some life insurance policies include long-term care insurance, but it isn't a standard benefit.
What happens at the end of a term policy?
If you haven't converted a term policy to a whole life policy, the coverage expires. You or your beneficiaries don't receive any benefits, but you no longer have to pay the premiums. Now that you have a better understanding of the differences between whole life vs. term life insurance and you're ready to plan for your future, life insurance and annuities are options you should learn more about. Whether you want to supplement your retirement income or leave something to your family after you're gone, there's never a better time to plan than right now.
Insurance Trackers
Printable health insurance tracker