National Association of Insurance Commissioners (NAIC)
Fact-Checked
Annuity.org partners with outside experts to ensure we are providing accurate financial content.
These reviewers are industry leaders and professional writers who regularly contribute to reputable publications such as the Wall Street Journal and The New York Times.
Our expert reviewers review our articles and recommend changes to ensure we are upholding our high standards for accuracy and professionalism.
Our expert reviewers hold advanced degrees and certifications and have years of experience with personal finances, retirement planning and investments.
The National Association of Insurance Commissioners (NAIC) is a member-supported regulatory agency created to monitor the insurance industry. The NAIC provides consumer protection and education to promote a competitive, transparent marketplace that offers reliable, available and affordable annuity products and other insurance services.
The dynamic landscape of the insurance industry requires a high level of regulation to monitor insurer solvency, promote consumer protection and facilitate consistency among states. Because the insurance industry, and therefore the annuity marketplace, is regulated by the states, the NAIC strives to provide a level of standardization through accreditation and model laws.
What Does the NAIC Do?
The National Association of Insurance Commissioners was established in 1871 to allow for the oversight of the insurance industry at the state level. The member-driven organization sets the standards in the insurance industry and supports state insurance commissioners.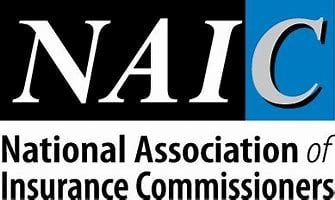 The mission of the NAIC is to assist the state insurance regulators, individually and collectively, in serving the public interest and achieving the following fundamental insurance regulatory goals in a responsive, efficient and cost effective manner, consistent with the wishes of its members.
Protect the public interest;
Promote competitive markets;
Facilitate the fair and equitable treatment of insurance consumers;
Promote the reliability, solvency and financial solidity of insurance institutions; and
Support and improve state regulation of insurance.
The NAIC represents all 50 states, the District of Columbia and five U.S. territories and achieves its mission through peer reviews, analytics, market data and collaboration among task forces, working groups and state insurance commissioners.
State Ahead Strategic Plan
In 2018, the NAIC launched State Ahead, a blueprint for addressing the current state of the insurance sector. State Ahead was intended to update the existing regulatory framework and develop new policy and model laws to align with the challenges that members had identified in their own markets.
These challenges and catalysts for change include:
Technological advances
Data used to tailor insurance products, pricing and delivery
Retirement security and changing population demographics
Demand from consumers for quicker, easier purchases of annuities and other insurance products
Low interest rates
Cybersecurity considerations
24-hour news cycle
States' limited budgets and growing need for qualified staff
The State Ahead "foundational pillars, core three themes and goals" target these issues as the basis of the NAIC's strategy.
Theme: Safe, Solvent and Stable Markets
Goals: Provide state insurance regulators with data, training and resources to support stable markets and reliable, affordable annuities and other insurance products
Objectives: Optimize financial data for analytics, specifically predictive analytical tools
Theme: Consumer Protection and Education
Goals: Ensure that consumers are aware of changes in the marketplace so they can make informed decisions.
Objectives: Use market data to enhance consumer protections; Provide consumers with financial literacy resources
Theme: Superior Member Services and Resources
Goals: Provide state insurance departments with support and resources
Objectives: Expand training opportunities; Provide state insurance regulators with secure, adaptable technical services; Improve management of regulatory issues
Source: National Association of Insurance Commissioners
Model Laws & Accreditation
The National Association of Insurance Commissioners serves to provide standardization and consistency within the insurance industry while accounting for the differences among the states' legislatures and regulations.
Because of these differences, state insurance departments require a degree of flexibility so they can operate efficiently while simultaneously adhering to peer-reviewed and accepted best practices.
This is where model laws and accreditation come in.
According to the NAIC, model laws must satisfy a two-pronged test. They must first establish a "minimum national standard." Then the members must agree to dedicate the resources needed to support the law.
If the measure doesn't meet these criteria, the working group or task force can submit it as a guideline instead.
Model laws and guidelines, along with accreditation — NAIC certification affirming that a state's insurance department is in compliance with industry standards — allow the NAIC to assess and verify each state's ability to oversee the financial status of insurance companies.
How the NAIC Protects Annuity Owners
Because annuities are insurance products, the National Association of Insurance Commissioners regulates all types of annuities. In addition to the NAIC's oversight, variable annuities are regulated by the Securities and Exchange Commission and the Financial Industry Regulatory Authority. This is because variable annuities, unlike fixed annuities, are classified as securities.
Protecting annuity and life insurance consumers is a fundamental responsibility of the NAIC. The association developed the Insurance Regulatory Information System (IRIS), a database of insurance companies, to provide state insurance departments with data on each company's financial strength.
By alerting state commissioners to financially unstable insurers, the NAIC strives to prevent consumers from purchasing annuities from insolvent companies.
Life Insurance and Annuities (A) Committee
The Life Insurance and Annuities (A) Committee is a subgroup of the NAIC that handles issues with life insurance and annuity products. The committee comprises several working groups, including the Annuity Disclosure (A) Working Group, the Annuity Suitability (A) Working Group and the Retirement Security (A) Working Group.
Collectively, these subgroups review and revise annuity model regulations and make recommendations in alignment with the NAIC's mission and initiatives.
Please seek the advice of a qualified professional before making financial decisions.
Last Modified: January 13, 2021
Share This Page:
8 Cited Research Articles
Annuity.org writers adhere to strict sourcing guidelines and use only credible sources of information, including authoritative financial publications, academic organizations, peer-reviewed journals, highly regarded nonprofit organizations, government reports, court records and interviews with qualified experts. You can read more about our commitment to accuracy, fairness and transparency in our editorial guidelines.