National Association of Insurance Commissioners (NAIC)
The National Association of Insurance Commissioners (NAIC) is a member-supported regulatory agency created to monitor the insurance industry. The NAIC provides consumer protection and education to promote a competitive, transparent marketplace that offers reliable and affordable insurance products and annuities.

Written By

Kim Borwick

Kim Borwick

Financial Editor

Kim Borwick is a writer and editor who studies financial literacy and retirement annuities. She has extensive experience with editing educational content and financial topics for Annuity.org.

Read More

Edited By

Emily Miller

Emily Miller

Managing Editor

Managing editor Emily Miller is an award-winning journalist with more than 10 years of experience as a researcher, writer and editor. Throughout her professional career, Emily has covered education, government, health care, crime and breaking news for media organizations in Florida, Washington, D.C. and Texas. She joined the Annuity.org team in 2016.

Read More

Financially Reviewed By

Rubina K. Hossain, CFP®

Rubina K. Hossain, CFP®

Certified Financial Planner™ Professional

Certified Financial Planner Rubina K. Hossain is chair of the CFP Board's Council of Examinations and past president of the Financial Planning Association. She specializes in preparing and presenting sound holistic financial plans to ensure her clients achieve their goals.

Read More

Updated: September 8, 2022
6 min read time
This page features 16 Cited Research Articles
The insurance industry requires a high level of regulation to monitor insurer solvency, promote consumer protection and facilitate consistency among states. Because the insurance industry, and therefore the annuity marketplace, is regulated by the states, the NAIC strives to provide standardization through accreditation and model laws.
What Does the NAIC Do?
The National Association of Insurance Commissioners was established in 1871 to allow for the oversight of the insurance industry at the state level. The member-driven organization sets the standards in the insurance industry and supports state insurance commissioners.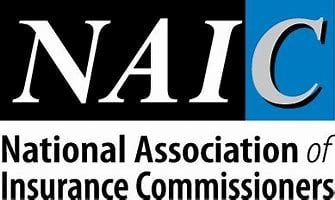 The mission of the NAIC is to assist the state insurance regulators, individually and collectively, in serving the public interest and achieving the following fundamental insurance regulatory goals in a responsive, efficient and cost effective manner, consistent with the wishes of its members.
Protect the public interest;
Promote competitive markets;
Facilitate the fair and equitable treatment of insurance consumers;
Promote the reliability, solvency and financial solidity of insurance institutions; and
Support and improve state regulation of insurance.
The NAIC represents all 50 states, the District of Columbia and five U.S. territories and achieves its mission through peer reviews, analytics, market data and collaboration among task forces, working groups and state insurance commissioners.
The NAIC's Top 10 Annuity Issuers
On March 1, 2021, the NAIC released its annual market share data report identifying leading insurance writers in several key lines of business.
The data includes nationwide direct written premiums for the top groups and companies as reported on the annual financial statement of insurers that report to the NAIC.
NAIC's Top 10 Annuity Issuers of 2021
Jackson National
Lincoln National
Nationwide
American International Group
Allianz Insurance Group
Voya Financial
New York Life
Prudential
Massachusetts Mutual Life
Pacific Life
The list of top 10 U.S. annuity insurers is based on the annuity consideration figures compiled by the NAIC.
To see a full list of NAIC market share data, click here.
Model Laws & Accreditation
The National Association of Insurance Commissioners serves to provide standardization and consistency within the insurance industry while accounting for the differences among the states' legislatures and regulations.
Because of these differences, state insurance departments require a degree of flexibility so they can operate efficiently while simultaneously adhering to peer-reviewed and accepted best practices.
This is where model laws and accreditation come in.
According to the NAIC, model laws must satisfy a two-pronged test. They must first establish a "minimum national standard." Then the members must agree to dedicate the resources needed to support the law.
If the measure doesn't meet these criteria, the working group or task force can submit it as a guideline instead.
Model laws and guidelines, along with accreditation — NAIC certification affirming that a state's insurance department is in compliance with industry standards — allow the NAIC to assess and verify each state's ability to oversee the financial status of insurance companies.
How the NAIC Protects Annuity Owners
Because annuities are insurance products, the National Association of Insurance Commissioners regulates all types of annuities. In addition to the NAIC's oversight, variable annuities are regulated by the Securities and Exchange Commission and the Financial Industry Regulatory Authority. This is because variable annuities, unlike fixed annuities, are classified as securities.
Protecting annuity and life insurance consumers is a fundamental responsibility of the NAIC. The association developed the Insurance Regulatory Information System (IRIS), a database of insurance companies, to provide state insurance departments with data on each company's financial strength.
By alerting state commissioners to financially unstable insurers, the NAIC strives to prevent consumers from purchasing annuities from insolvent companies.
NAIC Committees and Working Groups
Life Insurance and Annuities (A) Committee
The Life Insurance and Annuities (A) Committee is a subgroup of the NAIC that handles issues with life insurance and annuity products. The committee comprises several working groups, including the Annuity Disclosure (A) Working Group, the Annuity Suitability (A) Working Group and the Retirement Security (A) Working Group.
Collectively, these subgroups review and revise annuity model regulations and make recommendations in alignment with the NAIC's mission and initiatives.
Index-Linked Variable Annuity (A) Subgroup
In June 2021, the NAIC created the Index-Linked Variable Annuity (A) Subgroup in response to growing index-linked annuity sales across the country.
The new subgroup is the latest addition to the broader NAIC Life Insurance and Annuities (A) Committee.
According to the NAIC website, the purpose of the new subgroup is to: "Provide recommendations and changes, as appropriate, to nonforfeiture, or interim value requirements related to index-linked variable annuities."
Nonforfeiture is an insurance policy clause stipulating that a policyholder will receive a full or partial refund of paid premiums if the policy lapses after a specified time due to missed premium payments.
The Suitability in Annuity Transactions Model Regulation
In 2003, the NAIC created the Suitability in Annuity Transactions Model Regulation (Model 275), which established standards and procedures for insurers and brokers recommending annuity products to consumers.
The model regulation requires insurers and brokers to collect information about a consumer's financial situation to determine if an annuity product is suitable for the potential buyer.
Model 275 is intended to serve as a framework for laws and rules individually adopted by each state.
When assessing suitability, insurers or producers must have a reasonable basis to believe:
The consumer would benefit from certain features of the annuity.
The overall annuity — as well as its underlying subaccounts — are suitable for the consumer.
Insurers who fail to maintain procedures that detect unsuitable recommendations can face sanctions or penalties for noncompliance.
The suitability model regulation also requires brokers and agents to undergo annuity product training.
In 2010, the Suitability in Annuity Transactions Model Regulation was updated to clarify certain previsions and ensure consistency with FINRA standards.
New Updates to Suitability Model Regulation
In 2019, the NAIC Annuity Suitability (A) Working Group completed updates to Model 275 which began in November 2017.
In February 2020, the NAIC approved those revisions.
The revision clarifies that all annuity recommendations by agents and insurers must be made in the best interest of the consumer. Agents and carriers cannot place their financial interest ahead of the consumers' best interest.
The model now requires agents and carriers to act with "reasonable diligence, care and skill" when making recommendations.
The revised model also requires producers to meet a disclosure obligation and provide consumers with the following:
Descriptions of the producer-consumer relationship and the producer's role in the transaction.
The sources and types of compensation a producer receives from an annuity sale.
Affirmative statements about the annuity products a producer is licensed and authorized to sell.
Whether the producer is authorized, contracted or able to sell insurance products for more than one insurer.
A consumer's right to request other information about cash compensation.
Other updates to Model 275 address new training requirements and include enhancements to the model's supervision system to assist in compliance.
Since the revision rolled out, at least 12 states have adopted rules based off the new NAIC model.
Texas, Virginia and Montana are the latest states to do so. Virginia's new rule went into effect May 1, 2021. Rules in Texas will take effect Sept. 1, 2021, while Montana's rule takes effect Oct. 1, 2021.
The process for adoption varies by state. Some states have adopted the model through regulation while others have done so through legislative statute.
Please seek the advice of a qualified professional before making financial decisions.
Last Modified: September 8, 2022
Share This Page:
16 Cited Research Articles
Annuity.org writers adhere to strict sourcing guidelines and use only credible sources of information, including authoritative financial publications, academic organizations, peer-reviewed journals, highly regarded nonprofit organizations, government reports, court records and interviews with qualified experts. You can read more about our commitment to accuracy, fairness and transparency in our editorial guidelines.
Who Am I Calling?
Calling this number connects you to Senior Market Sales (SMS), a trusted partner of Annuity.org.
If you're interested in buying an annuity, a representative will provide you with a free, no-obligation quote.
SMS is committed to excellent customer service. The company can help you find the right insurance agent for your unique financial objectives.
877-918-7024
Your web browser is no longer supported by Microsoft. Update your browser for more security, speed and compatibility.
If you are interested in learning more about buying or selling annuities, call us at 877-918-7024