Qualified Longevity Annuity Contract (QLAC)
Fact-Checked
Annuity.org partners with outside experts to ensure we are providing accurate financial content.
These reviewers are industry leaders and professional writers who regularly contribute to reputable publications such as the Wall Street Journal and The New York Times.
Our expert reviewers review our articles and recommend changes to ensure we are upholding our high standards for accuracy and professionalism.
Our expert reviewers hold advanced degrees and certifications and have years of experience with personal finances, retirement planning and investments.
A qualified longevity annuity contract, or QLAC, is a deferred income annuity funded with assets from a qualified retirement plan. The income stream from this type of annuity, also called a longevity annuity, begins years after purchase. QLACs allow Americans to create a longevity income tail in retirement, which can exceed 30 years.
In 2014, the U.S. Treasury Department issued rules permitting IRA owners and qualified plan participants to purchase QLACs. The new rules are significant because they provide people with unprecedented flexibility to manage their retirement income by deferring a portion of their retirement accounts to later in life.
The idea was to allow people to carve out a portion of their retirement accounts to be earmarked for the latter half of their retirement journey.
Often these annuities are purchased years before retirement with the intent of creating retirement income. Sometimes, however, they are purchased by people of retirement age to create an income stream even later in life.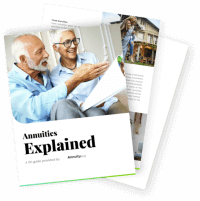 Get Your Free Guide to Annuities
Learn from the experts and get our 101-level guide, Annuities Explained, delivered to your inbox for free.
Lifetime Income Without Violating Required Minimum Distribution Rules
According to the Treasury Department, longevity annuities "can provide a cost-effective solution for retirees willing to use part of their savings to protect against outliving the rest of their assets, and can also help them avoid overcompensating by unnecessarily limiting their spending in retirement."
There is a limit on how much of your retirement plan savings can go to a QLAC. An investor can spend the lesser of 25 percent of his or her retirement savings or $135,000.
A husband and wife could potentially allocate a total of $270,000 to QLACs if both had sufficient retirement accounts to justify.
Planning Points
If you're thinking about rolling your 401(k) plan into an IRA to fund your QLAC, you won't be able to fund your QLAC until the year following your rollover. That's because the amount you can add to a QLAC is based on your IRA balance on December 31 in the year prior.
As one might imagine, overfunding errors due to incorrect valuations do occur. The Treasury Department refers to these mistakes as "foot faults." Foot faults will not disqualify QLACs provided the excess funds are returned to the individual's account by the end of the year following.
When QLACs are purchased inside retirement accounts, they are exempt from required minimum distribution (RMD) rules. RMDs require retirees to withdraw minimum amounts from their retirement accounts beginning at age 72, which was recently increased from age 70½ by The Secure Act.
The Internal Revenue Service offers a worksheet with formulas to determine RMDs at specific ages. According to the worksheet table, you take your retirement account balance as of December 31 of the previous year and divide it by the distribution period associated with your age on your birthday in the current year.
IRA Required Minimum Distribution Worksheet
| Age | Distribution Period |
| --- | --- |
| 70 | 27.4 |
| 71 | 26.5 |
| 72 | 25.6 |
| 73 | 24.7 |
| 74 | 23.8 |
| 75 | 22.9 |
| 76 | 22 |
| 77 | 21.2 |
| 78 | 20.3 |
| 79 | 19.5 |
| 80 | 18.7 |
The number that calculation gives you will be the amount you are legally required to withdraw from your retirement savings that year.
For the first time in history, individuals can sidestep RMDs on the portion of their retirement accounts which funded their QLAC. The benefit to the exemption is to allow the retiree to keep more in savings for longer.
QLACs Help Extend Retirement Savings
To show how QLACs help retirees stretch their savings, let's say you have $400,000 in your retirement savings account. Under the rules, you can put 25 percent of that — $100,000 — in a QLAC.  If you do that, you use the $300,000 that remains in your account as the starting point in determining your required withdrawal amount.
When you're 72, for example, you divide $300,000 by 25.6, according to the IRS distribution worksheet. That shows you are required to withdraw $11,718.75.
If you didn't have $100,000 in a QLAC, you would have to divide $400,000 by 25.6, meaning you'd be required to withdraw $15,625 from your retirement accounts. The QLAC allows you to leave $3,906.25 more in your retirement account under this scenario.
Interested in Buying an Annuity?
Learn about the different types of annuities and find out which one is right for you.
Benefits to Your Finances
By purchasing a QLAC, you create a guaranteed income for the later part of your retirement journey. Additionally, limiting the amount of money you withdraw each year may keep you in a lower tax bracket and enable you to escape higher Medicare premiums.
Income from a QLAC may be deferred until age 85. This can allow mortality credits to accumulate, leading to much higher annuity payments when they begin.
The new QLAC rules also allow for a return of premium death benefit. With this rider, or policy add-on, if deferred annuity purchasers die, premiums they paid but have not yet received as annuity payments will be returned to their accounts.
Having a QLAC relieves retirees of the responsibility of managing retirement accounts in their 80s and beyond, a time when they may not want to think about the ins and outs of investments. Retirees can let go of that responsibility without having to worry about running out of retirement savings.
Downside of QLACs
Not everyone would benefit from or feel comfortable with a QLAC. As with most annuities, buying a QLAC means you won't have access to or control over those funds beyond the terms of your annuity contract.
If you die before your QLAC matures, you may never personally benefit from the contract, which is intended as insurance against outliving your savings. You are more likely to benefit from any annuity the longer you live.
QLACs have no real liquidity. Essentially, you are trading a portion of your retirement accounts for a guaranteed income.
Cost of living adjustments (COLAs) can be added at the time you purchase, but this feature usually means lower initial payments. And since this is typically a product for future income later in life, the benefit of adding a COLA may not be cost justified.
Please seek the advice of a qualified professional before making financial decisions.
Last Modified: February 10, 2021
Share This Page:
15 Cited Research Articles
Annuity.org writers adhere to strict sourcing guidelines and use only credible sources of information, including authoritative financial publications, academic organizations, peer-reviewed journals, highly regarded nonprofit organizations, government reports, court records and interviews with qualified experts. You can read more about our commitment to accuracy, fairness and transparency in our editorial guidelines.