Annuities in Sports: How Some Athletes Use Annuities to Fund Their Retirement
Professional athletes can earn huge sums of money quickly, but it's often a peak earning window of just a few years. That's why annuities can make an excellent option for athletes looking to stretch a large sum of money through their retirement years. Many famous players have taken advantage in a variety of formats.

Written By

Christian Simmons

Christian Simmons

Financial Writer

Christian Simmons is a financial writer who has worked professionally as a journalist since 2016. As an active member of the Association for Financial Counseling & Planning (AFCPE), Christian prides himself on his ability to break down complex financial topics in ways that Annuity.org readers can easily understand.

Read More

Edited By

Lamia Chowdhury

Lamia Chowdhury

Financial Editor

Lamia Chowdhury is a financial editor at Annuity.org. Lamia carries an extensive skillset in the content marketing field, and her work as a copywriter spans industries as diverse as finance, health care, travel and restaurants.

Read More

Financially Reviewed By

Chip Stapleton

Chip Stapleton

Expert Contributor

Chip Stapleton is a financial advisor who has spent the past several years of his career working primarily in financial planning and wealth management. He is a FINRA Series 7 and Series 66 license holder and CFA Level II candidate.

Read More

Updated: October 12, 2022
8 min read time
This page features 13 Cited Research Articles
Why Annuities Might Make Sense for Athletes After They Retire from Sports
There are plenty of reasons why an annuity can make sense for a professional athlete. One of the most important aspects is the very short earning window that athletes face.
While an everyday American may expect to work and earn a steady paycheck from their job for 40 years, professional athletes typically have a short — but lucrative — earning window. According to ESPN, the average NFL career lasts just 3.3 years.
While athletes at the highest level of their respective sports can make hundreds of thousands and even millions of dollars, those paychecks only last a handful of years. Even the most successful athletes rarely play more than 15 to 20 years.
An annuity is an easy and safe way to take money that's earned in a relatively short amount of time and convert it into a stream of payments that can last a lifetime, making it an attractive option for high-earning players.
The Effects of Sudden Wealth
According to Basketball Reference, the average salary of an NBA player is $5,877,261. This means that a typical biweekly paycheck before taxes for a professional basketball player would come in at about $226,000. Rookies are immediately inundated with lifechanging wealth from the moment they sign their first professional contracts — and the checks just keep coming.
Average Salaries of Professional Athletes
NBA: $5,877,261
MLB: $4,170,000
NFL: $2,700,000
There is a psychological component to suddenly earning a significant amount of money, and it can create real problems. According to Huffington Post, sudden wealth syndrome can occur when a person quickly becomes rich, leading to social isolation, stress, anxiety and other serious issues.
Sudden wealth syndrome can also lead to mistrust, lack of relation to others and significant overspending as you feel forced into a new lifestyle. Converting income into an annuity can alleviate many of these potential issues for athletes.
Annuities can offer guaranteed financial security for the long term while avoiding misuse of money in the short term. It can also shield athletes from bad financial advice, dubious investment suggestions and other issues that plague the newly wealthy.
Shaquille O'Neal's Financial Advice
Former Orlando Magic and Los Angeles Lakers star Shaquille O'Neal is one of the most commercially successful athletes of all time. On top of his playing career that spanned nearly 20 years and included four NBA championships, he has appeared in plenty of movies, dropped multiple studio albums and cultivated an impressive list of lucrative endorsement deals that extend to this day.
O'Neal credits annuities for the continued financial security that allowed him to branch out in so many directions.
"Advice number one: learn what annuities are," O'Neal said in a CNN article.
He invested heavily in annuities throughout his playing career, which freed him up to use the masses of money he earns today on whatever he sees fit.
Annuities Paid Out to Individual Players
Multiple athletes have looked to annuities for financial security through retirement. Whether their last game was five or 30 years ago, annuities have offered them a stable income and financial flexibility for the years ahead.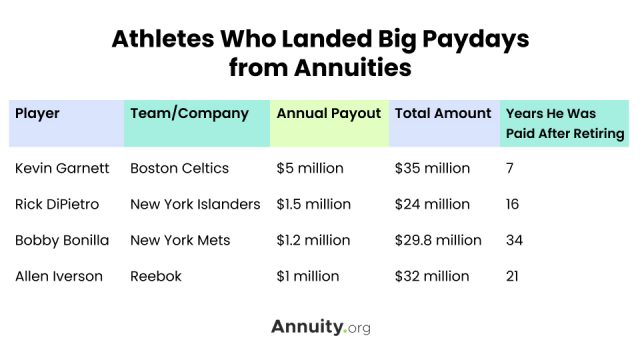 Bobby Bonilla
Few players have benefited more from deferred money than former baseball star Bobby Bonilla. Heading into the 2000 season, Bonilla was coming up on the end of his career and had become a bit of a problem for the New York Mets.
He was no longer good enough to start but still a major expense for the team, earning a salary of nearly $6 million. So, a solution was worked out that seemingly made sense for all sides. Bonilla would willingly walk away from all that money so the Mets can spend it on better players — or at least he'd walk away from it in the short term.
According to Bloomberg, the deal that was struck allowed his salary to be deferred for 10 years, at which point, the Mets would give him a yearly payment for 25 years from 2011 to 2035.
It was a great deal for the Mets at the time, giving them the opportunity to immediately bring in talent. As of July 2022, Bonilla has received over $14 million from New York. He will continue to receive about $1.2 million per year until he turns 72.
When all is said and done, Bonilla will have made $29.8 million over 25 years in exchange for deferring one year of salary.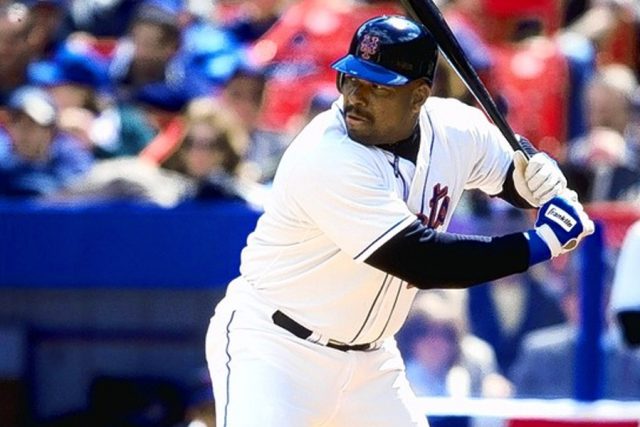 Allen Iverson
Former NBA superstar Allen Iverson was one of the most popular basketball players in the world during the early 2000s. He is considered to be an all-time great by many and he was paid like one, too.
But Iverson eventually ran into financial struggles during retirement after running through much of his career earnings early on. An annuity has helped keep him afloat in later life.
According to NBC Sports, Iverson put away $32 million from shoe endorsement deals back when he was still playing. He can't touch the principal until he turns 55, but it has paid him out $1 million annually, helping him maintain his finances even after some struggles.
Rick DiPietro
Hockey star Rick DiPietro hasn't played for the New York Islanders since 2013. But thanks to a deferred contract, they are set to continue paying him for another seven years from today.
DiPietro signed a massive contract during his playing days, and in 2013, a buyout deal was reached. According to USA Today, DiPietro struck a deal to convert his salary into a stream of annual payments worth $1.5 million that he is set to receive each year until 2029.
By the time the payments end, he will be 48 and retired for 16 years.
Kevin Garnett
Former Boston Celtics superstar Kevin Garnett is well into his retirement life. In fact, the Celtics weren't even the last (or second to last) NBA team that he played for. But that hasn't stopped Boston from securing Garnett financially years into his retirement.
While Garnett was still with the Celtics, he made the decision to defer a sizeable chunk of his salary until after he retired, according to NBC Sports. The result was that he would receive $5 million annually for the first seven years of his retirement.
That means Garnett will end up having earned $35 million total after retirement.
Annuities Offered Through League Players' Associations
Major U.S. sports leagues and their respective players' associations typically offer financial advice, guidance and plans to current and former players. For some leagues, this includes options to set up annuities.
According to Sports Illustrated, the NBA Players Association launched a bridge annuity program over a decade ago, set up to leave $70 million to be distributed into the program and to retired players. Current players can also put up to 10% of their salaries into the annuity.
The NFL Players Association also offers an annuity program to any players who were in the league for at least three seasons. Players who set up a non-qualified account can take money out starting five years after they retire. Players with a tax-qualified account can begin to take installments or monthly lifetime payments once they turn 35 and have been retired for at least five years.
Proposals in Other Sports
There is a chance that annuities could come into play in an industry where players are practically brand new to making money: collegiate athletics.
For essentially all of college sports' modern history, the NCAA had rules against athletes being compensated for their play in any way. But thanks to rule changes and several laws passed by states, students in any sport are now free to make money from their name, image and likeness (NIL).
While they still can't receive a salary or get paid directly from their schools, they are free to essentially explore the endorsement deal side of being a successful athlete. For example, a popular college football player could get paid to appear in a local car commercial or to show up at a sports bar and sign autographs for a few hours.
A baseball or softball player could host a camp for high school players and charge admission. There are numerous possibilities.
But it's unclear at this early stage of the NIL era whether it makes sense for annuities to be utilized.
Why Annuities May Not Work for NIL
Most NIL deals are miniscule.
The few players who make serious money off NIL are usually expected to make even more when they go professional.
Even the biggest NIL deals may not be lucrative enough to provide financial security for decades to come if converted into an annuity.
Part of what's holding back annuities from becoming a popular option among student athletes is the value of most NIL deals. For every superstar quarterback, there are hundreds of basketball, baseball, swimming and softball players who are capable of landing some cash, but nothing lifechanging.
According to FootballScoop, the average NIL deal is worth $1,335. Many deals are a nice and needed monetary boost for students, but not significant enough to be funded towards their future.
There are, of course, some exceptions. According to The Athletic, University of Alabama quarterback Bryce Young had earned nearly $1 million in NIL deals before ever starting a game for the Crimson Tide.
This has shown that, even at the highest level of collegiate athletics, there is money to be made. An annuity might make sense for the few athletes that make it big during their college careers.
Please seek the advice of a qualified professional before making financial decisions.
Last Modified: October 12, 2022
Share This Page:
13 Cited Research Articles
Annuity.org writers adhere to strict sourcing guidelines and use only credible sources of information, including authoritative financial publications, academic organizations, peer-reviewed journals, highly regarded nonprofit organizations, government reports, court records and interviews with qualified experts. You can read more about our commitment to accuracy, fairness and transparency in our editorial guidelines.
Who Am I Calling?
Calling this number connects you to Senior Market Sales (SMS), a trusted partner of Annuity.org.
If you're interested in buying an annuity, a representative will provide you with a free, no-obligation quote.
SMS is committed to excellent customer service. The company can help you find the right insurance agent for your unique financial objectives.
877-918-7024
Your web browser is no longer supported by Microsoft. Update your browser for more security, speed and compatibility.
If you are interested in learning more about buying or selling annuities, call us at 877-918-7024