Longevity Risk
Longevity risk for retirees refers to the possibility that they will live to such an advanced age that they will deplete their retirement savings and have to rely solely on Social Security and Medicare for their expenses.

Written By

Elaine Silvestrini

Elaine Silvestrini

Financial Writer

Elaine Silvestrini is an advocate for financial literacy who worked for more than 25 years in journalism before joining Annuity.org as a financial writer.

Read More

Edited By

Kim Borwick

Kim Borwick

Financial Editor

Kim Borwick is a writer and editor who studies financial literacy and retirement annuities. She has extensive experience with editing educational content and financial topics for Annuity.org.

Read More

Financially Reviewed By

Rubina K. Hossain, CFP®

Rubina K. Hossain, CFP®

Certified Financial Planner™ Professional

Certified Financial Planner Rubina K. Hossain is chair of the CFP Board's Council of Examinations and past president of the Financial Planning Association. She specializes in preparing and presenting sound holistic financial plans to ensure her clients achieve their goals.

Read More

Updated: August 26, 2022
This page features 14 Cited Research Articles
The shift away from pensions, known as defined benefit plans, to defined contribution plans, or individual retirement savings, has transferred the responsibility for managing longevity risk from employers to retirees.
The disappearance of pensions in the United States means that people planning for retirement now have a greater financial burden and face more risks in managing their post-work income than those who retired before them.
Complicating this shift is the fact that it's impossible to know just how long any individual will live, and how long their savings must last in retirement.
Of course, the longer you live, the more money you will need to fund your life's expenses.
Life Expectancy: How Long Does Your Money Need to Last?
A baby born today can be expected to live, on average, 78.6 years, according to numbers from the Centers for Disease Control and Prevention. A 65-year-old has a life expectancy of 19.5 years.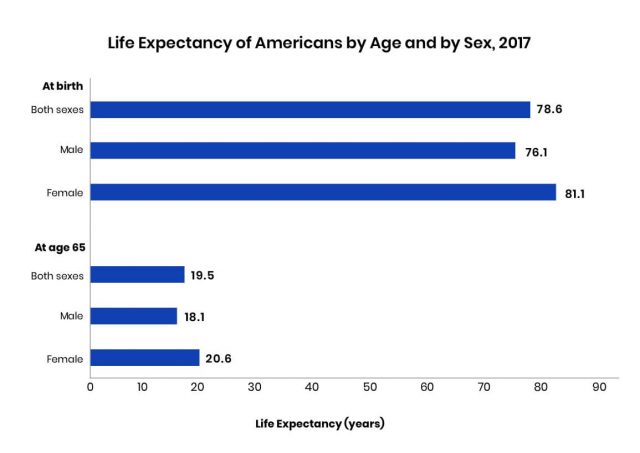 These CDC statistics are averages. That means many people don't live that long, and many people live much longer. It's not crazy to expect your time in retirement to last longer than your time in the workforce.
And the older you get, the longer you can expect to live, as you've escaped many of the risks.
According to CDC data, out of 100,000 people born alive:
At age 65: More than 85 percent were still alive.
At age 80: Nearly 58 percent were still alive.
At age 85: More than 42 percent were alive.
At age 90: Nearly 25 percent had survived.
At age 95: More than 9 percent remained.
On average, women live longer than men. And with improvements made to treating various diseases and other causes of death, life expectancies may rise even further.
Surveys from The Society of Actuaries show that more than half of Americans underestimate their life expectancy. Thus, many people plan for too short a period in retirement.
Both workers and retirees estimated in a recent survey that they will live to age 85, while retired widows indicated they expect to live slightly longer, until age 90. However, a plurality said there is no way to know their life expectancy.
Many factors, including genetics and overall health, can play a role in how long you'll live. Research out of New York Medical College has found that if you remain longer in the workforce, you also may live longer, meaning that working longer may not significantly shorten your retirement.
Tools such as the Social Security Administration's retirement longevity calculator and the Living to 100 Life Expectancy Calculator, which was created by the director of the New England Centenarian Study and uses medical and scientific data, allow you to estimate your life expectancy based on your age and gender, but it's just not possible to know how long an individual will live.
And that's the challenge for retirees. Given a pot of savings, how much can they spend in any given year?
Managing Savings for Longevity
Even if you have a good idea about how long you might live — based on health and family history — it's still not a completely reliable guide to planning your retirement. A study by the Center for Retirement Research found that workers who expect to live longer may plan to retire later, but unexpected shocks often disrupt those plans.
Many retirees who have retirement savings choose to either spend freely until they're virtually out of money or live too frugally, paralyzed by the fear of running out of savings.
Join Thousands of Other Personal Finance Enthusiasts
Because missing out on important news and updates could cost you.
The Spend Safely in Retirement Strategy
One approach to allow for more strategic spending is known as the Spend Safely in Retirement Strategy. Developed by researchers from the Stanford Center on Longevity, the Spend Safely in Retirement Strategy is designed for people who have between $100,000 and $1 million in retirement savings and who have not consulted with a financial advisor.
This strategy involves waiting as long as possible to start claiming Social Security payments. Up to the age of 70, the longer you wait, the higher your monthly payments will be. You can delay your reliance on Social Security by working longer, working part-time or living off savings for a while after you stop working.
Additionally, this strategy calls for investing retirement assets more aggressively than typically recommended, while withdrawing as little as possible using the IRS required minimum distribution rules to determine the amount of annual withdrawals. This allows you to draw down your savings more slowly and take more risks, thus increasing your chances of growing your savings.
Note, however, that investing in equities will not only increase your market risk, but it will likely cause your required minimum distributions to fluctuate.
Because RMDs are based on the year-end value of your account, if your retirement account has a higher weighting of stocks — as opposed to a balance between stocks and bonds — it is likely to change in value from year to year. This, in turn, will affect the amount the IRS will require you to withdraw from your taxable retirement accounts each year.
For people who want to reduce their market risk, the researchers say their analyses "project reasonable results" with typical target date funds, balanced funds or index fund, which are generally available in traditional IRAs and 401(k)s.
Mortality Credits: Risk Pooling in Annuities
To address individual longevity risk, actuaries and other financial advisors recommend risk sharing or risk pooling. Risk pooling allows people who live longer than expected to receive income from the unused premiums that have been contributed by those who died earlier than expected.
These unused premiums create mortality credits, a benefit of income annuities that protects against longevity but eliminates the ability to leave money from the annuity to beneficiaries.
Please seek the advice of a qualified professional before making financial decisions.
Last Modified: August 26, 2022
Share This Page:
14 Cited Research Articles
Annuity.org writers adhere to strict sourcing guidelines and use only credible sources of information, including authoritative financial publications, academic organizations, peer-reviewed journals, highly regarded nonprofit organizations, government reports, court records and interviews with qualified experts. You can read more about our commitment to accuracy, fairness and transparency in our editorial guidelines.
Your web browser is no longer supported by Microsoft. Update your browser for more security, speed and compatibility.
If you are interested in learning more about buying or selling annuities, call us at 855-995-1277