What Is Debt Relief?
Debt relief refers to a variety of options consumers have for reducing their debt. People who have too much debt may consider one or more debt relief strategies to improve their personal financial situation.
You might have too much debt if you don't know how much you owe, if you struggle to make the minimum payments on your debts or if you have a poor borrowing reputation with lenders. Having a lot of debt can have a negative impact on your credit score and make it difficult to pay your bills.
If you feel overwhelmed by the amount of debt you have and are unsure how you will ever pay it off, you may benefit from seeking debt relief services.
How Does Debt Relief Work?
Most debt relief services work in one of two ways: either refinancing the debt to make it easier to pay off or negotiating with creditors to reduce the amount you owe.
Refinancing your debt means replacing that debt with a new debt that has more favorable terms. Mortgage refinancing is a popular option for homeowners struggling with mortgage payments.
When a debt is refinanced, the new debt may have a lower monthly payment or a lower interest rate to make it easier to pay that debt off. Debt consolidation loans are one of the most common ways to refinance debt.
Negotiating with creditors is the other form of debt relief. When you or a company that represents you negotiates with your creditors, you can attempt to lower the amount you will have to pay back. This process is known as debt settlement.
There are some forms of debt relief you can do yourself, like applying for a balance transfer credit card or debt consolidation loan. Other types of debt relief require the help of a professional, such as not-for-profit credit counseling or debt forgiveness.
You can technically negotiate debt settlements with your creditors on your own. However, it's usually wise to have a professional settlement firm or a debt settlement attorney to assist you, as debt settlement can be a complicated process.
Who Qualifies for Debt Relief?
Debt relief services can help you regain your financial wellness, but they aren't right for everyone. If you got into debt because of irresponsible spending habits, debt relief ultimately won't help you until you address the habits that got you into debt in the first place.
Whether you qualify for debt relief depends on the type of service you want to pursue. But generally, you may qualify for debt relief if any of these statements describe you:
You've fallen behind on multiple debts, such as credit cards or a mortgage
You are making payments on your debt each month but feel you are no closer to being debt free
You feel unable to manage your debt on your own
You are considering filing for bankruptcy due to your overwhelming debt
What Are the Different Options for Debt Relief?
Having a lot of debt can be overwhelming, and it may feel like you'll never be free of this financial burden. If you're struggling to repay large amounts of debt, there are a few strategies you can use to get out of debt faster.
Knowing which form of debt relief will be best for you helps to get a big-picture view of your financial circumstances.
"I recommend putting together a list of all your debts, the interest rate and the minimum monthly payment, and then how long it will take you to get out of debt with that payment," says Gerri Detweiler, an educator and co-author of Reduce Debt, Reduce Stress.
"That should give you insights into a couple of key pieces of information," Detweiler says. "One is, can I do this myself? If you realize, 'Hey, I didn't realize those total monthly payments were so high, and maybe that's why I'm putting everything on credit cards,' then you probably want to reach out for help. Or you may see it and say, 'You know what, I could pay even more, and I could pay off those balances faster.' And then you can create a DIY strategy."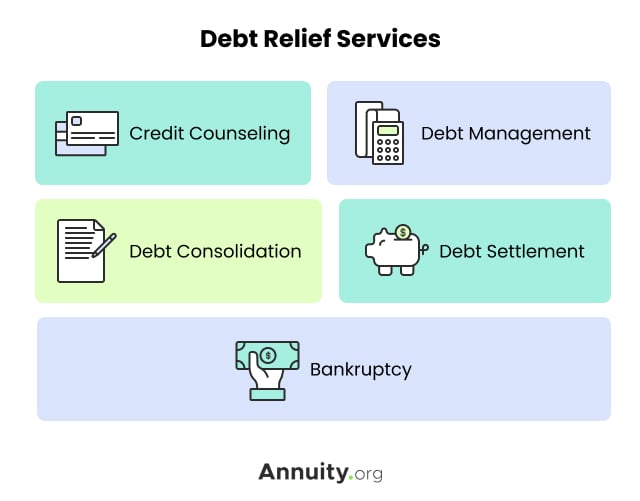 Free Options
There are steps you can take to relieve your debt burden without spending money to hire professional help.
You should contact your creditors as soon as possible if you're having trouble making payments toward your debt. If the creditors haven't sent your debt to collections yet, you may be able to negotiate a lower monthly payment, so you can continue to make payments toward your debt.
If your debt has been sold to collectors, you can attempt to negotiate a settlement. Debt settlement is more effective when the debt is no longer owned by your creditors because they will want to get as much of their money back as possible.
Credit counseling can be a helpful solution for those who need assistance dealing with their debt. Nonprofit credit counseling programs are offered by universities, credit unions, housing authorities and other organizations at little to no cost to consumers.
A certified credit counselor can provide you with free workshops and educational materials to help you manage your money and debts. They can work with you to develop a personalized plan for getting out of debt that's tailored to your unique situation.
Paid Options
For consumers with more serious debt issues, do-it-yourself solutions or free credit counseling may not be enough. In that case, you may consider these debt resolution products and services.
You can pay down debt on multiple credit cards with a balance transfer credit card. These cards are designed to help consolidate debts into one monthly payment. Balance transfers often have introductory interest rates that are low or even 0% for the first several months.
Balance transfers are just one form of debt consolidation. Debt consolidation refers to combining high-interest debts into a single loan or credit card that you can pay down each month.
Consolidation allows you to make one monthly payment instead of multiple, and many consolidation programs offer better terms to help you pay down the debt faster. Debt consolidation loans can be secured or unsecured, and a secured loan might offer even lower interest rates.
Debt management plans (DMP) are set up by credit counseling organizations to help people manage debt. With a DMP, you'll make payments to the credit counseling agency each month, which the agency will use to pay your unsecured debts like credit cards or medical bills. By going through a credit counseling agency, you may be able to negotiate with your creditors to lower interest rates or waive certain fees.
If your debt has become too high for you to manage, you may turn to the services of a debt settlement company. These companies are experts at negotiating with creditors to reduce the amount of debt you owe.
Once the company reaches an agreement with your lender, you'll be asked to pay a lump-sum settlement that's less than what you owe. It could take a few years to save up enough to pay the settlement, but in the long run, you'll be debt-free faster than if you tried to pay off all the debt yourself.
Declaring bankruptcy should always be a last resort if you've exhausted all other debt-relief options. Personal bankruptcy can stay on your credit report for up to 10 years, making it difficult to get credit or insurance or buy a home. It's also expensive; filing fees can total several hundred dollars, not to mention the cost of hiring a bankruptcy attorney.
Pros and Cons of Debt Relief
Each form of debt relief has benefits and drawbacks. To know which debt relief service will work best for you, you must weigh the pros and cons of each option.
Debt Relief Pros & Cons
Debt Relief Option
Pros
Cons
Credit Counseling
Free or low cost

Can offer personalized advice

❌ Can't reduce the amount of debt you owe
Debt Consolidation
Make fewer payments each month

Can pay off debt with low to no interest

❌ Transfer fees

❌ Less effective for consumers with poor credit

Debt Management Plan
Agency can lower interest and waive fees

Includes counseling and education resources

❌ Can take three to five years to resolve

❌ Monthly fee

Debt Settlement
Pay less than amount owed

Get out of debt faster

❌ Damages credit score

❌ Not guaranteed to succeed

❌ Settlement firms charge high fees

Bankruptcy
Can have debt completely forgiven

Faster than debt settlement

❌ Severely damages credit score

❌ Costly filing fees and attorney fees

❌ May require you to lose assets
Source: National Foundation for Credit Counseling
Are There Government Debt Relief Programs Available?
Debt relief options provided by the federal government are limited. Federal student loans are the only type of debt that can be forgiven or discharged by the federal government.
Federal student loans are eligible for a debt relief program called debt forgiveness. You can have your student loans forgiven if you work for the government or a nonprofit organization or if you teach at a low-income school for five consecutive years as part of the Teacher Loan Forgiveness Program.
The only other debt relief program the federal government provides is the IRS Fresh Start program. This service assists taxpayers who have fallen behind on paying federal income taxes. Fresh Start helps taxpayers negotiate offers in compromise, which is a form of debt settlement where the IRS settles the taxpayer's liability for less than they owe.
Avoiding Debt Relief Scams
Unfortunately, not all debt relief services are offered by reputable companies. Scammers often target people who are desperate to get out of debt, luring them with unrealistic promises of wiping away their debt completely.
If a debt relief company guarantees you that they can get your debt completely forgiven, or if they claim to know about a new government program that can bail you out, they probably aren't being truthful. There is never any guarantee that a debt settlement firm will be successful in reducing your debt, and as mentioned earlier, government debt relief programs are very limited and specific.
Another red flag is if the company tries to collect an upfront payment before providing any services. A debt settlement company should never charge you before they've been able to reduce your debt; collecting advance fees is prohibited by the Federal Trade Commission.
Before seeking the services of a debt relief company, do some research on the company. You can reach out to your state's Attorney General or a local consumer protection agency and find out if the firm has had any consumer complaints made against it.