Key Takeaways
A 5% savings account has an annual percentage yield (APY) of 5%.
Because of compound interest, an account with an interest rate lower than 5% may still be able to provide a 5% APY.
These types of high-yield savings accounts can help you reach your short-term savings goals quickly, but they're not recommended as a long-term savings strategy.
Though 5% savings accounts are rare, they have become more common as the Federal Reserve raises interest rates to curb inflation.
There were no 5% savings accounts in the United States between 2008 and early 2023 when the Fed kept interest rates low.
What Are 5% Interest Savings Accounts?
A 5% interest rate savings account is a type of high-yield savings account that pays a 5% annual percentage yield (APY) on your deposit. The APY measures the return on your investment over the period of a year, and it includes compound interest.
To give you an idea of how these high-yield savings accounts work, let's say you invest $100,000 into a 5% savings account. An APY of 5% means you would earn $5,000 in interest after the first year, which is considerably more than you'd earn with a traditional savings account.
Even some high-yield savings accounts that earn less than 5% interest are still able to generate a 5% APY thanks to the effect of compounding interest.
A 5% APY savings account can be a valuable piece of your financial puzzle. But be aware of the limitations attached to it, including minimum balances and maximum number of withdrawals in a given period.
Are They Common?
Five percent interest rate savings accounts are actually quite rare, but they've become more common as the Fed raises interest rates.
In February 2023, an online savings account offered by Primis Bank became the first to surpass a 5% APY in the United States since 2008, according to a report from CNBC. Other banks have followed suit by offering these types of high-yield savings accounts.
If the Fed keeps interest rates high to fight inflation, high-yield savings accounts with 5% interest — or even higher — will likely stick around.
Pros & Cons
Depending on your investment goals, a 5% interest rate savings account may or may not be the best place to invest your savings. For some, a high-yield savings account with a lower rate — or other types of investments altogether — may be a better choice in the long run.
Pros and Cons of 5% Interest Rate Savings Accounts
Pros
Significantly higher interest rates than traditional savings accounts.
Interest compounds daily, allowing your deposits to snowball.
You can withdraw your savings at any time.
There is no risk, as your account is insured up to $250,000 by the Federal Deposit Insurance Corp. (FDIC).
Cons
Interest rates are variable and can fluctuate anytime, meaning the rate could drop below 5%.
Inflation can outpace interest growth, making it a poor choice for long-term investments.
You may have a maximum number of withdrawals you can make in a year.
Transferring your money from one bank to another may take up to 48 hours.
Do Traditional Banks Offer 5% Savings Accounts?
Traditional banks — meaning those with brick-and-mortar locations — do not yet offer 5% savings accounts. Currently, you can only get these types of high-yield savings accounts through online banks or credit unions.
Because online banks have lower operating costs and overhead than traditional banks, they're better able to turn those savings into higher interest rates for their customers.
Since you're not having to visit a physical bank to compare their account offerings, it's relatively easy to shop for a high-yield interest savings account. You're not limited to traditional banks doing business in your area — instead, you can choose 5% savings accounts that are available nationwide.
How To Pick and Open a 5% Savings Account
When choosing a 5% savings account, you'll need to shop around and compare several features to find the right fit.
You should be able to choose the best option for you by following four simple steps.
4 Steps for Choosing a 5% Savings Account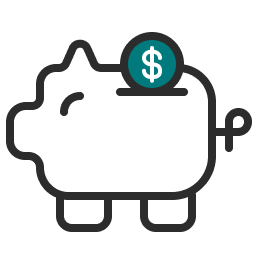 Get the Highest APY
Read the Restrictions
Check for Fees
Compare Customer Service
First, you'll want to pick the account with the highest APY. Anything with an interest rate below 4% will fall short of a 5% APY. Check to see if the APY of the account will get you to at least 5%.
Read the restrictions to make sure you'll earn the full 5% on all your deposits. Some 5% savings accounts come with significant monthly requirements — such as a minimum number of direct deposits you must make each month or a required minimum balance. They may also limit the total amount of money you can deposit in the account.
Always check for fees, which can eat into your savings account earnings. Ensure you know what fees the bank will charge — and how much those will cost.
Customer service can vary with online banks. You'll want to find out how easily and quickly you can access your savings, make deposits and withdraw money — sometimes it may take days. Compare these factors to the customer service you'd get at a traditional bank. It's possible that a lower interest rate account at a traditional bank may be a better fit for you.
Opening a 5% Savings Account
Once you've made your choice, it typically takes 15 minutes or less to apply for a 5% savings account. Just remember to check for any minimum deposit requirements before you apply.
4 Steps for Opening a 5% Savings Account
Go to the bank's website and start an online application.
Provide your personal information — including your name, address, Social Security number and other identifying information.
Be prepared to upload a photo ID, such as a passport or driver's license.
Make your initial deposit.
You may want to download the bank's app or other online tools to better manage your new account on your computer, tablet or smartphone.
Who Should Open a 5% Interest Savings Account?
If you have a short-term savings goal you want to reach quickly, a 5% savings account may help you get there.
Examples of short-term savings goals could be things like building an emergency fund, saving up for an annual vacation or setting aside money for a down payment on a car or a new home.
If your savings goals are more long-term — or if you'll need to access your savings frequently or quickly — a 5% savings account is probably not right for you. The interest rate can fluctuate and typically does not keep up with inflation, making it non-ideal for long-term savings goals.
Remember, a 5% savings account can help you build up extra savings quickly, but for long-term earnings, it's better to focus on other alternatives like investments or annuities.
Alternatives to 5% Interest Savings Accounts
For longer-term savings goals, you may want to consider alternatives to 5% savings accounts including index funds, high-yield certificates of deposit (CDs), annuities and money market accounts.
Each offers a slightly different strategy for reaching your financial goals. If you're already thinking about putting your money in a high-yield savings account, consider these alternatives to see if one is a better fit for your needs.
Index Funds
When you invest in an index fund, you earn money based on the performance of a market index — such as the S&P 500 Index — rather than a single stock. This lets you diversify your investments.
Index funds have the potential to deliver a higher rate of return than 5%, but they may lose money if the market goes down.
High-Yield CDs
High-yield CDs typically have better interest rates than savings accounts. You can get higher rates by locking in a fixed interest rate over a specific period, usually a year or two.
If you withdraw money from your CD before the term is up, you may have to pay a penalty. But as long as your savings goals are short- to intermediate-term — and you won't need to access your money for a while — CDs are an option.
Annuities
Fixed annuities are insurance contracts that promise to pay you a guaranteed interest rate on the money you put into the account.
The rate does not change for the term of the annuity. For example, if you buy a 10-year fixed annuity at 5%, the rate will remain at 5% for 10 years.
401(k) or Other Retirement Plan
If you're saving for retirement, it makes better sense to put your money into a 401(k), individual retirement account (IRA) or another retirement plan rather than a 5% savings account.
The money you invest in a retirement plan can grow faster than in a savings account, and your investment will be diversified across stocks, bonds and other assets to reduce your risk of loss.
Money Market Accounts
Money market accounts offer higher interest rates than traditional savings accounts. You can open a money market account through traditional banks and credit unions.
These types of accounts have qualities of both checking and savings accounts — meaning that you can write checks from your money market account while still earning interest. The interest you earn is variable and will depend on your balance.