Loans
A loan is a set amount of money borrowed from the bank, government or a corporation that is paid back with interest. Your ability to get an affordable loan depends on your financial situation, the amount you request and the type of loan you need.

Written By

Lindsey Crossmier

Lindsey Crossmier

Financial Writer

Lindsey Crossmier is an accomplished writer with experience working for The Florida Review and Bookstar PR. As a financial writer, she covers annuities, structured settlements and other personal finance topics for Annuity.org.

Read More

Edited By

Lamia Chowdhury

Lamia Chowdhury

Financial Editor

Lamia Chowdhury is a financial editor at Annuity.org. Lamia carries an extensive skillset in the content marketing field, and her work as a copywriter spans industries as diverse as finance, health care, travel and restaurants.

Read More

Financially Reviewed By

Peggy James, CPA

Peggy James, CPA

Certified Public Accountant

Peggy James is a certified public accountant with a Master of Accounting. She has spent the past several years of her career focused on working in higher education finance roles. Peggy also has accounting and finance experience working in the corporate and nonprofit sectors.

Read More

Updated: September 20, 2022
9 min read time
This page features 14 Cited Research Articles
How Do Loans Work?
Loans are a lump sum of money borrowed from a bank, credit union or online lender. A loan is paid back in monthly installments, with the amount, time frame and interest set when you take out the loan. Typically, the repayment time frame for a loan is two to seven years.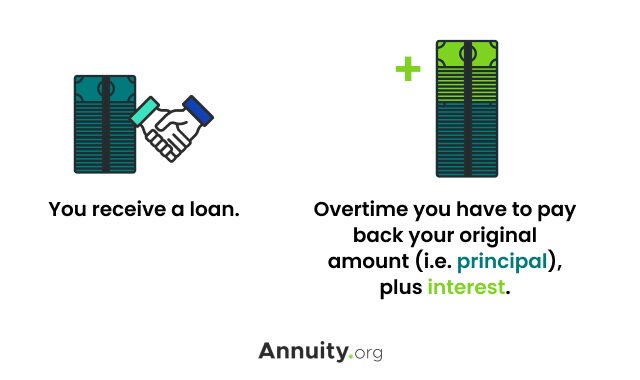 There is a wide range of average interest rates for loans, due to the different types and factors that fluctuate your interest rate. According to an article released from the Federal Reserve System, the average interest rate for a two-year personal loan is 9.46%.
Getting A Loan
There are six steps to help you prepare for a loan. These steps will help you decide if a loan aligns with your personal finance goals, the important factors that influence your loan status and how to research different lenders.
Six Steps to Prepare For Getting a Loan
1. Decide how much money you need.

Some lenders have a cap on how much you can take out in a loan. Make sure your requested amount is not over the limit. Check your finances to confirm you can afford the monthly payments for your loan. Your budget can help you determine the repayment time frame for the loan.

2. Check your credit score and credit report.

If you have a credit score lower than 670 or negative marks on your credit report, then it can limit your choice of lenders, loan terms and force high interest rates. If possible, you should wait until your credit improves before getting a loan.

Know that your credit score can influence if you choose to get a loan from a bank, credit union or online lender. Roughly 56% of Americans borrow personal loans from a bank, being the most popular option.

If you have a low credit score, it can be harder to qualify for a loan from a bank. A credit union or online lender may be a better option if your credit score is under 670.



3. Review your debt-to-income ratio.

Your debt-to-income ratio, also known as DTI, determines how much debt you have relative to your income. Most lenders prefer a DTI of 36% or less. To find out what your DTI is, divide your total recurring monthly debt by your monthly income before taxes and withholding.

4. Research and compare monthly loan payments and interest rates.

There is a wide range of interest rates among lenders, typically between 5.99% to 18.25%. Comparing interest rates and your monthly loan payment options can help ensure you're choosing the best loan option. Some lenders offer competitive rates.

5. Make sure you have the necessary documents and information.

Most lenders require documentation for your loan application. Having the documents readily available will ensure a smooth process. The required documents could include recent pay stubs or W-2 forms, tax return forms, bank statements, proof of residency, an ID card or a social security card.

6. Accept a bank, credit union or online lender's loan offer.

Before accepting the loan, make sure you review the terms and conditions thoroughly. A loan is binding, and you can face financial repercussions if you discover you cannot pay your monthly loan payments. If you're certain you can pay the loan off within the specified time frame — accept the loan offer.
Paying Back a Loan
Loans are paid back typically in set monthly increments determined by you and the lender. In some cases, like student loans, payments aren't requested until after you graduate.
While paying off a loan early will reduce interest costs, it may not always be the best decision. For example, with a personal loan, there is usually an origination fee and prepayment penalty if you pay off your loan early.
There also may be financial strain if you rush to pay off your loan early. The safest route is to stick to the monthly payment plan you determined with your lender.
Loans and Credit
A loan could either help or hurt your credit score, depending on your financial status.
A loan application can result in a hard inquiry and affect your credit score negatively for up to two years. Similarly, if you have too many inquiries on your credit report within a short time, this can also affect your credit negatively.
However, if your loan application has a soft inquiry, your credit score will not be affected. If you make your payments on time, a loan can actually improve your credit score.
Loan Forgiveness
Some loans, like educational loans, can be forgiven. This would mean you are no longer required to repay a part of, or all, your loan.
Some circumstances to qualify for student loan forgiveness include performing volunteer work or military services, teaching or practicing medicine in a specific community.
There are also mortgage and car loan forgiveness options available, such as through a loan modification program. For this, you would renegotiate, and hopefully lower your original loan or monthly costs.
If you're looking into loan forgiveness, the first step would be to reach out to your lender and explore your options.
What Types of Loans Are There?
There are many different types of loans, all of which function slightly differently. Some are secured, meaning the loan is backed by collateral in case you can't repay the loan. Others are unsecured loans, which require no collateral. However, there are typically higher interest rates and fees with an unsecured loan compared to a secured loan.
Common Types of Secured and Unsecured Loans
| Secured | Unsecured |
| --- | --- |
| Home loans | Student loans |
| Auto loans | Personal loans |
For any loan, you should always determine a realistic budget to meet your loan payments each month. Knowing the differences between each type can better prepare you for each loan process.
Auto Loans
According to Statista, over 81% of cars are financed with a loan. But there are other costs of ownership you should factor in while determining the price of your auto loan.
Factors to Consider When Taking Out an Auto Loan
State taxes
Title and dealer fees
Insurance
Gas
Maintenance and repair costs
If you fail to include these in your monthly costs, you could find yourself coming up short in your monthly loan payments. Remember that you can opt into a larger down payment to minimize your monthly costs for the loan.
Home Loans
For home loans, there are several steps involved in the approval process.
For example, it's best practice to order a home inspection before securing a mortgage to ensure the home is priced correctly. You may want to negotiate the price if you find issues within the home to account for repairs. If the price changes, then you will want that to reflect within your loan amount as well.
Your lender will also require proof of homeowner's insurance before the loan can be approved.
Payday Loans
A payday loan is typically only considered for emergency use because it is a short-term loan. Typically, a payday loan doesn't offer more than $500, and it needs to be repaid quickly.
Since a payday loan is essentially a quick cash transfer, then it could be difficult to get approved if you have a low credit score.
Most payday lenders require proof of employment and some also require a certain income to be approved.
Personal Loans
Over half of Americans have taken out a personal loan. Personal loans are typically used for more casual lifestyle expenses, like paying for a vacation, wedding or home improvements.
This isn't to say they are limiting in any way. Personal loans can also be used for more serious matters, like debt consolidation or medical expenses.
Student Loans
According to the Education Data Initiative, nearly 43.4 million Americans have student loan debt, making it the second-highest consumer debt after mortgages.
The amount that you can take out for a student loan will fluctuate depending on if you're an undergraduate student, a graduate or parent.
There are four types of federal student loans available — a direct subsidized loan, direct unsubsidized loan, direct PLUS loan and direct consolidation loan. The amount you need, and whether you're an undergrad, will help you determine which best suits your loan needs.
The government website for federal student aid has a resource list for each type of federal student loan to help guide you.
What Are the Pros and Cons of Loans?
There are advantages and disadvantages to getting a loan. Loans offer new opportunities that couldn't be possible otherwise. For example, getting a loan to pay for a wedding, new car or kitchen remodel would be a positive outcome.
However, if you can't meet your monthly payments, then it can negatively impact your finances and credit score. For example, if your loan is secured with your car as collateral, you could lose your car.
Pros
Offers financial flexibility
Can offer lower interest rates than credit card debt
If you have good credit, acceptance can be easy
Cons
Could possibly lower your credit score
Possible fees
If you struggle to manage monthly payments, then a loan could result in more debt
Considering your finances and the amount of loan you can afford can help you avoid a negative outcome from taking out a loan.
Who Are Loans Best Suited For?
Loans are best suited for those who have expenses they cannot afford to cover on their own immediately. Some reasons for taking out a loan are a necessity, such as credit card debt, costly medical bills, funds for college or to cover rent.
Others may take out a loan for more personal reasons, such as to cover wedding costs or remodel their home. In either case, loans can be beneficial to one's current needs or personal finance goals if they are managed properly.
Remember that you should only take out a loan if you have a guaranteed payoff plan, only borrowing what you know you can pay back without much difficulty.
Advertisement
Connect With a Financial Advisor Instantly
Our free tool can help you find an advisor who serves your needs. Get matched with a financial advisor who fits your unique criteria. Once you've been matched, consult for free with no obligation.
Please seek the advice of a qualified professional before making financial decisions.
Last Modified: September 20, 2022
Share This Page:
14 Cited Research Articles
Annuity.org writers adhere to strict sourcing guidelines and use only credible sources of information, including authoritative financial publications, academic organizations, peer-reviewed journals, highly regarded nonprofit organizations, government reports, court records and interviews with qualified experts. You can read more about our commitment to accuracy, fairness and transparency in our editorial guidelines.
Who Am I Calling?
Calling this number connects you with an Annuity.org representative.
If you're interested in buying an annuity or selling your annuity or structured settlement payments, we will connect you with one of our trusted financial partners for a free quote.
855-995-1277
Your web browser is no longer supported by Microsoft. Update your browser for more security, speed and compatibility.
If you are interested in learning more about buying or selling annuities, call us at 855-995-1277