Annuity vs. Life Insurance
Annuities and life insurance are both contracts between insurers and policyholders. Both offer tax-deferred growth, and, similar to life insurance policies, annuity contracts may offer death benefits to beneficiaries. But that's where the similarities end. Although life insurance policies do not provide lifetime income, you can convert life insurance to an annuity, tax-free.

Written By

Robert J. Smith, ChFC®

Robert J. Smith, ChFC®

Expert Contributor

Robert J. Smith is a financial advisor who has earned the CLU®, ChFC®, LIC, CCCC, RIA, AAMS®, CMP® and CMPS® professional designations. Throughout his five-decade career in financial services, Robert has consistently ranked in the top 1% worldwide in insurance and financial services production.

Read More

Edited By

Kim Borwick

Kim Borwick

Financial Editor

Kim Borwick is a writer and editor who studies financial literacy and retirement annuities. She has extensive experience with editing educational content and financial topics for Annuity.org.

Read More

Financially Reviewed By

Rubina K. Hossain, CFP®

Rubina K. Hossain, CFP®

Certified Financial Planner™ Professional

Certified Financial Planner Rubina K. Hossain is chair of the CFP Board's Council of Examinations and past president of the Financial Planning Association. She specializes in preparing and presenting sound holistic financial plans to ensure her clients achieve their goals.

Read More

Updated: December 1, 2022
4 min read time
This page features 3 Cited Research Articles
Annuities are not life insurance policies. They are, in fact, designed to serve the exact opposite purpose. Whereas life insurance guarantees income in the event of your death, an annuity guarantees income in the event that you live longer than you expect to.
Which Solution Is Right for You?
The short answer is that a financial strategy that includes annuities and life insurance may be right for you. Your long-term plans for your money and your lifestyle will determine whether one or both products will help you to achieve your goals now and in your retirement years.
There are two types of annuities — deferred and immediate. There are three subsets of deferred annuities, including fixed annuities, variable annuities and fixed-index annuities. All types of annuities grow on a tax-deferred basis.
Just as there are two basic types of annuities, there are also two basic types of life insurance products — temporary and permanent.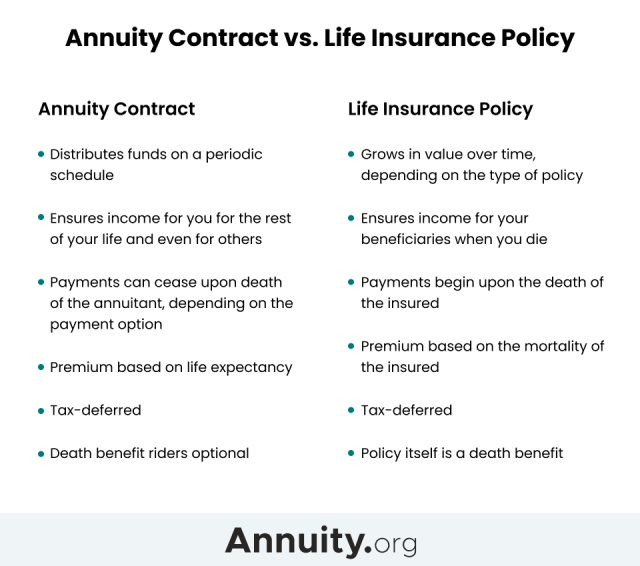 Passive Income Streams
Temporary Life Insurance
Temporary life insurance is known as term insurance. Term insurance provides a tax-free death benefit to beneficiaries. It does not provide cash value to the owner. Temporary life insurance usually comes in the form of group benefits, such as a benefit of one to two times the owner's annual salary.
Term policies are popular with people who have little discretionary income as these policies are less expensive than permanent policies, which build cash values. Term policies may be annually renewable with increasing premiums or have level premiums for a stated period of time, such as ten or twenty years.
Annually renewable-term and level-term insurance policies both become prohibitively expensive in the later years of the insured's life.
Term policies are huge earners for life insurance companies because most of these policies lapse before the insured dies. Statistically, most term insurance is purchased by younger people who have little cash to save and would leave their loved ones without a way to pay the mortgage, college tuition and other large liabilities in the event of their death.
Temporary life insurance covers all of these needs and many others, but the fact is that most people die when they are old — not when they are young. This actuarial fact of our expected mortality allows life insurance companies to safely stay profitable and keep enough cash on hand to pay all of the death benefits of those who die prematurely.
How to Diversify Your Portfolio
Permanent Life Insurance
Permanent life insurance policies build cash values. As with annuities, which may be fixed or variable, permanent life insurance policies offer fixed and variable investment options and grow on a tax-deferred basis. And similar to term policies, they also pay tax-free death benefits.
Permanent policies offer a savings component, which may be accessed through tax-free loans for emergencies or investment opportunities.
Fixed permanent life insurance policies include:
Whole life
Universal life
Whole life insurance is also referred to as ordinary life. It has fixed premiums for the life of the policy, and the value grows tax-deferred based on fixed interest rates.
Universal life, or adjustable life, allows for flexible premium payments subject to minimums and maximums set forth in the policy contracts. Universal life also grows tax-deferred based on fixed interest rates.
These policies allow for increases in death benefits provided that the insured remains in good health. Universal life insurance policies may also come in the form of fixed-index universal life insurance policies.
Variable life insurance values — either variable whole life or variable universal life — and death benefits vary according to the performance of the underlying subaccounts. If subaccounts consistently underperform, the cash value may fall to zero, and the death benefit may decrease.
Using a 1035 Exchange to Convert a Life Insurance Policy to an Annuity
Permanent life insurance policies may be converted to annuities in order to provide the insured with an income that he or she cannot outlive. This may be done through an Internal Revenue Service (IRS) Section 1035 Exchange.
Section 1035 exchanges allow annuities to be exchanged tax-free for other annuities, life insurance policies to be exchanged tax-free for other life insurance policies and life insurance policies to be exchanged tax-free for annuities. They do not, however, allow for annuities to be exchanged for life insurance.
According to FINRA, "A transaction in which a new insurance or annuity contract is to be purchased using all or a portion of the proceeds of an existing life insurance or annuity contract is referred to as a 'replacement.' A 1035 Exchange is a type of replacement transaction."
The reason that policies may be exchanged on a tax-free basis is that no actual gain has been realized by merely exchanging policies. While an annuity may have gained value, the gain has not yet been realized as long as it hasn't been distributed to the annuity holder or to a beneficiary.
Advertisement
Connect With a Financial Advisor Instantly
Our free tool can help you find an advisor who serves your needs. Get matched with a financial advisor who fits your unique criteria. Once you've been matched, consult for free with no obligation.
Please seek the advice of a qualified professional before making financial decisions.
Last Modified: December 1, 2022
Share This Page:
3 Cited Research Articles
Annuity.org writers adhere to strict sourcing guidelines and use only credible sources of information, including authoritative financial publications, academic organizations, peer-reviewed journals, highly regarded nonprofit organizations, government reports, court records and interviews with qualified experts. You can read more about our commitment to accuracy, fairness and transparency in our editorial guidelines.
Byman, J. (2022, May 10). What Is a Permanent Life Insurance Policy? Retrieved from https://www.northwesternmutual.com/life-and-money/what-is-permanent-life-insurance/
Delfino, D. (2022, April 21). What Is Term Life Insurance? Retrieved from https://www.usnews.com/insurance/life-insurance/term-life-insurance
FINRA. (n.d.). Should You Exchange Your Life Insurance Policy? Retrieved from https://www.finra.org/investors/alerts/should-you-exchange-your-life-insurance-policy
Who Am I Calling?
Calling this number connects you to Senior Market Sales (SMS), a trusted partner of Annuity.org.
If you're interested in buying an annuity, a representative will provide you with a free, no-obligation quote.
SMS is committed to excellent customer service. The company can help you find the right insurance agent for your unique financial objectives.
877-918-7024
Your web browser is no longer supported by Microsoft. Update your browser for more security, speed and compatibility.
If you are interested in learning more about buying or selling annuities, call us at 877-918-7024