Annuity.org Welcomes Four New Financial Experts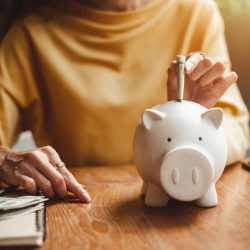 Written By

Jennifer Schell

Jennifer Schell

Financial Writer

Jennifer Schell is a professional writer focused on demystifying annuities and other financial topics including banking, financial advising and insurance. She is proud to be a member of the National Association for Fixed Annuities (NAFA) as well as the National Association of Insurance and Financial Advisors (NAIFA).

Read More

Edited By

Lamia Chowdhury

Lamia Chowdhury

Financial Editor

Lamia Chowdhury is a financial editor at Annuity.org. Lamia carries an extensive skillset in the content marketing field, and her work as a copywriter spans industries as diverse as finance, health care, travel and restaurants.

Read More

Published: October 4, 2022
2 min read time
Annuity.org is pleased to welcome the addition of four highly qualified professionals to our panel of financial experts.
These individuals are all extremely respected in their field and have the experience and qualifications to provide Annuity.org's readers with reliable, accurate information. All of them have been approved by our vetting process, which includes verifying employment, licensing and professional designations, as well as investigating complaints and disciplinary actions.
We are confident that these new experts will contribute insightful perspectives and knowledge that allow Annuity.org to fulfill our mission to protect and educate consumers in the annuity and structured settlement marketplace.
We are excited to announce the addition of these new experts to Annuity.org.
Ebony J. Howard, CPA
Ebony J. Howard comes to us as an expert contributor to Annuity.org. She is a certified public accountant and freelance consultant with a background in accounting, personal finance and income tax preparation. Ebony leverages over 15 years of experience in the financial world to help Annuity.org readers by breaking down difficult concepts into easily digestible information.
Stephen Kates, CFP
Stephen Kates is a Certified Financial Planner™ who specializes in financial planning and education. With over a decade of experience as a financial adviser, Stephen has worked for two of the top financial firms in the country and helped hundreds of clients build comprehensive financial plans to grow and protect their wealth.
"I come from the unique position of having worked in both the traditional financial planning industry, as well as the growing Fintech ecosystem," Stephen said. "As a former financial advisor to hundreds of clients, I created and implemented financial plans for families and came to understand how personal retirement topics are."
Timothy Li, MBA
As a business finance manager, Timothy Li researches ways to increase profitability within the supply chain, logistics and sales departments. His experience includes working as a consultant, accountant and finance manager in Fortune 500 companies. Timothy brings his expertise in corporate finance, strategic finance and corporate accounting to Annuity.org.
"I enjoy working with Annuity.org for its valuable information that it provides to its readers," Timothy shared. "The message in each article is clear, presented in a consistent voice, and all done in a non-salesman like manner."
Chip Stapleton
Chip Stapleton is a financial advisor who holds Series 7 and Series 66 licenses from the Financial Industry Regulatory Authority (FINRA), as well as a Life, Accident and Health Insurance license from the state of Indiana. In addition to these certifications, Chip's qualifications include serving as a financial analyst for Perkins & Co, where he helps business owners sell their businesses.
Advertisement
Connect With a Financial Advisor Instantly
Our free tool can help you find an advisor who serves your needs. Get matched with a financial advisor who fits your unique criteria. Once you've been matched, consult for free with no obligation.
Please seek the advice of a qualified professional before making financial decisions.
Last Modified: November 21, 2022
Share This Post:
Your web browser is no longer supported by Microsoft. Update your browser for more security, speed and compatibility.
If you are interested in learning more about buying or selling annuities, call us at 855-995-1277