Money Smart Week 2022: A Recap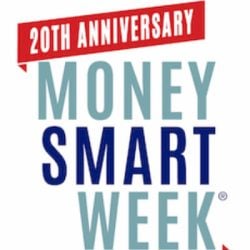 Written By

Jennifer Schell

Jennifer Schell

Financial Writer

Jennifer Schell is a professional writer focused on demystifying annuities and other financial topics including banking, financial advising and insurance. She is proud to be a member of the National Association for Fixed Annuities (NAFA) as well as the National Association of Insurance and Financial Advisors (NAIFA).

Read More

Edited By

Savannah Hanson

Savannah Hanson

Senior Financial Editor

Savannah Hanson is an accomplished writer, editor and content marketer. She joined Annuity.org as a financial editor in 2021 and uses her passion for educating readers on complex topics to guide visitors toward the path of financial literacy.

Read More

Published: April 26, 2022
3 min read time
This page features 6 Cited Research Articles
From April 9 to 16, 2022, the Federal Reserve Bank of Chicago held its annual Money Smart Week public education program. The event offered free online presentations to educate Americans about important personal finance topics.
Money Smart Week began in 2002 when over 40 Chicago-based organizations convened to share resources and ideas with the goal of promoting financial literacy. Over the years, the event has expanded to reach audiences from all over the country. Last year, over 9,000 participants from 47 states attended virtual events during the week.
Summary of Money Smart Week Events
Celebrating its 20th year in 2022, Money Smart Week's program featured four online presentations covering a variety of topics. The week's first presentation, "Spend Smart. Eat Smart," was presented by Iowa State University Extension and Outreach. This event focused on food budgeting and gave participants access to the free "Spend Smart. Eat Smart." app with tools and resources for saving money on groceries.
During the presentation, Christine Hradek, coordinator for ISU's Human Sciences Extension and Outreach programs, gave some advice on reducing food waste and lowering your grocery budget.
"Shop at home first," Hradek said. "Take stock of what's already in your home before you start thinking about what you need to buy."
The next Money Smart Week session was entitled "Credit: Build and Improve It!" This presentation, from the Consumer Financial Protection Bureau (CFPB), covered the importance of good credit and how to build credit wisely.
While discussing the latter topic, CFPB representative Heather Brown noted that a person's payment history constitutes 35% of their FICO score calculation.
"That means paying on time is the most important thing you can do," Brown said. "If you can't pay the full amount, pay a partial amount. Pay the minimum balance at least."
The third presentation featured in Money Smart Week was titled "Buying or Refinancing a Home: Options and Tools." The North West Housing Partnership conducted this session by walking participants through the home buying and refinancing processes. Topics discussed included the types of mortgage loans available, the steps to obtaining a mortgage, how home inspections are completed and the fundamentals of homeowners insurance.
The home buying session also offered participants ways to identify and avoid predatory lending practices. Program Manager Michelle Hill offered this advice to prospective homebuyers: "Read the entire loan to make sure you fully understand your obligations before signing. Never sign a blank form or a form with information that is missing or incorrect."
Money Smart Week culminated with a presentation entitled "Social Security: Understanding Retirement, Spouse and Survivor Benefits." Led by representatives of the Social Security Administration (SSA), this session went over the entitlement factors for Social Security benefits and what options retirees have for claiming their benefits.
"Your age when you start receiving that benefit is going to permanently affect how much of it you receive," Charo Boyd, public affairs specialist for the SSA, said. Boyd recommended that participants use the SSA's online calculators to understand how different choices might affect their Social Security benefits.
Recordings of this year's presentations as well as presentations from past Money Smart Week events are available to view on the Money Smart Week website.
Advertisement
Connect With a Financial Advisor Instantly
Our free tool can help you find an advisor who serves your needs. Get matched with a financial advisor who fits your unique criteria. Once you've been matched, consult for free with no obligation.
Please seek the advice of a qualified professional before making financial decisions.
Last Modified: January 3, 2023
Share This Post:
6 Cited Research Articles
Annuity.org writers adhere to strict sourcing guidelines and use only credible sources of information, including authoritative financial publications, academic organizations, peer-reviewed journals, highly regarded nonprofit organizations, government reports, court records and interviews with qualified experts. You can read more about our commitment to accuracy, fairness and transparency in our editorial guidelines.
Your web browser is no longer supported by Microsoft. Update your browser for more security, speed and compatibility.
If you are interested in learning more about buying or selling annuities, call us at 855-995-1277