Retirement Plans and Regrets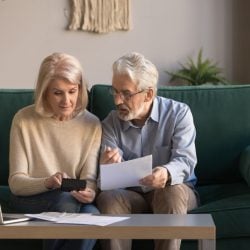 Written By

Elaine Silvestrini

Elaine Silvestrini

Financial Writer

Elaine Silvestrini is an advocate for financial literacy who worked for more than 25 years in journalism before joining Annuity.org as a financial writer.

Read More

Edited By

Kim Borwick

Kim Borwick

Financial Editor

Kim Borwick is a writer and editor who studies financial literacy and retirement annuities. She has extensive experience with editing educational content and financial topics for Annuity.org.

Read More

Published: January 6, 2020
4 min read time
This page features 5 Cited Research Articles
What is the right age to retire? When do you hope to retire?
Are you retired already? If so, do you feel your timing was right?
It's a daunting question. And the answer is often out of our control.
If your main goal is to get away from the rat race as soon as possible, then the earlier you can retire, the happier you will be.
If your goal is to be financially comfortable in your retirement, then the longer you can hold out, the better off you will be. That's because Social Security will pay more, your investments and savings will have more time to build, and if you have an income annuity, your payments will be higher. Bottom line: the older you are when you retire, the higher your income in retirement is likely to be.
Most of us want both a long retirement and plenty of income. The tension between the two goals is fuel for a lot of anxiety and – for some – regrets. And many of us may want to hold out and work into our later years, but our bodies or our employers might have other ideas.
Forced to Retire Early
For a lot of us, the timing of retirement isn't really a choice. We get sick or disabled. Or we lose our jobs and just can't find something else.
A full 43 percent of us leave the workforce earlier than planned, according to a survey by the Employee Benefit Research Institute (EBRI). That survey found that the median retirement age is 62. Yet, workers expected to retire at 65.
While nearly 90 percent of workers rely on Social Security as a source of retirement income, just 59 percent called it a major source of income. Last year's survey found that 67 percent of retirees see Social Security as a major source of income.
Personal Savings Support Retirees
Retirees are more likely to be relying on personal savings or investments as a major source of income, with 69 percent this year, as compared with 61 percent last year, citing personal savings. In fact, 49 percent of workers and 33 percent of retirees expect a product that guarantees monthly income, such as an annuity, to be a source of funds in retirement.
Having an annuity can protect us from one of the biggest nightmares of many retirees — outliving our savings. In fact, according to EBRI, retirees with pensions or annuities are less likely to run a deficit in their spending than those without.
Social Security penalizes workers for retiring early. Although workers can begin collecting Social Security retirement income as young as 62, the longer they hold out, the higher their income, with increases ending at the age of 70.
And consequently, a lot of people who retire early, regret it later as they find themselves having to live on less money to fund their needs. Women have it even tougher than men because they tend to live longer and make less.
Thinking About Buying an Annuity?
A financial expert can talk to you about your specific financial needs and recommend the type of annuity that is right for you.
Retirees Wish They'd Waited
A new survey found that 38 percent of retirees wish they had filed for Social Security later than they did. The 2019 MassMutual Social Security Pulse Check commissioned in collaboration with AgeFriendly.com found 30 percent having filed at age 62 or younger. In that survey, 53 percent filed out of financial need and another 30 percent filed because of unforeseen issues, such as health or changes in employment.
"In the simplest and most conservative cumulative calculation, a married couple with longevity into their early 90's could be leaving more than a half million dollars on the table — or as much as $2,000–4,000 per month for life — by filing for Social Security retirement benefits at age 62 versus filing at age 70," noted to a release from Mass Mutual. "Furthermore, a surviving spouse could receive $1,000–2,000 per month less for life as a result of filing at age 62."
The amount of the reduction in Social Security income is linked to the year you are born, which also determines what the government considers your full retirement age. Anyone born in 1960 or later will not reach full retirement age until 67. If you were born between 1943 and 1954, full retirement age is 66.
Social Security has a retirement age calculator where you can figure out your full retirement age and the penalties for retiring earlier.
For people who turned 62 in 2013, their benefits would be 25 percent less each month than they would be if they waited to reach their full retirement age. That reduction escalates to 30 percent for people born after 1959.
If you're planning retirement, you should consider consulting a financial advisor to determine if your funds will cover your needs and what you need to do to plan.
Advertisement
Connect With a Financial Advisor Instantly
Our free tool can help you find an advisor who serves your needs. Get matched with a financial advisor who fits your unique criteria. Once you've been matched, consult for free with no obligation.
Please seek the advice of a qualified professional before making financial decisions.
Last Modified: November 21, 2022
Share This Post:
5 Cited Research Articles
Annuity.org writers adhere to strict sourcing guidelines and use only credible sources of information, including authoritative financial publications, academic organizations, peer-reviewed journals, highly regarded nonprofit organizations, government reports, court records and interviews with qualified experts. You can read more about our commitment to accuracy, fairness and transparency in our editorial guidelines.
Who Am I Calling?
Calling this number connects you to Senior Market Sales (SMS), a trusted partner of Annuity.org.
If you're interested in buying an annuity, a representative will provide you with a free, no-obligation quote.
SMS is committed to excellent customer service. The company can help you find the right insurance agent for your unique financial objectives.
877-918-7024
Your web browser is no longer supported by Microsoft. Update your browser for more security, speed and compatibility.
If you are interested in learning more about buying or selling annuities, call us at 877-918-7024