Breaking The Cycle: Rebuilding After Paying Off Debt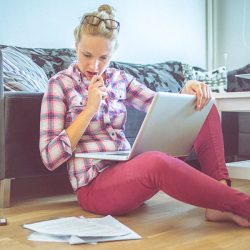 So, you sold your annuity payments and paid off every last credit card and debt that you have.
First off: Congratulations! Second: Put those boxing gloves back on. The fight isn't over yet.
Until you both understand the cause, and address it, you're still at risk. Racking up and then paying down debt is a cycle – unless you fix the root cause of why and how you're going into debt in the first place, you'll never be free of it.
How Lifestyle Inflation Turns into Debt
Most of us know what inflation means: prices rise over time. But our lifestyles can do that too.
Take Cassie, for instance. Cassie starts her first job after college and lives paycheck to paycheck. She's driving the same old used Honda and shopping off the clearance rack at Target.
After her first raise, she makes $50 more a month and thinks she should start buying more professional clothes. So she hits up Ann Taylor at the mall more often than Target sales. Then after her next raise of $100 extra dollars a month, Cassie decides she needs a more reliable car and goes on to buy a new Honda, which comes with new car payments.
Seems logical and fine, right? I mean, she worked hard for the raises and isn't going into debt.
But it's not fine.
Her lifestyle inflated with her earnings. Sure, now she looks nice and drives a better car but she's still living paycheck to paycheck. Without savings, she's still at risk to suddenly go into debt if an emergency comes up.
It doesn't even have to be a huge emergency like losing her job. It could be a family member passing away and needing to fly to a funeral. It could be a pet getting sick and needing expensive veterinary services.
Your lifestyle can creep up on you. Why not sign up for an entertainment subscription for $10.00 a month? It's only the cost of a Happy Hour bar tab.
Except most people do this without giving up the bar tab, either. Millions of Americans are falling prey to lifestyle inflation without knowing what they're doing and how they're spending because they're operating without a budget.
Budgets Don't Need to be Scary
People get really nervous around the idea of budgets. Some people are afraid it will be like going on a money diet (to be fair, for some it will be.) Others are afraid to face their money reality and are afraid they won't like what they see (again, to be fair, some won't.)
But those reasons are really financially damaging and lead to a cycle of accruing more and more debt.
Two-thirds of Americans are stuck in a cycle of debt. A Gallup poll said that only 32% of Americans use a detailed budget of some kind.
That's a shame. Having a budget allows you to watch for lifestyle creep and to make sure you're okay with where your money is going.
In 2015, being one of the few people making a budgets doesn't have to be hard. The Internet has tons of free resources, like Mint.com/. Or if sharing your personal information isn't your thing, most computers have Excel.
All you need to get started is how much you bring home each paycheck, what bills you have and when they're due, and an estimate of how much you spend at grocery stores and eating out. With that you'll see just how much you have after bills, and begin to see where all that money is going. From there you'll be able to look more closely at where the extra goes.
Being the Master of Your Own Financial Destiny
Don't be worried about what you might find out. You already know the amount of money in your checking (and hopefully) savings account. It isn't going to reveal some deep dark secret, it's just going to help you get on track.
And it probably doesn't mean having to go without the things you love.
For instance, if you find great joy in going to happy hour with coworkers after work, it's perfectly acceptable to put a budget line of $50 a paycheck. Especially in the beginning, it's not about where your money should go, it's about simply knowing where your money does go.
Knowing your spending patterns helps you prioritize what matters to you – and cut out what doesn't. Because in the exploratory period, you're going to find a few things that surprise you.
Maybe you didn't realize that your cable bill and streaming media accounts add up to almost $200 a month. Or maybe you didn't realize that grabbing breakfast at a drive thru each morning is costing you $80 a month.
Armed with a budget and a clean slate from cashing out your annuity, you're in the right position to break the unhealthy cycle of debt. From here, you can work on long-term savings while sleeping soundly at night knowing it's all over with.
Please seek the advice of a qualified professional before making financial decisions.
Last Modified: September 17, 2020
Share This Post: