Help! I Cashed Out My Annuity and Now My Family Wants to Borrow Money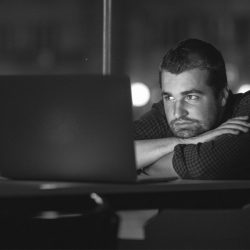 "I cashed out my annuity to open my own restaurant last month. Things are going great with that – it's just that now my brother Bill keeps asking for money. Apparently, he really wants Lasik eye surgery and getting the surgery will 'change his life.' He keeps telling me it's a small amount in relation to how much I have for my business – which is true – but I've always heard to never lend money to family. What should I do?" – Chris V.
Chris's situation is all too common. Someone receives a large sum, from something like an annuity cash out or a lottery win, and suddenly family members come out of the woodwork asking for cash.
It's not a good idea
In Chris's case, and in the case of most people, it's best to not loan money to family. It's a big risk – both financially and emotionally– and should be done knowing just what risks are involved.
Part of it is the nature of lending money informally. Loans without terms get paid last. For instance, if you were to give Bill the money, from his perspective, it doesn't make sense to pay you back first. Your loan will never appear on his credit report. Plus, he probably has higher interest debt that's costing him money each month it goes unpaid.
At the end of the day, it's easier to ask a relative for money than it is to ask a relative to pay money back.
Understand that while telling them "no" right now may seem difficult, asking them to pay the money back is going to be even harder. It's challenging for most people to talk about money. It's also challenging for most people to have a confrontational conversation with a loved one. So asking for that $3,000 back from your brother is going to be no small feat. Saying "no" will require one conversation, while getting your money back may take multiple conversations.
By the Numbers
Shakespeare has a great line about this: "For loan oft loses both itself and friend." In today's English that means you may end up losing both your money and your relationship with your family member.
Just like language has slowly changed over time, so has the taboo on lending money to family and friends.
Risks aside, lending money to family and friends is becoming more and more common. According to a study conducted by Vouch, 53% of men and 36% of women would be willing to loan a family member over $1,000.
Yee Lee, CEO of Vouch, said the trend is likely to only grow from there, with Millennials being the most likely age group to lend money.
"Growing up as a first-generation American in the 70's and 80's, I noted the difference between the way my extended family talked about and shared finances versus the way other families did," Lee told Reuters this past August.
"My Taiwanese parents spoke openly about money and shared financial resources with my aunts and uncles but money seemed to be a forbidden topic for other families," he said. "That attitude has changed in the last several decades and modern Americans are happy to help out friends and family when they need a loan."
The attitude is changing, but that doesn't mean it's a perfect system. According to a different study out of Bankrate, 57% of people have seen a relationship end or significantly deteriorate because of loaning money.
And as far as the money goes, 55% of people say they've lent money to friends and family and never gotten it back.
If you must, here's how to do it right
It's entirely possible that Chris could read all the reasons why not to lend money to his brother with a knot in his stomach – knowing that nothing on the entire internet was going to stop him from giving Bill the money.
If that sounds like you, it's okay – just make sure you do it the right way.
First off, set terms and make sure to put those terms in writing. This helps both of you not only know what to expect, but also to remember the details of the exchange.
This process makes it very clear that this isn't like "borrowing a piece of paper" back in grade school, where the understanding is that you'll obviously never gain possession of that piece of paper again. It's amazing how many relatives later remember that $500 as a gift rather than an obligation. Writing it all out nips that right in the bud.
Also, it's really important to keep being the good human who was nice enough to loan money in the first place. You're not suddenly CitiBank, you're still an individual who is a good brother. So no judging or gossiping about how the person you loaned money to is managing their finances.
It also means you should make sure you're helping the person tackle the source of the problem. Figure out what it was that caused them to need a loan to begin with and help get them on track— if not you may find yourself lending this person money again and again.
Please seek the advice of a qualified professional before making financial decisions.
Last Modified: March 5, 2020
Share This Post: