Customer Spotlight: Unlocking Annuity was Her Ticket Home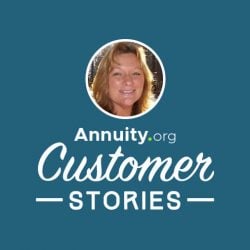 Written By

Catherine J. Byerly

Catherine J. Byerly

Staff Writer

Catherine J. Byerly has worked in digital communications for the past four years, handling everything from award-winning, on-air public radio casts to writing in-depth investigative stories for business news sites.

Read More

Published: October 30, 2015
2 min read time
It was a one time shot to move her family back to Florida, but for Lisa Faulkner the opportunity was just out of reach financially.
Faulkner was still waiting for payments from a structured settlement to start and time was of the essence. She knew she wasn't going to be able to wait for her settlement payments to arrive.
Fact:
Sometimes payments don't start until 10-15 years after a case is settled.
"I was born and raised in Florida and that's where I belong," Faulkner said.
Faulkner said setting up the structured settlement annuity was a mistake from the beginning. And now, payments didn't start early enough to get her the money she needed to pay for her cross country move.
Structured settlements are often set up as the result of someone winning a personal injury lawsuit against a defendant, in Faulkner's case it was a medical malpractice suit. Once the final amount is decided, instead of getting a lump sum, a separate structured settlement is set up in the form of an annuity.
This means instead of cash, Faulkner was scheduled to be awarded a series of payments, set to start years later.
"We lived in NC for four years and really wanted to come home," Faulkner said. She'd already spent too many years waiting for her chance to go back to where she was raised.
But moving isn't cheap. A cross-country move can cost as much as $8,000 for a typical three-bedroom home. And that's just the moving part, putting a deposit down on a rental property or purchasing a home can cost even more.
When she first set out to sell her payments she hit a few dead ends.
"Some companies couldn't work with me because it wasn't as profitable," she said. "So they wouldn't touch it."
Everything changed once she got CBC Specialist Vince Porcellini on the phone.
"He went out of his way to help me with any questions that I had," Faulkner said.
It's easy to get lost in the process, but Faulkner said she had great help with Porcellini by her side every step of the way.
"He actually explained everything really well," she said.
In the end, Faulkner said she was able to cash out her structured settlement quickly – and she was very satisfied. Since cashing out her structured settlement, Faulkner has left South Carolina and moved her family back to Central Florida.
"It's a great place to live, but I don't want to leave Florida ever again," Faulkner said, "We're happy to be home."
Advertisement
Connect With a Financial Advisor Instantly
Our free tool can help you find an advisor who serves your needs. Get matched with a financial advisor who fits your unique criteria. Once you've been matched, consult for free with no obligation.
Please seek the advice of a qualified professional before making financial decisions.
Last Modified: November 21, 2022
Share This Post:
Who Am I Calling?
Calling this number connects you to CBC Settlement Funding or another trusted partner.
If you're interested in selling your annuity or structured settlement payments, a representative will provide you with a free, no-obligation quote.
Our partners are committed to excellent customer service. They can help you navigate the legal process of selling.
866-528-4784