How Average Joes are Retiring Early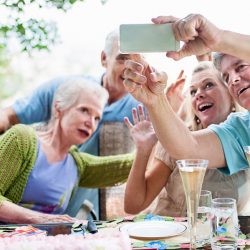 Good news! A new study shows that you don't have to come from wealth to retire early.
A "LoveFamilyMoney" research report suggests that people from all walks of life can retire early – with just a little planning. The study, released by financial services firm Allianz, examines what makes early retirees stand out from others who are working well past the ripe old retirement age of 65.
The company found that early retirees aren't any more likely to come from wealthy families than people who plan to retire later. So what are some secrets for retiring early?
Here's what the study found:
Seek guidance from financial professionals when making major financial decisions.
Focus on being a "saver" and not a "spender."
Depend on multiple sources of funding for retirement.
Get advice from financial professionals for retirement planning.
So, Where's the Money Coming From?
The Allianz study combined with a new Social Security Administration report provides insight into what makes today's early retirees different.
According to the survey, early retirees are more likely to worry about dying young. Of aspiring early retirees, 53 percent are more concerned about an untimely end than outliving their retirement accounts. Still, many early retirees make a point to ensure they have money coming in just in case they live longer than they anticipate.
This makes sense when you consider other reports that many people expecting to retire early say they've never experienced a significant financial hardship as an adult. However, it is possible for everyone to outlive their savings, and because of that many early retirees find themselves concerned about Social Security. A report from the Social Security Administration report indicates that 86 percent of people over the age of 65 receive monthly Social Security payments. Further still, for 65 percent of retirees, Social Security accounts for more than half their income.
That's not something early retirees can count on because of the age requirements, and early retirees may not receive as much money from Social Security as older friends who are just leaving the work force. For some early retirees that fact increases the need to receive income from other sources during retirement. Annuities are one such option. For 27 percent of current retirees, annuities provide income during the golden years. According to Allianz, the average annuity pays $8,844 a year in benefits.
Inside the Family Structure of Early Retirees
One thing that apparently isn't a deal breaker for early retirement is children. Sure, the little bundles of joy aren't cheap – research from the U.S. Department of Agriculture says having a child costs an average of $245,340 from birth to 18 years old – but the study doesn't suggest that having children automatically makes retiring early impossible. Families with kids were just as likely to retire early as those without kids.
It's worth noting, however, that fewer Americans are choosing the traditional path of wedding bells followed by lullabies and diapers.
"American family structures have evolved significantly in the past 40 years and the traditional family model – heterosexual couple living together with their children – represents less than 20 percent of households today versus more than 40% in 1970," said John Carroll, head of U.S. Retail for Allianz Global Investors.
The survey found overall that today's families, although less traditionally structured, are closer and more supportive of each other than ever before — including early retirees who remain connected with adult children and grandchildren through social media more than ever before.
Early retirees participating in the report found common ground on some key strategies:
They said their spouse or partner had a similar approach to spending money.
Early retirees are more likely to be married and still in their first marriage.
Learned behaviors – they often recall how their parents handled money, as a benchmark for their own financial progress.
Ninety percent of early retirees, according to the report, maintain it is "very easy" or "somewhat easy" to talk to their spouse about the family's financial situation.
There could be something to the expression "happy wife, happy life" after all, as long as you're pinching your pennies together.
Please seek the advice of a qualified professional before making financial decisions.
Last Modified: January 9, 2020
Share This Post: