What Do Bernie Madoff, Baseball and Annuities Have in Common? Bobby Bonilla Day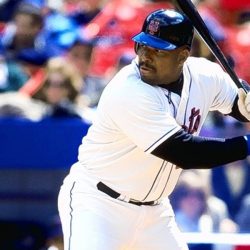 It may have been 15 years since he swung a bat for the team, but every year on July 1st former baseball star Bobby Bonilla can swing by to pick up a paycheck for nearly $1.2 million from The New York Mets.
In Game 7 of the 1997 World Series Bonilla would launch a ball over the centerfield wall scoring the home run that would help the Florida Marlins clench the Series at Miami Gardens. Fast forward four years and Bonilla wasn't hitting nearly as many championship winning home runs. In fact, in 1999, his last season with the Mets, he hit only four homeruns and had 18 RBI.
Plus, getting into shouting matches with team manager Bobby Valentine wasn't exactly helping team moral. (There were even allegations, later denied, that Bonilla threatened to fight Valentine after a heated exchange in the dugout.)
The Mets wanted out and Bonilla knew that at 36 years old, most of his professional baseball playing was behind him.
But because of his contract, the Mets still owed him $5.9 million for the rest of the season, regardless of his playing and threats of breaking locker room water coolers. (No really, he wasn't exactly thrilled to have his job in professional baseball: He spent a playoff game playing cards in the club house with fellow player Rickey Henderson while their team lost to the Atlanta Braves.)
So Bonilla offered to strike a deal. He wanted guaranteed yearly payments of $1,193,248.20 every year until his 70s and for that he wouldn't be the Mets' problem anymore.
The deal resembled the choice lottery winners are faced with: taking a smaller lump sum or taking payments in the form of an annuity. It's not unheard of in sports contracts, but it's not the type of deal that gets put on the table all that often.
And surprisingly, the Mets accepted the deal – one that would become a rare legend among sports contracts.
Why Did the Mets Take the Deal?
A big factor in the Mets taking the deal is that the team wanted to free up money to sign other players. Bonilla's offer seemed promising to the team, with more money to spend, plus they could sign on other players to improve the roster.
So the team agreed to Bonilla's deal: a deferred payment annuity at 8 percent interest paid on July 1st starting 2011 and ending in 2035. That move transformed the $5.9 million into nearly $30 million worth of payments until 2035 for Bonilla.
In some ways it wasn't a bad move for the Mets; the money it freed up in payroll allowed them to bring on players to clench the National League championship that season.
Even the Wall Street Journal thought it was a smart baseball move:
"By postponing their payments to Mr. Bonilla for 11 years, the Mets freed enough money to trade for starting pitcher Mike Hampton and outfielder Derek Bell and sign first baseman Todd Zeile. Those three players earned a combined $15.1 million in 2000, and the Mets reached the World Series that year for the first time since 1986."
Besides, the Mets had plenty of money to spend. Or so they thought.
Why Madoff?
At the time, the owners of the Mets thought they'd be raking in money with their investments outside of baseball.
However those investments were made with hedge fund manager Bernie Madoff.
It wouldn't be discovered until eight years after Bonilla's deal that a massive investment scam led by Madoff came to light. In 2009, Madoff pleaded guilty to using his wealth management to cheat thousands of investors out of an estimated $20 billion in a massive Ponzi scheme.
The involvement between Madoff and the owners was such that in 2012, Irving Picard sued Mets owners Fred Wilpon and Saul Katz on behalf of Madoff's victims to recover a portion of the money lost.
The case claimed that the owners remained in close contact with Madoff throughout the scam and ignored repeated warnings that he might have been defrauding investors. Picard alleged that the owners received $162 million in profits from Madoff's firm, but later settled the case for $75 million.
As one blog put it "We'll never know if Wilpon was complicit or merely gullible."
Bonilla Wins Amid All the Drama
Crime doesn't pay, but successful contracts with annuities do.
If Bonilla had taken the lump sum of $5.9 million in 2000 and then invested it in an S&P index fund at the time it would be worth around $8.8 million by 2015.
From 1992 to 1994 Bonilla was the highest paid player in the league – and today he's still earning a historic paycheck.
Dubbed Bobby Bonilla Day in sports media, each July 1st since 2011 during summer training Bonilla collects his $1.19 million paycheck. In 2015, that put Bonilla making more than half of current Mets players.
Please seek the advice of a qualified professional before making financial decisions.
Last Modified: March 14, 2022
Share This Post: