Q&A with Secondary Annuity Market Leader Mike Aiello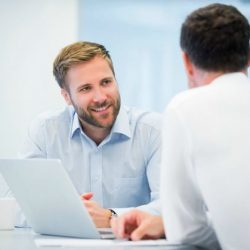 Thinking about selling payments from your structured settlement or annuity, but afraid of what you don't know? Relax, we've got you covered. There are lots of myths about selling payments, and to get to the truth we talked to executive Mike Aiello of CBC Settlement Funding to discuss the questions he hears most from clients looking to sell their payments.
Aiello acknowledges that there are lots misconceptions about the secondary annuity market and what it does. The secondary annuity market is an industry specializing in buying payments from people like you who are receiving monthly or periodic payments from a structured settlement agreement or annuity.
Selling payments to purchase a house, automobile or for any other reason is an important consideration for sure, and can cause needless worry when people are confused by misconceptions that may be floating around. In our conversation with Aiello, he takes us through the important things to think about to avoid making mistakes, and he touches on the selling process as well as common myths about income tax considerations.
What's the biggest mistake a person can make while selling their payments?
Understanding the difference between needing something and wanting something is an issue Aiello is all too familiar with.
"We all want the fancy cars, the big house, the newest products on the market," Aiello said. But, he said, selling your annuity payments is something that should fall on the need side of the spectrum.
"The decision should be made for the right reasons," he said.
So what are some examples of understandable needs?
"Funding a college education, making a down payment on a home, purchasing a vehicle outright, etc. are examples of the reason for selling an annuity."
What do you think people are confused about the most when they start to consider selling their annuity payments?
It should come as no surprise that taxes are a confusing part of the annuity selling process for many of the people Aiello encounters.
"Most people are concerned that if they sell their payments, they will have to pay income tax on the lump sum," he said. "This is a good concern to have as some annuities are taxable while other structured settlement annuities can be non-taxable."
"We always recommend that our clients meet with a tax or legal professional to learn about the impact of the transaction."
Aiello also hears a lot of confusion about how the secondary annuity market actually works.
"They think we can access the annuity for them," he said. "We educate that we provide our money to them and await the future annuity payments. In most cases, a structured settlement cannot be changed!"
What are people most surprised about during the selling process?
People are often struck by how customizable pricing options can be, Aiello said.
"Most clients initially think that in order to complete a transaction, they will have to sell all of their annuity payments– this is not true," he said. "In most cases, annuitants can sell as much or little as they want to sell, over very flexible timeframes."
Aiello said they do have certain parameters that must be met for judicial approval, but "we are happy to work with pieces of the annuity at the client's request."
This process doesn't happen overnight though.
"It can take up to six weeks to complete the transfer. It is a regulated transaction that requires judicial approval," he said.
Are there any stories that come to mind about when you helped someone sell their payments who really needed the money?
There are always clients you never forget, Aiello said. He said for him it was a couple who deeply wanted to become parents.
"This couple had been struggling to get pregnant for over five years and had exhausted all options," he said. "Doctors told them their chances of conceiving naturally were next to zero."
In-vitro fertilization (IVF), an expensive procedure to help produce pregnancy, was their only option.
"We completed a transaction for them and they were able to begin the IVF process," Aiello said. "A few months after the transaction was completed I received a call from them that they were expecting!"
Helping to bring a new life into the world was a great feeling.
"I've helped clients purchase homes, finance school, and get out of debt – this was by far and away the most satisfying and rewarding experience."
Your Takeaways
When you are considering selling payments, remind yourself that it's your money – you've got the right to go forward with selling as few or as many payments as you want.
Here at Annuity.org, we can make the process simple – and answer any other questions you have to get the money you need right away.
Please seek the advice of a qualified professional before making financial decisions.
Last Modified: May 18, 2020
Share This Post: