Reasons Judges Deny Structured Settlement Transfers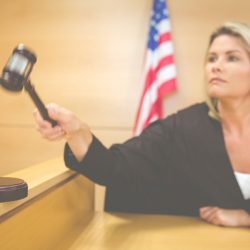 Are you considering selling some or all of your structured settlement payments from a lawsuit? Relax. The process, called a settlement transfer, is usually easy.
Selling your payments could allow you to raise cash for an emergency, such as avoiding foreclosure or bailing your business out of debt.  You will go through steps, such as completing paperwork and seeking a judge's approval.
Many sellers go through the court process for transferring structured settlements seamlessly. The judge asks questions and the seller provides answers. Assuming your paperwork is in order and your reason for selling the payments is valid, approval is often guaranteed.
The judge approves the transfer and the seller walks with cash.
Judges do, however, encounter transfer requests with scrutiny and may deny certain petitions. When that happens, the selling process is halted and the settlement recipient must wait for their money under the terms of the original agreement.
Denied transfers are not necessarily final. Sellers may still have a chance to get cash from their settlements. While in many cases, decisions are final –made to protect the financial well-being of sellers—there are instances where circumstances change and at another later hearing a judge will approve a previously denied transfer.
Understanding the goal of the court hearing and recognizing instances where judges are likely to deny a transfer can help you decide if you should pursue selling payments.
Deciding to Sell Payments
The National Association of Settlement Purchasers (NASP), an industry trade organization, reports that less than 10 percent of structured settlement recipients ever seek to sell or transfer their payments.
Most recipients receive their stream of payments as scheduled and do not attempt to sell payments — but there are exceptions. Some recipients struggling to handle debt, medical expenses or other emergencies need cash immediately and turn to a secondary market where payments are bought and sold.
As structured settlements often involve large cash awards related to serious injuries and major lawsuits, selling payments requires attending a hearing and receiving a judge's approval.
Interested in selling some or all of your payments?
Turn your future payments into cash you can use right now. Get started with a free estimate and see what your payments are worth today!
Purpose of the Hearing
Judges evaluate transfer requests taking into consideration federal and state laws, and every seller's unique situation.
Each state has its own Structured Settlement Protection Act. Most acts specify transfers meet two primary requirements. The transfer must be in the seller's best interest and considered fair and reasonable.
The requirements may be fulfilled if sellers show evidence they have a serious need, have received independent financial advice, and are able to maintain their income. They must also show that they can provide for dependents, understand financial consequences of selling, and effectively communicate they are making a sound decision.
Reasons for Denials
Denials occur when judges believe requirements for selling payments are insufficiently met. For example, the transfer might not be in the payee's best interest or the transaction itself isn't fair for the seller.
In the following situations, a judge might deny a petition because a petitioner:
Has no evidence of financial need
Can't explain sufficiently how the money will be used
Has a contract with an unfair discount rate (example: 50 percent of the settlement's value)
Will have long-term medical needs related to the settlement that are likely to require many payments
Did not receive outside consultation from a legal professional
Can't provide proof of income
Began the process of selling by responding to a misleading advertisement
Doesn't demonstrate an understanding of the transfer and repercussions of the financial choice
Displays an inability to manage finances
The court may evaluate the role the settlement buying company is playing in the process, seeking to avoid instances where a company is pressuring sellers or coaching them on what to say.
Some states do not allow transfer of worker's compensation benefits, but the settlement purchaser would inform you of this before proceeding with a petition.
Changing Circumstances
Structured settlement recipients who want to sell for a second time can discuss the strength of their case with companies that specialize in purchasing structured settlement payments. In almost every case, they will encounter the same bottom line as when they first tried to sell: the transfer must be in their best interest with a fair discount rate.
In rare occasions where a seller's circumstance changes, the seller provides evidence for a choice that was insufficiently explained before, or the petition has different terms, a previously denied transfer may be approved.
For example, sellers may be in a different financial situation, where they can be responsible with their current income and expenses and have a detailed plan for how settlement cash will be spent. This includes providing for dependents and considering other financial options as well.
Sellers with back-to-back requests for transfers must present a legitimate reason for the need and a plan to manage the added loss of regular income from the original settlement.
When sellers demonstrate their ability to manage money and only sell the amount needed to handle a specific situation, their case will be better supported.
Please seek the advice of a qualified professional before making financial decisions.
Last Modified: December 19, 2019
Share This Post:
1 Cited Research Article
Annuity.org writers adhere to strict sourcing guidelines and use only credible sources of information, including authoritative financial publications, academic organizations, peer-reviewed journals, highly regarded nonprofit organizations, government reports, court records and interviews with qualified experts. You can read more about our commitment to accuracy, fairness and transparency in our editorial guidelines.
National Association of Settlement Purchasers. FAQs about secondary market transfers. (2015, May 18). https://www.nasp-usa.com/secondary_market_faq.php