Structured Settlement Sellers Sue Purchasing Companies, Claim Fraud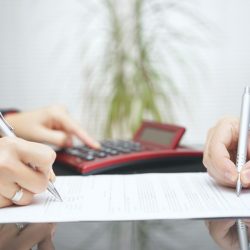 In a billion-dollar industry in which 7,000 to 9,000 pre-purchased annuities change hands annually, two sellers say they were misled by corporate buyers into transferring money that was supposed to last them a lifetime.
Terrence Taylor and Michael Lafontant recently filed separate lawsuits against their purchasers, accusing the companies of contributing to their personal financial demise. Both men sold rights to future structured settlement payments in exchange for a lump-sum immediate payment.
Although the lump sum amounts were substantially larger than what they received monthly from their annuities, they were significantly less than what they would have received had they held onto their full payment stream.
The men claim their transactions were mishandled by Structured Asset Funding and Washington Square Financial, respectively, according to federal court filings, even though the deals were approved by judges. Taylor and Lafontant claim that despite court approval, factoring companies did not follow protection acts in place in the states where the companies do business.
Taylor's is asking for damages for negligence in excess of $5 million, plus punitive damages. Lafontant requests damages of at least $1.5 million, plus interest and punitive damages assigned at trial.
Structured Asset Funding and Washington Square Financial deny any wrongdoing. Washington Square does business as Imperial. Structured Settlements. Structured Asset Funding does business as 123 Lump Sum.
The circumstances for how the men ended up with long-term structured settlement payments were different, but their initial financial result was similar.
Courts award structured settlements as a way to provide a long-term financial payout to personal injury or wrongful death lawsuit winners. They also approve them as part of a lawsuit settlement package. The idea behind the structured payments is to provide monthly, quarterly or annual payments, usually over a period of years and many times for a decade or longer.
The idea behind the payments is to ensure that recipients – most of whom have never had to manage a large sum of money – have a guaranteed income to pay for their day-to-day needs. The distribution schedule is designed to prevent recipients from quickly burning through settlement cash.
In some situations – which may be helped by settlement purchasers disregarding or manipulating the circumstances of a transfer – claimants can overstep the checks and balances put in place for their protection.
Burn Victim Terrence Taylor
When Virginia resident Terrence Taylor was a child, a defective heater in his home triggered a fire that destroyed his leg and many of his fingers. His family sued, and the heater manufacturer paid him a settlement intended to provide for his long-term needs.
After Taylor turned 18 and had control over his payment stream, he made a number of settlement transfers, selling the rights to his future monthly payments for a series of lump-sum payouts, according to his lawsuit, filed in February. When Taylor spent his lump-sum money, he was unable to support himself or his minor daughter.
At 30, Taylor sold payments in 11 transactions to five firms for thousands of dollars, he said in court filings. He spent his cash and could not pay routine living expenses and medical bills, expenses that once were covered by his monthly structured settlement payments.
He filed a federal claim against the five firms in February, alleging that a salesman from one of the companies encouraged him to commit fraud.
Taylor's lawsuit accuses the salesman of a "predatory pattern of activity," including coaching Taylor into submitting false affidavits prior to a court approving the settlement transfers.
After gaining a judge's approval, Taylor lost significant value from his multimillion dollar settlement, according to court filings. The value of the payment stream he sold – scheduled to pay out from 2026 to 2038 – was nearly $2 million. For them, Taylor received lump-sum checks totaling $200,037.50.
Wrongful Death Settlement Recipient Michael Lafontant
Lafontant held a life annuity from Allstate following a wrongful death claim related to his mother. His payment stream ran for 30 years, with regular payments supplemented by periodic lump-sum checks.
Within six months of the start of the stream, Lafontant made four separate sales of his payment stream, his lawsuit says, and he received no money from the fourth transfer. He said Imperial Holdings, formally Washington Square Financial, encouraged him to sign a false lease and obtain a Florida-issued identification card to help with the sale.
He said he was pressured to sell his payments, and that a unit of Imperial Holdings urged him to complete his transaction in Florida after he was denied in New York, according to a lawsuit filed in December.
Lafontant told The Wall Street Journal that Imperial salesman Adam Levine "made me feel it was perfectly legal . . . that this was regular protocol."
In his claim, Lafontant accuses Imperial of preying upon him and causing him to lose all of the tax free benefits and protections that went along with his settlement. He said Imperial Holdings, Inc., which purchased multiple sets of his payment distributions, committed fraud.
The company denies any wrongdoing and told the Journal that it is "100-percent compliant with all applicable laws." Before any money changes hands, virtually all sales like Taylor's and Lafontant's must be approved by a judge, who is charged with evaluating whether the transaction serves a "best interest standard," whether the seller's best-interest needs are met by the sale.
Courts typically approve transfers in which a seller asks for lump sums to buy a house, pay off overwhelming medical bills or personal debts, including student loans, as well as invest in a business or pay for a child's college education. Of the proposed transfers that get before a judge, the majority are approved.
Portsmouth (Va.) Circuit Court Judge James Hawks, who approves many transfers like Lafontant's, told the Journal he weighs the transfer request by looking "for a genuine need or urgency for converting payments."
"I accept these affidavits [from sellers] on their face," Hawks said. "It is sworn testimony."
Future Oversight
Earl Nesbitt, executive director of the National Association of Settlement Purchasers, recognizes that there is room for better regulations, but he is still an advocate of the practice. "Could there be some improvement in the statues?" he told the Journal interview. "Absolutely. But overall I think the court approval process works pretty well."
The type of transfers made by Taylor and Lafontant are often prevented by regulations in the secondary annuity market. While there are predatory annuity purchasers in the business, most settlement purchasers do not pressure sellers into ill-advised decisions only to have judges approve transactions that leave sellers financially vulnerable.
The two lawsuits share similarities that contributed to the plaintiffs' demise:
Judges approved transactions without disclosure of previous transfers
The sellers sold payments in states where sellers are not required to appear in court
Both involved companies with documented complaints of not following guidelines from the National Association of Settlement Purchasers
Factoring company employees solicited sellers, encouraging reckless spending and offering misleading financial advice
Only three states – Florida, Virginia and Illinois – don't require sellers to appear in court to gain transfer approval. State governments decide how stringent to be when it comes to these transactions, and it's each state's responsibility to enforce the rules agreed upon.
By having the precaution of a necessary court appearance, the judges might have viewed the seller request differently and prevented the transfers. The judges did have the opportunity to scrutinize the primary documents and offer approval based on their contents.
Most states don't require a thorough record of previous transfers. While the decision to approve the transfers was in the hands of the judges, the process might be improved if all states required sellers to show the complete history of prior transfer actions.
At this point, 48 states and the federal government have extensive protection laws and require a state judge to approve whether a transfer is in a seller's best interest. Some states could consider bolstering their laws and evaluation processes.
Putting the Brakes on Predatory Purchasers
Taylor and Lafontant's lawyers are working to hold the factoring companies involved in these cases responsible. Companies that prey on consumers are not offering helpful financial solutions. Rather than providing a service, they are earning a reputation that could lead to regulators limiting consumer options.
The lawsuits describe actions which are detrimental to sellers, including pressuring plaintiffs to transfer payments when the sale is clearly not in their best interest, to commit fraud to receive approval, and to spend recklessly.
While the cases have not yet reached conclusions, this type of behavior from companies like Imperial Holdings and 123 Lump Sum LLC (purchased some of Mr. Taylor's payments) distinguishes the good companies from the bad. It shows what to avoid.
Consumers with negative transfer experiences can complain to the Consumer Financial Protection Bureau (CFPB). The relatively new federal group investigates situations in which businesses repeatedly demonstrate unethical behaviors. CFPB recently began investigating J.G. Wentworth, the largest settlement purchaser in the industry.
Secondary annuity purchasers suggest that people who sell payments should research any company they are interested in before moving forward with transactions. Looking for complaints or a history of lawsuits can help prevent customers from doing business with the kind of company intent on unethical practices.
Please seek the advice of a qualified professional before making financial decisions.
Last Modified: September 16, 2020
Share This Post:
3 Cited Research Articles
Annuity.org writers adhere to strict sourcing guidelines and use only credible sources of information, including authoritative financial publications, academic organizations, peer-reviewed journals, highly regarded nonprofit organizations, government reports, court records and interviews with qualified experts. You can read more about our commitment to accuracy, fairness and transparency in our editorial guidelines.
Scism, L. (2015, March 23). Firms help settlement holders cash out payments meant to last a lifetime. The Wall Street Journal. Retrieved from https://www.wsj.com/articles/firms-help-settlement-holders-cash-out-payments-meant-to-last-a-lifetime-1427145446
Terrence E. Taylor, Louise W. Taylor, Phillip D. Taylor v. Structured Asset Funding. (2015, February 26). Civil Action 1:15-00.271. U.S. District Court, Southern District of New York.
Michael Lafontant v. Washington Square Financial et al. (2014, December 12). Civil Action 7:14. 9895. U.S. District Court, Eastern District of Virginia.