Countdown to Powerball Cash Out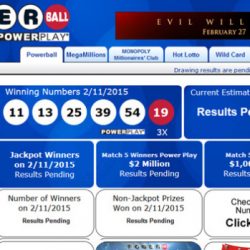 Just like that, three Powerball players find themselves on the cusp of major financial decisions, each a winner of around $188 million.
Once they claim their prizes, the clock starts ticking. Powerball rules allow 60 days for winners to determine how to accept prizes. The final jackpot was $564.1 million, the third-largest Powerball jackpot and the fifth-largest jackpot in U.S. lottery history.
Lottery Players to Cash In
Powerball victors can collect winnings as an annuity or lump sum. They each get one-third of the overall pie, which has a total cash value of $381,138,450.16, before taxes.
Winners can choose a lump sum of $101.6 million in cash or accept a stream of 30 graduated payments over the next 29 years.
With the lump sum, winners owe taxes on the entire amount immediately. With the lottery annuity, they pay taxes over time, which potentially allows some winners to stay in a lower tax bracket.
Winners interested in planned giving options, many of which provide tax advantages, can consider cash donations, charitable gift annuities, private foundations, life insurance or other methods.
How they take winnings will impact their future options. They can take the windfall and give, spend, invest, pay-off debt, keep spending and buy more lottery tickets.
"You got that fever, it never goes away," Tampa lottery player Ben Taran told USA Today. He said if he won, he might put winnings toward student loans and riding a party bus.
Winning Numbers
At 10:59 p.m. Wednesday, Powerball officials made the announcement. The magical sequence: 11-13-25-39-54 with the Powerball number of 19.
Lottery officials report winners of the $564.1 million jackpot purchased their tickets in Princeton, Texas; Southern Puerto Rico and Brunswick County, North Carolina.
It's been almost two years since the Powerball jackpot grew this large.
Between 4 and 5 p.m. Wednesday, Stephen Martino, director of Maryland Lottery, tweeted that the rate Maryland stores were selling was 5,127 tickets per minute.
Maryland is one of the 44 states where people try their Powerball luck. People also play in Washington D.C., the Virgin Islands, and, most recently,
Puerto Rico. Puerto Rico joined Powerball within the last year, and they already have a winner.
According to Sue Dooley, senior drawing manager and production coordinator for the Multi-State Lottery Association, the Puerto Rico ticket is the first Powerball jackpot winner to be sold outside the continental United States.
Texas Store Gets $1M
The stores that sold the winning tickets are in Texas, Puerto Rico and North Carolina. One winner purchased a ticket at a Shell station in Southern Puerto Rico, and the other ticket was sold in Brunswick County, according to North Carolina Education Lottery officials.
Chandra Siwakoti owns Appletree Food Mart in Princeton, Texas, and will receive $1 million for selling one of the winning tickets.
"Are you serious?" Chandra Siwakoti said to WFAA-TV in Dallas-Fort Worth. "Which one? Powerball? Yesterday? I cannot believe it. It's exciting!" And his prize is a fraction of what the three winners will receive.
The next jackpot starts at $40 million.
Please seek the advice of a qualified professional before making financial decisions.
Last Modified: April 30, 2020
Share This :