Retirees Use Annuities, Other Retirement Investments to Fund 'Encore Careers'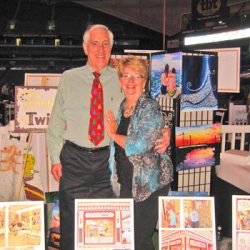 A 2012 AARP survey found that nearly 7.4 million Americans ages 50 or older are self-employed. Instead of easing into retirement, many of these entrepreneurs are using their talents and savings to start successful business ventures.
Seniors starting businesses is a growing trend as retired or nearly retired Americans pursue old dreams, new interests and financial opportunities. Marc Freedman, CEO of Encore.org, a nonprofit that provides comprehensive resources on transitioning into second careers, dubbed the concept, "encore careers."
Breaking ground on a new business is challenging, especially when it comes to funding. In many cases, these older Americans are turning to retirement savings — which can be a risky move for some.
"Somebody who is 26 and starting a business can bet the ranch because if it fails, at 31, they can start another business," Edward Rogoff, professor of entrepreneurship at the Zicklin School of Business at Baruch College in New York, told The New York Times recently. "But somebody who is 61 or 68 who starts a business can't bet the ranch because at 75 or older, they won't be able to get the ranch back and start over."
Despite the risk, seniors are starting businesses using capital from selling their annuity payments or dipping into other retirement savings.
More Seniors Starting Businesses
Research shows an increasing number of younger and older retirees are embarking into entrepreneurship.
The U.S. Bureau of Labor Statistics found that Americans age 65 or older comprise the largest group of newly self-employed individuals. The list of older innovators and the businesses they create is continually growing.
Seniors across the nation are launching a diverse array of new ventures:
Cinde Dolphin, 55, created a marketing and public relations firm for California winemakers.
Bob Mello, 57, is converting an old mansion in Bay St. Louis, Miss., which was destroyed by Hurricane Katrina, into a 100-seat repertoire movie theater.
Bhagwati Agrawal, 68, started a nonprofit company in Virginia called Sustainable Innovations, which uses a system to collect rain in villages in India.
Marvin Gay, 71 and his wife, Leslie, 61 opened Painting with a Twist in St. Petersburg, Fla. The business makes painting parties a bring-your-own-drink event.
The Kauffman Foundation, a private group that promotes economic independence through education and entrepreneurship, in 2013 reported that businesses started by those ages 55 to 64 accounted for nearly one-quarter of all new businesses that year.
Why Seniors Start Encore Careers
Seniors launch encore careers for myriad reasons: Need for additional income, desire to use skills gleaned over a lifetime of work, and unemployment.
Deborah Russell, director of work force issues at AARP, points to the economic downturn, noting that many unemployed people age 55 or older have been out of work an average of 36 weeks.
The Government Accountability Office reports that 55 percent of jobless seniors face long-term unemployment. Other financial factors include 401(k) plans and stock investments losing value or not saving enough for retirement. As people are living longer, many face the desire and need to continue working.
Although financial necessity may have forced them into this late career path, many are sharing valuable ideas developed through their experiences. That makes them uniquely equipped to succeed in their fields. They have years of established networking, the ability to manage teams, and plans for products that are solutions to real-world problems.
Interested in selling some or all of your payments?
Turn your future payments into cash you can use right now. Get started with a free estimate and see what your payments are worth today!
Financing a New Business by Selling Annuity Payments
Older entrepreneurs need more than a great idea; they need capital.
The Small Business Association (SBA) reports the average cost of starting a business is around $30,000. And while seniors may have the advantage of years of building credit, some are looking elsewhere to find funds.
Selling payments from an annuity originally intended for retirement or a structured settlement is one way to handle startup costs. Rather than waiting to receive distributions or paying surrender charges, you can sell future payments to a third-part annuity purchaser in exchange for a lump sum.
By selling annuity payments, seniors can protect 401(k) or IRA plans that are still earning interest and avoid taking a loan for a new business, paying interest on borrowed money or putting their homes at risk. Another advantage to selling payments is preserving ownership of the company, which could be shared when using funds from investors.
Annuity funds already are earned — so essentially, the transaction provides immediate access to your own money, instead of waiting to receive periodic payments.
If selling payments from your annuity isn't an option for you, then consider taking money out of retirement funds. This can be done by borrowing or withdrawing from you 401(k), IRA or personal savings. If money is readily available in these accounts or you are dependent on annuity distributions for a large portion of your monthly income, then keeping your annuity may be in your best interest.
Please seek the advice of a qualified professional before making financial decisions.
Last Modified: September 16, 2020
Share This :