California Man Wins $425 Million Powerball Jackpot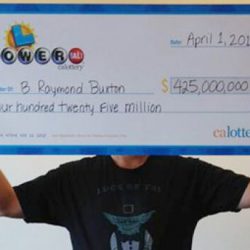 It turns out that California's elusive $425.3 million Powerball lottery winner has a sense of humor, enjoys Subway sandwiches and has a soft spot for charities.
Lottery officials on April Fool's Day snapped a picture of B. Raymond Buxton wearing a T-Shirt printed with Star Wars' beloved character Yoda and the slogan, "Luck of the Jedi I Have." Buxton obscured his face with the oversized check.
His publicist said that one of the reasons Buxton chose a day known for pranks to claim his prize, instead of immediately after the Feb. 19 drawing night: He has a sense of humor.
"He still can't believe it's not a prank on him," publicist Sam Singer told The Associated Press. "But the reality is Ray Buxton is the winner." Buxton bought the sole winning ticket for the largest jackpot in California history.
More than a month of waiting to announce the news was not idly spent.
Buxton studied the lottery winner handbook. He took steps for claiming his winnings, working with an attorney and financial advisor to prepare for new taxes, bank accounts and a charity.
Buxton's plans for the money are also already in place. Instead of taking a structured settlement for the full amount, he opted to collect a lump-sum payment of $242.2 million, before taxes.
"I'm going to enjoy my new job setting up a charitable foundation focused on the areas of pediatric health, child hunger and education," Buxton said in a statement.
Hungry Stomach Led to Winning Ticket
Buxton stopped at the Dixon Landing Chevron, a convenience store in the San Francisco Bay Area city of Milpitas, in February for a Subway sandwich. He already had purchased one lottery ticket, but decided to buy a second Quick Pick ticket for $2. Lottery officials said he bought two tickets because the prize was so large.
The California man was an avid lottery player. He spent nearly 20 years playing it, hoping (like many others) to nab the lucky numbers.
Following the announcement of the winning numbers (1, 17, 35, 49, 54 and 34), Buxton said he was dumbfounded by his luck.
"'Unbelievable!' is all I could muster," Buxton said. "I sat in front of the computer for hours in disbelief, frequently checking and rechecking the numbers across multiple sources. Once the initial shock passed, I couldn't sleep for days."
What Are the Odds?
Playing Powerball is a risky wager. The odds of winning are 1 in 175 million, according to the Multi-State Lottery Association.
Buxton's prize is the sixth largest jackpot in the nation.
The top jackpot is $656 million, from a 2012 Mega Millions win. However, Buxton's winnings are California's largest jackpot and the result of 15 roll-over jackpots that began in December, according to Carolyn Hapeman, a Powerball spokeswoman in New York.
Interested in selling some or all of your payments?
Turn your future payments into cash you can use right now. Get started with a free estimate and see what your payments are worth today!
How Are Winnings Distributed?
Powerball is played in 43 states, Washington, D.C., and the U.S. Virgin Islands. It awards jackpots in structured settlements or lump-sum payments.
If Buxton chose a structured settlement, officials would send Buxton 30 graduated payments over 29 years. The payment would increase by 4 percent every year. This option reduces taxes and guarantees an income stream over time.
The second option is a lump-sum payment, which means taxes are immediately taken from the full amount, but the winner has a hefty chunk of money left to use. Buxton got $242.2 million.
"It's amazing how a little slip of paper can change your life," Buxton told lottery officials.
Please seek the advice of a qualified professional before making financial decisions.
Last Modified: April 30, 2020
Share This :