Reverse Budgeting Explained
Reverse budgeting is a strategy that prioritizes long-term savings over a traditional budget's focus on month-to-month expenses. A reverse budget can build savings quickly by deducting money from your paycheck or bank account automatically. It may not be the best strategy if you have large debts.

Written By

Terry Turner

Terry Turner

Senior Financial Writer and Financial Wellness Facilitator

Terry Turner is a senior financial writer for Annuity.org. He holds a financial wellness facilitator certificate from the Foundation for Financial Wellness and the National Wellness Institute, and he is an active member of the Association for Financial Counseling & Planning Education (AFCPE®).

Read More

Edited By

Savannah Hanson

Savannah Hanson

Senior Financial Editor

Savannah Hanson is an accomplished writer, editor and content marketer. She joined Annuity.org as a financial editor in 2021 and uses her passion for educating readers on complex topics to guide visitors toward the path of financial literacy.

Read More

Financially Reviewed By

Thomas J. Brock, CFA®, CPA

Thomas J. Brock, CFA®, CPA

Expert Contributor

Thomas Brock, CFA®, CPA, is a financial professional with over 20 years of experience in investments, corporate finance and accounting. He currently oversees the investment operation for a $4 billion super-regional insurance carrier.

Read More

Updated: March 10, 2023
5 min read time
This page features 3 Cited Research Articles
Key Takeaways
Reverse budgeting prioritizes savings and investments with a focus on long-term growth, while traditional budgeting focuses on month-to-month expenses.
You can automate a reverse budget, having savings deducted from your paycheck or bank account.
Once you "pay yourself first" with money directly into savings, you pay for everything else with what's left in your paycheck.
Reverse budgeting isn't for everyone, but for people with manageable debt, it's a good way to build savings fast.
What Makes Reverse Budgeting Different
Reverse budgeting is a mirror-image approach to traditional budgeting. A traditional budget typically focuses on expenses. A reverse budget focuses on savings and investments and the idea of "paying yourself first."
Any kind of budget is a fundamental part of personal finance. But budgets can follow different strategies.
A reverse budget prioritizes the future rather than month-to-month living expenses. It creates a balance to allow you to meet your bills while building savings for an emergency fund, future purchases or retirement.
It can help you set financial goals and priorities, address high-priority expenses and adjust your spending habits. If traditional budgeting doesn't work for you — if you find it too rigid or difficult to stick to — reverse budgeting may be a better fit.
4 Steps To Creating a Reverse Budget Plan
Once you set it up, a reverse budget can be easy to follow.
Step 1: Assess and Identify Your Expenses
The first thing to do in creating any budget is to know how much you have to spend each month. Write out all your necessary expenses — rent, mortgage, transportation and all the other bills you have to pay. This gives you an idea of how much you have to spend each month.
Step 2: Set a Savings Goal
The next step is to figure out how much you need to put away each month to meet your financial goals. This should include both money you'll put into savings and investments.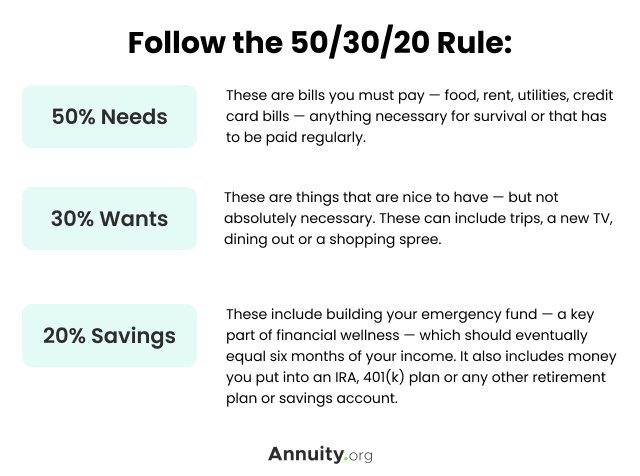 Step 3: Pay Yourself First
When you get your next paycheck, invest in yourself first. Put a specific amount of money directly into savings.
While you have to manage a traditional budget on an almost monthly basis, you can automate the management of a reverse budget. Set up automatic withdrawals, paycheck deductions and payments to prioritize your savings and monthly bills. Then use the rest of your paycheck to cover other expenses.
Step 4: Increase Your Savings and Adjust as Needed
Once you save, stick to the same self-pay amount from each paycheck. If you can't stay on track, look for items to cut to keep you at the same pace.
Savings should be your last area to cut. But if you must cut, zero in on saving for one goal at a time — a retirement or a down payment on a house.
Over time, aim to increase your savings. Bump up the dollar amount when you get a raise. Have more withheld from your check for your 401(k) or automatically deposited into your savings account. These are painless ways to close in on your savings or retirement goals.
Why Reverse Budgeting Works
The purpose of reverse budgeting is to put an emphasis on building your savings. The key advantage of it is how you can automate it. By having your savings automatically deducted from your paycheck or bank account, there's less chance you'll spend that money on something else.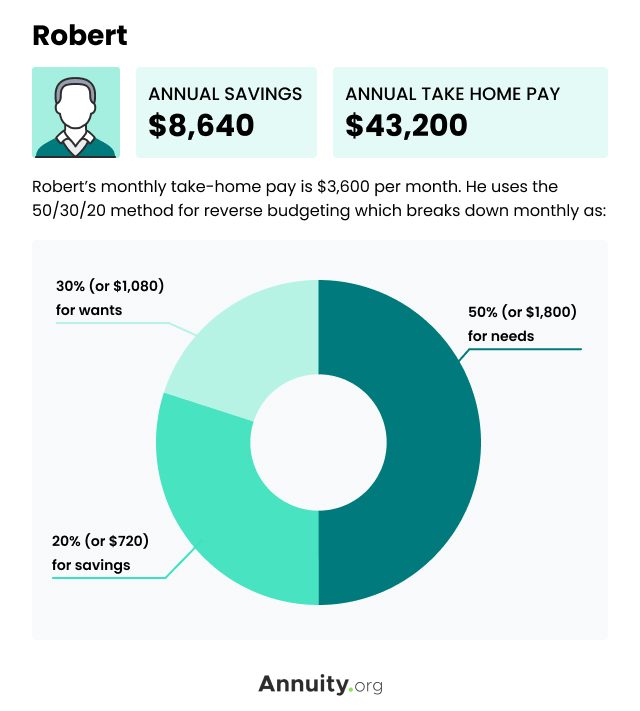 With a reverse budget, you never touch the money that goes into savings. Then you adjust to making the rest of your paycheck meet your wants and needs. This makes it easier — and quicker — to build up your savings.
Once people see how much they can save in a short time using a reverse budget like the 50/30/20 plan, it transforms into an "addicted to saving" strategy.
Pros and Cons of Reverse Budgeting
Reverse budgeting offers many advantages if savings are your top financial priority. But it doesn't work for everyone.
This is especially true for people who have large amounts of debt. They should try other budget systems that prioritize paying down debt.
Reverse Budget Pros and Cons
Pros
Easy to set up
Largely automated and low maintenance
Reduces impulsive purchases
Focused on big picture goals
Cons
Prioritizing savings, may not be in your best interest
Does not work well if you have a lot of personal debt
You may need a more rigid budget if you usually overspend
You still may use a reverse budget to pay down debt. Some financial professionals suggest addressing your debt as savings and directing your automatic withdrawals toward your debt to pay it down quickly.
Who Is Reverse Budgeting Best Suited For?
Reverse budgeting is best suited for people who prioritize savings and investments above all other financial goals. It also appeals to people who want a relatively hands-off budgeting approach with relatively simple math.
Reverse budgeting can be an excellent tool for people who take the long view on their finances — focusing on long-term purchases such as a home or toward a nest egg for retirement — rather than covering monthly expenses.
Advertisement
Connect With a Financial Advisor Instantly
Our free tool can help you find an advisor who serves your needs. Get matched with a financial advisor who fits your unique criteria. Once you've been matched, consult for free with no obligation.
Please seek the advice of a qualified professional before making financial decisions.
Last Modified: March 10, 2023
Share This Page:
3 Cited Research Articles
Annuity.org writers adhere to strict sourcing guidelines and use only credible sources of information, including authoritative financial publications, academic organizations, peer-reviewed journals, highly regarded nonprofit organizations, government reports, court records and interviews with qualified experts. You can read more about our commitment to accuracy, fairness and transparency in our editorial guidelines.
Pagliara, J. (2022, January 16). Rethink How to Manage Money With a Reverse Budget. Retrieved from https://www.tennessean.com/story/money/2022/01/16/rethink-how-manage-money-reverse-budget/9187015002/
Dantus, CR. (2019, June 5). Budgeting: How to Create a Budget and Stick With It. Retrieved from https://www.consumerfinance.gov/about-us/blog/budgeting-how-to-create-a-budget-and-stick-with-it/
Lazaroff, P. (2016, February 29). Reverse Budgeting: Creating a Budget That Actually Works. Retrieved from https://www.forbes.com/sites/peterlazaroff/2016/02/29/creating-a-budget-that-works/?sh=7e7cd9037bcc
Your web browser is no longer supported by Microsoft. Update your browser for more security, speed and compatibility.
If you are interested in learning more about buying or selling annuities, call us at 866-528-4784