Aging Baby Boomers Delay Retirement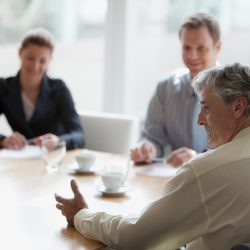 Written By

Elaine Silvestrini

Elaine Silvestrini

Financial Writer

Elaine Silvestrini is an advocate for financial literacy who worked for more than 25 years in journalism before joining Annuity.org as a financial writer.

Read More

Edited By

Kim Borwick

Kim Borwick

Financial Editor

Kim Borwick is a writer and editor who studies financial literacy and retirement annuities. She has extensive experience with editing educational content and financial topics for Annuity.org.

Read More

Published: February 24, 2020
4 min read time
This page features 11 Cited Research Articles
A lot of baby boomers either don't want to or can't afford to retire.
Although an average of 5,900 baby boomers are leaving the U.S. workforce every day, the generation is still working longer than previous generations, according to a report from the Pew Research Center.
The report defines boomers as U.S. adults born between 1946 and 1964, meaning the youngest in the generation are turning 56, and the oldest are 74 this year.
And the oldest among the generation are staying in the labor force at the highest annual rate for people their age in more than 50 years.
The report says that 29 percent of Americans aged 65 to 72 were working or looking for work in 2018. The previous two generations, at the same age, were in the labor force at the rate of 21 percent and 19 percent respectively.
Part of the explanation is that a higher rate of women in the boomer generation participates in the labor force than those of previous generations. The report says 25 percent of boomer women and 34 percent of boomer men between 65 and 72 were in the labor force in 2018.
Men of that age have not participated in the labor force at that rate since the early 1970s, according to the report.
Reasons for Longer Work Participation
The Pew Report doesn't delve into the reasons older workers are staying in the workforce longer. But a researcher at the U.S. Department of Labor wrote in 2016 that there were several reasons that people aged 55 and older were continuing to work.
According to a blog post by Teri Morisi, by 2024, nearly 25 percent of workers are projected to be 55 or older. In 1994, that percentage was 11.9. The reasons are both the aging of the large baby boomer generation and increasing labor force participation among boomers.
The reasons boomers keep working, Morisi wrote:
They're living longer and healthier lives.
Fewer jobs offer pensions, while more offer voluntary retirement savings plans, leaving retirees more uncertain about their finances.
The Social Security retirement age was raised in 1983.
Social Security was changed in 2000 to allow workers at full retirement age to continue working while collecting Social Security without penalty.
Fewer businesses are offering retiree health insurance, forcing some employees to remain in the workforce until they reach age 65 and are eligible for Medicare.
Another reason may be a fear of outliving retirement savings. With longer lifespans, many worry their retirement savings may not last long enough. This risk, however, can be mitigated with the purchase of a life annuity, which guarantees a lifetime stream of income, no matter how long the retiree lives.
All of this aligns with 2018 data from Gallup that show average Americans planning to retire at age 66. During the 1990s, Americans planned to retire at the age of 60.
Interestingly, the percentage of people who want to retire before 60 has dropped from in the last 25 years from 27 percent to 12 percent.
Thinking About Buying an Annuity?
A financial expert can talk to you about your specific financial needs and determine whether an annuity is right for you.
What Effect Will Boomer Retirements Have on Those Left Behind?
How the aging workforce and the inevitable cascade of retirees will affect the U.S. labor market is the subject of debate and study.
On the one hand, surveys have shown that companies are bracing for the wave of retirements and figuring out how to replace the experience and skills boomers will take with them when they leave.
On the other hand, Bloomberg columnist Conor Sen says the boomers' workforce participation should begin to shrink soon. But he wrote in a column last year that the timing may actually be fortuitous because it could mitigate the effects of any potential recession.
This, Sen declared, is the opposite effect the generation had during the great recession.
"Baby boomers acted as a drag on the economy in the aftermath of the great recession because it occurred during the peak saving years of the generation. Saving rates tend to be higher for older workers because older workers have higher incomes than younger workers do, they're more focused on saving for their approaching retirements than younger workers, and because the bulk of their spending on raising families may be behind them."
Advertisement
Connect With a Financial Advisor Instantly
Our free tool can help you find an advisor who serves your needs. Get matched with a financial advisor who fits your unique criteria. Once you've been matched, consult for free with no obligation.
Please seek the advice of a qualified professional before making financial decisions.
Last Modified: November 21, 2022
Share This Post:
11 Cited Research Articles
Annuity.org writers adhere to strict sourcing guidelines and use only credible sources of information, including authoritative financial publications, academic organizations, peer-reviewed journals, highly regarded nonprofit organizations, government reports, court records and interviews with qualified experts. You can read more about our commitment to accuracy, fairness and transparency in our editorial guidelines.
Who Am I Calling?
Calling this number connects you to Senior Market Sales (SMS), a trusted partner of Annuity.org.
If you're interested in buying an annuity, a representative will provide you with a free, no-obligation quote.
SMS is committed to excellent customer service. The company can help you find the right insurance agent for your unique financial objectives.
877-918-7024
Your web browser is no longer supported by Microsoft. Update your browser for more security, speed and compatibility.
If you are interested in learning more about buying or selling annuities, call us at 877-918-7024