Americans are worried about funding retirement, but few are adequately preparing, according to a series of national surveys.
"Planning for retirement is overwhelming for most Americans — which is why all too many shy away from running the numbers — preferring to guess at what they'll need instead," said Jean Chatzky, educational fellow with the Alliance for Lifetime Income.
This is evident in recently released survey results, in which a third of working respondents said they don't think they'll ever be able to retire.
In addition, that survey sponsored by the National Association of Personal Financial Planners, or NAPFA, found that 45 percent of Americans described their relationship with money as stressful, and 33 percent described it as worrisome. Just 36 percent said their relationship with money is positive. The survey allowed people to give more than one answer.
"As we move into a new decade, consumers continue to be pessimistic about their retirement options, with almost half of all respondents lacking confidence in Social Security," said Geoffrey Brown, CEO of NAPFA, in a press release.
A whopping 74 percent of NAPFA survey respondents said they wanted a financial-planning do-over.
The firm Atomik Research conducted the online NAPFA survey, which queried 2,003 Americans of different ages and concluded that stress over retirement funding crosses generations.
Retirement Anxiety Widespread
The NAPFA findings echo reports released over the last year by the Alliance for Lifetime Income, the U.S. Federal Reserve and the World Economic Forum.
Last summer, the Alliance for Lifetime Income released a survey that found that 80 percent of workers had anxiety about whether their savings will provide them enough money to live on in retirement.
The Alliance is a coalition of financial service providers who advocate for income annuities. Its online survey polled more than 3,000 people.
It found several factors contributing to retirement-funding anxiety. The top four were:
The risk of a financial surprise
Health problems
Not having enough lifetime income
Americans without a supplemental source of lifetime income, such as a pension or annuity, have to rely on Social Security, which is estimated to replace only about 40 percent of income.
Thinking About Buying an Annuity?
A financial expert can talk to you about your specific financial needs and determine whether an annuity is right for you.
Reports: Average Americans Will Outlive Retirement Savings
The apprehension is justifiable, according to a white paper by the World Economic Forum, which found that American men can expect to live an estimated 9.6 years longer than their retirement savings will last, while American women can expect a gap of 12.2 years.
The report looked at six countries with major economies and found these gaps in all of them. The United States had the smallest gap. The worst was in Japan, where women can expect to outlive their savings by 19.9 years, and men have a gap of 15.1 years.
In every country, the report concluded, women bear the biggest brunt of the shortfall, as they tend to outlive their savings by an average of two years longer than men.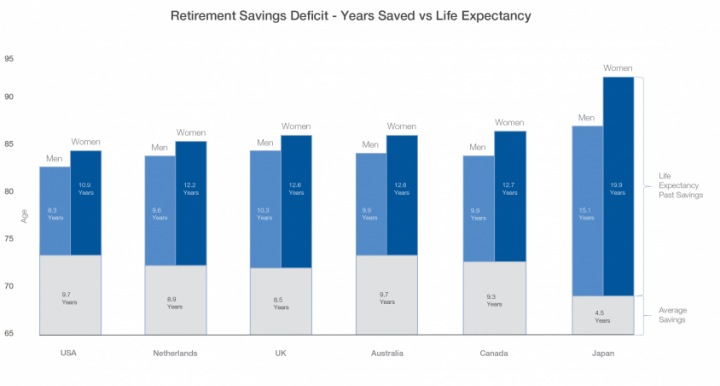 Source: World Economic Forum
In addition, the report revealed that a quarter of non-retired U.S. adults have no pension or retirement savings, while just 36 percent consider their savings to be on track.
Americans Struggle with Managing Money
The lack of retirement savings persists even among older workers. A 2019 report from the U.S. Federal Reserve found that 13 percent of workers over 60 have not saved for retirement and only 45 percent believe they are saving adequately.
"Many adults are struggling to save for retirement," the authors of the report said. "Even among those who have some savings, people commonly lack financial knowledge and are uncomfortable making investment decisions."
The Federal Reserve survey was conducted by Ipsos, a private research firm, and involved 11,440 participants.
Tips for Preparing for Retirement
As overwhelming as retirement planning seems, following the advice of the experts can provide the foundation for a solid plan.
NAPFA offers the following suggestions for ensuring a healthier savings upon retirement.
Boost your savings
Put extra money, such as bonuses and tax refunds, into a retirement savings account.
Millennials should do market research and negotiate their salaries.
Members of Generation X should open high-yield savings accounts and initiate automatic deposits.
Baby boomers should take advantage of provisions that allow them to increase their retirement savings through catch-up contributions. Those under 50 can deposit $19,500 in pre-tax money into 401(k) accounts. Those over 50 can deposit another $6,000 in pre-tax money, for a total of $25,500.
Prioritize debts
List debts by the amounts owed and interest rates. Then approach payments in the way that will motivate you most. Will conquering some small debts help you focus on larger bills? Or will it be better to pay off the debt with the highest interest rate?
Get a handle on spending
Itemize your spending for a few months. Review the list and make sure it syncs with your priorities and earnings. Cancel subscriptions and memberships you aren't using, and work with providers to lower costs for services and products such as cable, internet and insurance.