Annuity.org Proudly Announces Inaugural Scholarship Winner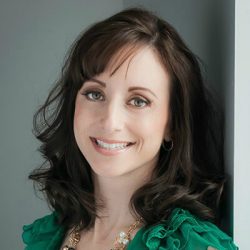 Amanda Holdsworth, a doctoral student at the University of Southern California, is the inaugural winner of the Annuity.org Scholarship for essay writing on financial literacy.
Holdsworth received $2,000 for her studies in USC's Organizational Change and Leadership program. She returned to school after working in education for 10 years to advance her career in education and become an administrator or dean.
Penning the Winning Essay
Scholarship entrants were asked to write an essay on the question:

"You just won a $10 million lottery jackpot! How will you spend it, and how will you make it last?"
Holdsworth said writing the essay was exciting.
"I was kind of depressed when I ended it because I didn't have the $10 million!" she said. "This was a really hard assignment for me, so to hear that I won is so exciting!" Holdsworth said the essay took quite a bit of research.
"When I sat down to start I had no idea what an annuity was," she said. "This really opened my eyes to the fact that you don't just have to put your money into a 401k and hope for the best when you retire."
She was thrilled to have won the scholarship: "It's nice to know your hard work pays off!"
Winning Advice from the Contest
So what are some tips Holdsworth has for lottery winners?
Consider taking a lump-sum payment to have access to all of your money immediately and choose how to invest it.
Establish trust funds for any dependents.
Invest in blue-chip stocks.
Pay off all debts.
Fully fund retirement accounts.
Second place went to Angelo Grant, a student at the University of Michigan-Dearborn. Grant also wrote in his essay that he would choose a lump sum, and he said he would invest in several stocks, including Google, IBM and Johnson & Johnson.
It can't all be investing though, according to Holdsworth. It's easy to see that Holdsworth definitely would take a disciplined approach to winning a lottery, but she admits she and her family would have some fun, too. "Of course, I would not be considered human if I didn't spend some of the money on myself and my family," she wrote in her essay. "Instead of buying fancy cars or a larger house, we would take a two-to-four week international family trip each year, and my husband and I would enjoy our own vacation to our favorite vacations. We'd travel first class and stay in a few income properties we would have purchased between years three and 10 post-lottery win (renting them out during the times we weren't there in order to provide an extra income stream)."
She added: "I believe in spending money on experiences, not things."
Please seek the advice of a qualified professional before making financial decisions.
Last Modified: September 16, 2020
Share This Post: