Wealth Management Strategies
Wealth management is the application of knowledge, processes, services and products designed to help you grow, protect, spend and distribute your wealth to others. Managing and preserving your wealth is best done by qualified financial professionals with expertise in retirement planning, tax planning, investment management, insurance optimization, estate planning and legal assistance.
Written By

Thomas J. Brock, CFA®, CPA

Thomas J. Brock, CFA®, CPA

Expert Contributor

Thomas Brock, CFA®, CPA, is a financial professional with over 20 years of experience in investments, corporate finance and accounting. He currently oversees the investment operation for a $4 billion super-regional insurance carrier.

Read More

Edited By

Emily Miller

Emily Miller

Managing Editor

Managing editor Emily Miller is an award-winning journalist with more than 10 years of experience as a researcher, writer and editor. Throughout her professional career, Emily has covered education, government, health care, crime and breaking news for media organizations in Florida, Washington, D.C. and Texas. She joined the Annuity.org team in 2016.

Read More

Financially Reviewed By

Peggy James, CPA

Peggy James, CPA

Certified Public Accountant

Peggy James is a certified public accountant with a Master of Accounting. She has spent the past several years of her career focused on working in higher education finance roles. Peggy also has accounting and finance experience working in the corporate and nonprofit sectors.

Read More

Updated: January 30, 2023
7 min read time
This page features 2 Cited Research Articles
What Is Wealth Management?
Wealth management is an ambiguous term, as it can encompass a range of financial advisory services that are used to address a client's specific financial goals. At its most comprehensive, wealth management services can include retirement planning, tax planning, investment management, insurance optimization, estate planning and legal assistance.
Given the array of services falling under the wealth management umbrella, it's no surprise the phrase means different things to different people. Oftentimes, differences in perception stem from differing levels of needs and expectations across the wealth spectrum.
For example, wealthier individuals often require more complicated (and costly) solutions than people who are less wealthy. Despite the differences in the services required, wealth management can be described in a way that is applicable to everyone.
Fundamentally, wealth management is a highly consultative process between you and a qualified team of financial professionals. The process can be defined as follows:
Pro Tip
Wealth management is the application of knowledge, processes, services and products designed to help you grow, protect, spend and distribute your wealth to others.
Given this clear definition, it may be difficult to imagine how different people can have different views of wealth management. As outlined below, the primary reason relates to how well the wealth management program is integrated across the range of service providers.
Less-affluent individuals tend to use wealth management solutions on an as-needed basis, with little or no coordination between service providers.
More-affluent individuals tend to implement comprehensive, highly integrated solutions. Oftentimes, this is done via a single wealth management platform, which is often referred to as a family office.
Wealth Management Firms
The wealth management process involves a variety of complex matters, including retirement planning, tax planning, investment management and insurance optimization. Depending on the size of your net worth, the process may also call for estate planning and, possibly, business succession planning.
Very few people can assess these matters and implement strategies to address them on their own. The diversity and complexity of these challenges calls for a team of highly skilled professionals.
Unfortunately, putting together such a team can be a difficult and expensive undertaking. If done in a one-off fashion, it can also result in contradictory actions, lost opportunities and costly inefficiencies.
This is where professional wealth management firms come into play. The best firms have expertise across the range of wealth management needs and implement client-specific solutions in a highly integrated fashion.
In the United States, there are thousands of reputable wealth management firms, both private and public. The larger, well-known public firms include UBS Global Wealth Management, Edward Jones, Credit Suisse, Morgan Stanley Wealth Management and Bank of America.
Important Distinction: Growing Wealth vs. Preserving Wealth
When thinking about wealth management, it's important to draw the distinction between growing wealth and preserving wealth. The latter entails a highly risk-averse approach to money management, while the former is more accepting of downside exposure in exchange for potential upside reward. Additional differentiating details are illustrated below.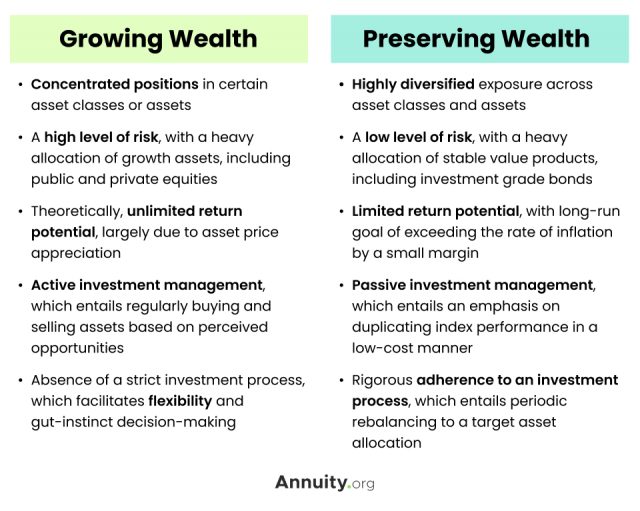 Clearly, the strategies for growing wealth run counter to preserving it. This is logical, and it largely reflects the risk-reward tradeoff, which says you can only hope to achieve a higher level of return by assuming a higher level of risk. Moreover, in order to ensure a low level of risk, you must sacrifice return potential.
Changing Priorities
For many of us, the focus of a wealth management program shifts over time.
In our younger years, it's all about making ends meet, satisfying obligations and striving to save what we can. Then, as our earnings increase and the financial picture improves, the focus shifts to growing our savings for retirement. This usually entails a relatively high degree of risk, but given the long pre-retirement investing horizon, it's completely sensible.
For those fortunate enough to accumulate sufficient money to live worry-free, a more conservative approach to investing becomes important. At this stage, wealth preservation becomes the focus.
Wealth Preservation Strategies
As described above, the intent of wealth preservation is to maintain the real value of your assets. The goal is to preserve your nest egg and protect it from the erosive effect of inflation — rather than increasing the size of your nest egg.
To accomplish this, there are a number of strategies at your disposal. The most prominent are outlined below.
Work With Professionals
Wealth management is not a simple process, and its complex financial and legal matters are best handled by professionals.
Professional wealth management firms can add tremendous value to your personal finance planning. The best firms have expertise across the range of wealth management needs, and they implement client-specific solutions in a highly integrated fashion.
Let's discuss some of the most important strategies that wealth management professionals can help you implement.
Establish a Clear Picture of Your Finances
Get a clear picture of your finances by performing a detailed inventory of all your assets and liabilities. As part of this exercise, you should assess your monthly cash inflows and outflows and implement a budget to guide your spending habits. No matter how much wealth you've accumulated, a budget is a sensible tool that encourages financial discipline.
For some, the financial review process may lead you to implement a debt management program. A debt management plan can help you combat the wealth-eroding impact of excessive debt in an intentional, methodical way.
Regardless of your level of wealth, the process of evaluating your financial situation will give you a good baseline understanding of your financial picture so you can make informed decisions in other areas of your wealth preservation program.
Refine Your Investment Policy
Another strategy for wealth management involves a holistic assessment of your investment goals to ensure your portfolio is appropriately structured. This means revisiting your return objectives and your tolerance for risk, along with any other constraints relating to your time horizon, tax position, liquidity needs, legal situation and unique circumstances.
Ultimately, the process should keep you from having all your financial eggs in one basket, as you can ensure your assets are diversified and structured strategically.
Optimize Your Insurance Coverage
Insurance is an integral part of a wealth management program. Properly structured, insurance policies can protect you and your loved ones from significant financial losses stemming from health, property and liability exposures.
Life insurance can also be beneficial if you have a spouse or dependents who rely on your earned income and you're not sure that your estate is large enough to provide for them indefinitely.
An alternative solution to life insurance is a joint life annuity, which guarantees a monthly payment to you and a spouse (or someone you designate other than a spouse) for the rest of your lives.
As a final note, you should also consider purchasing long-term care insurance, one of the most commonly employed wealth preservation tactics. Without it, an unexpected illness can quickly deplete hard-earned savings due to the exorbitant cost of intensive care services or 24-hour care.
Formulate an Estate Plan
An estate plan is a playbook that outlines who will eventually receive your assets, when they will receive them and how you want your affairs to be handled in the event you become incapacitated and are unable to handle them on your own.
Estate planning is a complicated process that involves many multifaceted components, including gift-giving strategies, tax-advantaged life insurance vehicles, trusts, wills and a variety of other legal documents specifying your authorizations and directives.
Handling all of this in a thoughtful, tax-aware fashion can make a huge difference when it comes to preserving your wealth for future generations.
Implement a Formal Philanthropic Program
If you have addressed the previously discussed concerns and are confident that the amount of your assets is more than adequate, you may consider implementing a formal philanthropic program. Another method of preserving wealth, a philanthropic program enables you to reduce your tax burden while making a positive impact in the world.
There are many ways to structure your program. One of the most straightforward approaches is to make your donations via a donor-advised fund. Essentially, this is a charitable investment account that receives your irrevocable contributions, invests them in tax-free manner and allows you to grant them to handpicked charities over time.
Advertisement
Connect With a Financial Advisor Instantly
Our free tool can help you find an advisor who serves your needs. Get matched with a financial advisor who fits your unique criteria. Once you've been matched, consult for free with no obligation.
Please seek the advice of a qualified professional before making financial decisions.
Last Modified: January 30, 2023
Share This Page:
Your web browser is no longer supported by Microsoft. Update your browser for more security, speed and compatibility.
If you are interested in learning more about buying or selling annuities, call us at 855-995-1277