FICO Score
FICO scores are one way to calculate your credit score. The FICO scoring model is used by lenders, landlords and banks across the country to evaluate potential borrowers' creditworthiness. FICO calculates scores based on information from your credit report.

What Are FICO Scores?
The FICO score is one of the most popular brands of credit scores. These scores are based on your financial history and are used by lenders to get a picture of how risky it would be to extend credit to you.
FICO stands for Fair Isaac Corporation, a company that pioneered the development of credit scoring formulas. FICO's scoring methods are based on data collected from credit reporting agencies.
Many other companies have their own proprietary credit scoring models. VantageScore is another popular credit scoring model. But most banks and lenders still use FICO's model when calculating credit scores for potential borrowers.
Purpose of FICO Scores
The purpose of FICO scores is the same as any other type of credit score. Your credit score is used by lenders, landlords and insurers to determine your creditworthiness. The higher your FICO score is, the more likely you are to be able to pay back a loan on time and in full.
Your FICO score can have a big impact on your personal finance. A low score can make it difficult to qualify for a mortgage, secure a loan or get good rates on insurance.
What Are the FICO Score Ranges?
The FICO scoring model assigns scores between 300 and 850, with 300 being the worst score. The higher your score is, the less credit risk you have, and the more likely you are to be approved for loans with lower interest rates.
What Is a Good FICO Score?
A "good" FICO score can be anywhere from 670 to 739. FICO scores between 740 and 799 are labeled "very good," and any score over 800 is considered to be "exceptional."
Roughly two-thirds of Americans have a FICO credit score that's rated "good" or better, according to data from Experian, one of the nation's largest credit bureaus. Experian also reported that the average FICO credit score in the U.S. in 2021 was 714, up four points from the 2020 average score of 710.
How Are FICO Scores Calculated?
FICO credit scores are calculated based on the information in your credit report. Your credit report contains details such as your payment history, how much of your credit you use and other important factors.
Factors That Impact Your Score
The FICO scoring model calculates your score based on five criteria, each one with a different weight of importance assigned to it.
FICO Score Factors
Payment History

Your history of paying back loans on time makes up 35% of your score, making it the most important factor in calculating your credit score. This means that paying loans and credit card bills on time is the most important thing you can do to improve your FICO score.

Amount Owed

The amount of your available credit that you use at any given time accounts for 30% of your FICO score calculation. The percentage of your available credit that you use is known as your credit utilization ratio, and experts recommend that you try to use no more than 30% of your available credit.

Length of Credit History

How far back your credit history goes makes up 15% of the FICO score calculation. The longer your credit history, the more likely it is to positively affect your credit score.

Credit Mix

FICO scores also look at the variety of credit products you maintain, including credit cards, retail accounts, installment loans and mortgage loans. Credit mix is considered beneficial to your credit score and accounts for 10% of the calculation.

New Credit

The last 10% of your FICO credit score is based on whether you've recently applied for new credit and how much. Opening several new credit accounts in a short amount of time is considered to represent credit risk, so doing this can harm your credit score.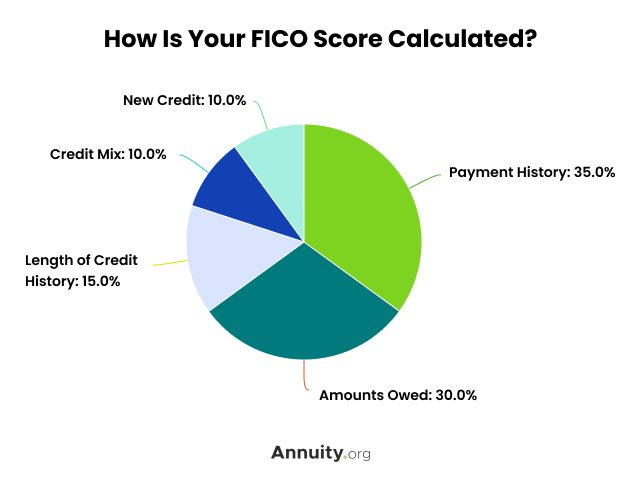 Factors That Don't Impact Your Score
The information found in your credit report gives a picture of your credit history for lenders to base your score calculations on. Although lenders might look at other aspects of your personal finance to make loan approval decisions, these factors are not considered when determining your credit score.
Factors That Won't Affect Your FICO Score
Your salary or net worth
Receiving welfare payments
Paying taxes late
Getting married or divorced
Having a credit application denied
Checking your credit report or score
How Do You Find Your FICO Score?
Finding out your FICO score is easy to do and won't impact your score in any way. You can purchase your score directly on the FICO website.
If you have a credit card or an auto loan, you may be able to check your score regularly free of charge. Many credit card and loan companies provide customers' FICO scores on their monthly statements.
Please seek the advice of a qualified professional before making financial decisions.
Last Modified: July 18, 2022
Share This Page:
11 Cited Research Articles
Annuity.org writers adhere to strict sourcing guidelines and use only credible sources of information, including authoritative financial publications, academic organizations, peer-reviewed journals, highly regarded nonprofit organizations, government reports, court records and interviews with qualified experts. You can read more about our commitment to accuracy, fairness and transparency in our editorial guidelines.