Crypto Meltdown Continues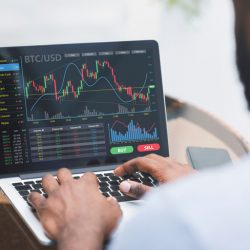 Written By

Jennifer Schell

Jennifer Schell

Financial Writer

Jennifer Schell is a professional writer focused on demystifying annuities and other financial topics including banking, financial advising and insurance. She is proud to be a member of the National Association for Fixed Annuities (NAFA) as well as the National Association of Insurance and Financial Advisors (NAIFA).

Read More

Edited By

Savannah Hanson

Savannah Hanson

Senior Financial Editor

Savannah Hanson is an accomplished writer, editor and content marketer. She joined Annuity.org as a financial editor in 2021 and uses her passion for educating readers on complex topics to guide visitors toward the path of financial literacy.

Read More

Published: July 8, 2022
3 min read time
This page features 5 Cited Research Articles
In the second quarter of 2022, Bitcoin — the world's most popular cryptocurrency — lost 58% of its value. This decline marked the worst quarterly performance for the digital currency since 2011. The second quarter of 2022 was brutal for the entire crypto industry, as multiple cryptocurrencies experienced spectacular meltdowns over a matter of days.
What Happened to Crypto Markets in 2022's Second Quarter?
At the start of the last quarter, prior to Bitcoin's plummet in value, the collapse of stablecoin TerraUSD (UST) sent shock waves through the crypto industry. Stablecoins are pegged to a real-world asset, in UST's case to the U.S. dollar. In May 2022, the coin failed, losing its dollar peg and falling sharply below the $1 mark.
As of July 2022, UST is worth just six hundredths of a cent according to Coinbase, one of the largest exchange platforms in the crypto space. UST's collapse had a cascading effect on the crypto market, wiping out an estimated $40 billion in investor funds. A sister token of UST called Luna also collapsed and is now functionally worthless.
Many companies dealing in digital currency transactions have fallen on hard times since the meltdown began. Coinbase recently laid off 18% of its staff, while other corporations including Gemini, BlockFi and Crypto.com have also drastically cut jobs.
Why Did Crypto Prices Fall So Dramatically?
The factors responsible for the crypto crash are the same factors impacting other investment products and bringing down the stock market. The biggest element at play is inflation, which continues to rise at the fastest rate in over 40 years.
To mitigate the effects of this rapid surge in consumer prices, the Federal Reserve is aggressively bumping up interest rates. Just last month, the Fed hiked interest rates by three-quarters of a percentage point and is expected to initiate another 0.75% bump at its meeting later this month.
This jump in interest rates has made borrowing more expensive for individuals and companies alike, which has caused stock prices to fall dramatically since the beginning of the year. Cryptocurrencies, despite being hailed as inflation hedges by their supporters, have also lost significant value.
All told, the value of digital currencies across the globe has plummeted from $3 trillion at the height of the crypto craze in 2021 to just about $1 trillion in recent weeks.
The crypto industry is also facing liquidity concerns. A popular crypto lender named Celsius paused withdrawals for customers in June, citing "extreme market conditions."
Three Arrows Capital, one of the world's largest crypto hedge funds, also faced heavy exposure after the collapse of UST. Following the collapse, the fund defaulted on a loan of more than $660 million and fell into liquidation.
What Does This Mean for the Future of Crypto?
At the start of 2022, crypto companies paid millions to air ads during the Super Bowl to spread the message that digital currencies were the future of finance, urging consumers not to miss out.
But the plummeting value of cryptocurrencies in recent months would seem to suggest otherwise. A consumer who purchased Bitcoin on Feb. 14, the day after the Super Bowl, would now have lost about half the value of their purchase.
Because the crypto market is so new, there is a significant lack of responsibility and clarity surrounding market regulation. Currently, both the Commodity Futures Trading Commission (CFTC) and the Securities and Exchange Commission (SEC) claim jurisdiction over parts of the digital currency market.
In response to this crypto crash, the SEC is increasing its enforcement actions against crypto companies and considering new regulations. Congress is also set to vote on the first comprehensive crypto legislation, a bill that would give more regulatory authority to the CFTC.
Most experts continue to consider cryptocurrencies a poor choice for long-term investments — like a retirement portfolio — because of extreme volatility. At a recent New York Times event, U.S. Treasury Secretary Janet Yellen advised against investing in cryptocurrencies to save for retirement, calling them "a very risky investment."
Advertisement
Connect With a Financial Advisor Instantly
Our free tool can help you find an advisor who serves your needs. Get matched with a financial advisor who fits your unique criteria. Once you've been matched, consult for free with no obligation.
Please seek the advice of a qualified professional before making financial decisions.
Last Modified: November 21, 2022
Share This Post:
5 Cited Research Articles
Annuity.org writers adhere to strict sourcing guidelines and use only credible sources of information, including authoritative financial publications, academic organizations, peer-reviewed journals, highly regarded nonprofit organizations, government reports, court records and interviews with qualified experts. You can read more about our commitment to accuracy, fairness and transparency in our editorial guidelines.
Your web browser is no longer supported by Microsoft. Update your browser for more security, speed and compatibility.
If you are interested in learning more about buying or selling annuities, call us at 855-995-1277