Investing for Inflation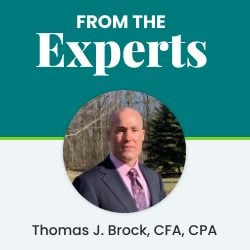 Written By

Thomas J. Brock, CFA®, CPA

Thomas J. Brock, CFA®, CPA

Expert Contributor

Thomas Brock, CFA®, CPA, is a financial professional with over 20 years of experience in investments, corporate finance and accounting. He currently oversees the investment operation for a $4 billion super-regional insurance carrier.

Read More

Edited By

Lamia Chowdhury

Lamia Chowdhury

Financial Editor

Lamia Chowdhury is a financial editor at Annuity.org. Lamia carries an extensive skillset in the content marketing field, and her work as a copywriter spans industries as diverse as finance, health care, travel and restaurants.

Read More

Published: December 19, 2022
2 min read time
This page features 2 Cited Research Articles
Managing money can be difficult, especially in the face of rising prices and an elevated cost of living. Unfortunately, we appear to be in the midst of a wealth-eroding, inflationary environment. For the twelve-month period ending on June 30, 2022, the Consumer Price Index (CPI) rose an astounding 9.1%. Despite a retreat from that peak, the measure remained elevated at 7.1% at the end of November 2022.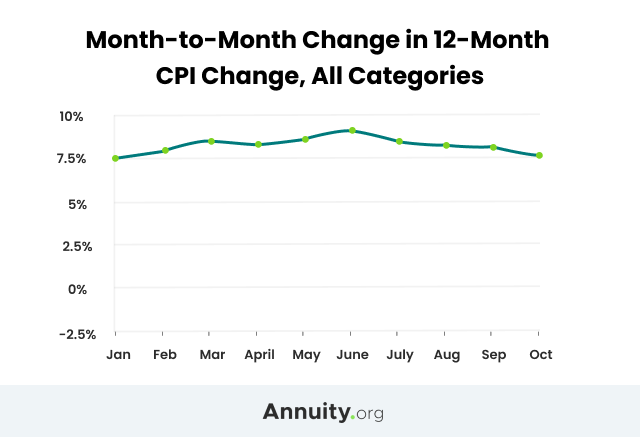 Source:
U.S. Bureau of Labor Statistics
The Federal Reserve has rolled out a steady stream of interest rate hikes over the past year to slow climbing inflation. It's expected to slow the hikes going into 2023, but the rates remain the highest in years, according to an article by Reuters.
Inflation and Interest Rates: 3 Strategies To Reduce Your Investment Risk
Sustained, high interest rates pose significant risk to the average U.S. investor, but there are some things you can do to mitigate against the downside.
Play the Long Game
For starters, if you have a long investment horizon (at least 7 to 10 years) and can withstand a relatively high degree of volatility, pare back on your fixed-income holdings in favor of growth-oriented stocks. The relatively high-return potential and pricing power of these companies can reinforce the real value of your portfolio over the long run.
Use Historic Hedges Against Future Uncertainty
Consider incorporating two other time-tested inflation hedges into your portfolio — gold and real estate. Modest allocations to these assets can meaningfully enhance real portfolio efficiency (return per unit of risk, after adjusting for inflation). Consider implementing them via low-cost, diversified exchange-traded funds (ETFs).
Savings Bonds
A third strategy is to invest in U.S. Series I savings bonds, which are high-quality debt instruments indexed to inflation. Currently, if you have a Social Security number, you can buy up to $10,000 worth of these instruments. 
But it's important to monitor the promised return. For example, a 9.62% interest rate on these bonds was locked in through October 2022, meaning, they performed better than inflation. However, the rate dropped to 6.89% for bonds purchased from November 2022 to April 2023. That's lower than the November inflation rate. If the inflation rate continues to drop, this rate may still beat inflation.
With Savings Bonds, we're essentially talking about a completely risk-free investment issued directly by the U.S. Treasury Department. You can't lose your principal investment on these bonds, and you are hedged against inflation. Right now, there is no other investment in the world that offers a comparable risk-adjusted return. The biggest drawback on Series I bonds is that they can't be redeemed for a one-year holding period. 
Advertisement
Connect With a Financial Advisor Instantly
Our free tool can help you find an advisor who serves your needs. Get matched with a financial advisor who fits your unique criteria. Once you've been matched, consult for free with no obligation.
Please seek the advice of a qualified professional before making financial decisions.
Last Modified: January 10, 2023
Share This Post:
2 Cited Research Articles
Annuity.org writers adhere to strict sourcing guidelines and use only credible sources of information, including authoritative financial publications, academic organizations, peer-reviewed journals, highly regarded nonprofit organizations, government reports, court records and interviews with qualified experts. You can read more about our commitment to accuracy, fairness and transparency in our editorial guidelines.
U.S. Bureau of Labor Statistics (2022, November 17). Consumer Prices Up 7.7% Over Year Ended October 2022. Retrieved from https://www.bls.gov/opub/ted/2022/consumer-prices-up-7-7-percent-over-year-ended-october-2022.htm
Schneider, H. and Saphir, A. (2022, November 30). Fed's Powell: Rate Hikes To Slow, But Adjustment Just Beginning. Retrieved from https://www.reuters.com/markets/us/feds-powell-rate-hike-slowdown-possible-next-month-inflation-fight-far-over-2022-11-30/
Your web browser is no longer supported by Microsoft. Update your browser for more security, speed and compatibility.
If you are interested in learning more about buying or selling annuities, call us at 855-995-1277