Types of Mortgages
Determining the type of mortgage that is best for your situation is one of the first and most foundational steps of the home buying process. Buyers need to weigh all options and should put thought and research into understanding what types of mortgages are available to ensure that they take the ‌steps to qualify — and that they are getting any benefits available. Home buying is a long-term choice with lifelong implications. Knowing the pros, cons and requirements of each mortgage type could better help you make the right decision.

What Are the Different Types of Mortgages?
A mortgage is the type of loan used to purchase a home in which a lender enables an individual to borrow money from a financial institution, such as a bank or credit union, to pay for a property outright.
The type of mortgage you qualify for dictates the home you can afford. Luckily, you are not limited to one mortgage option. There are many choices based on a homebuyer's financial qualifications and economic resources. Exploring your options and doing research before starting the home buying process will make it easier for you to choose the best mortgage type for you.
Adjustable-Rate Mortgage
An adjustable-rate mortgage (ARM) mortgage is a loan with an interest rate that changes periodically based on a pre-determined financial index. If the index rate goes up or down, the monthly payment will also increase or decrease.
This is a good choice for borrowers who seek lower initial monthly payments and flexibility. Many who choose this type of mortgage expect ‌they will move or sell the house in the next few years or think the interest rates may go down in the future.
Conforming Mortgage Loan
A conforming mortgage loan is a loan that meets specific eligible guideline requirements to be purchased from lenders by Fannie Mae and Freddie Mac.
To take out a conforming loan, you need to meet minimum credit score requirements of 620, have a minimum down payment of 3% and qualify for the amount you intend to borrow.
Conventional Mortgage
Typically thought of as a "standard" mortgage, a conventional mortgage is any home loan that is not backed by a specific government program. These loans usually have stricter requirements than government-back loans.
To qualify for a conventional loan, mortgage lenders typically require a minimum credit score of 620, a decent debt-to-income ratio that does not exceed 43% and a down payment of at least 3% to 5%.
Fixed-Rate Mortgage
A fixed-rate mortgage is a loan in which the interest rate remains the same for the entire life of the loan. You will pay the same rate each month no matter what the interest rates in the market are doing.
This loan type offers consistency and is a good choice for borrowers who want long-term, steady monthly mortgage payments. The monthly payment of principal and interest won't change, although the overall mortgage payment could change because of fluctuations in property taxes or homeowners insurance.
Interest-Only Mortgage
An interest-only mortgage gives you the option to make initial monthly payments on only the interest portion of the amount borrowed for a specific period, typically five to 10 years.
If you are a borrower who wants flexibility and has other major financial obligations, this loan will allow a lower payment at the start of the loan. You will have the opportunity to make principal payments when you choose to do so.
Government-Backed Mortgages
A government-backed mortgage is a loan insured by a federal agency, such as the Federal Housing Administration (FHA), U.S. Department of Veterans Affairs (VA) or U.S. Department of Agriculture (USDA).
An FHA loan allows borrowers who may not ‌qualify for a conventional home loan to buy a home with as little as 3.5% down payment. The minimum credit score for an FHA loan is 580, however, you may still qualify with a credit score as low as 500 and a down payment of 10%. This is a good choice for those who are first-time home buyers and who have past credit history challenges.
A VA loan is a low or zero-down mortgage loan offered to eligible veterans, service members and their survivors to buy, build, improve or refinance a home. To qualify, you'll still need to have the required credit score and income for the loan amount you want to borrow.
A USDA loan is a low-interest mortgage loan with no down payment for low- and moderate-income households to own adequate, decent and safe dwellings. To qualify, the homebuyer's income must fall below specific limits, you must intend to use the home as a primary residence and the home must be in an eligible rural or suburban area.
Nonconforming Mortgage
A nonconforming mortgage loan doesn't meet the specific guideline requirements to be sold to Fannie Mae and Freddie Mac.
To qualify for this loan type, you will need a higher down payment along with a credit score of 680 or higher. Examples of nonconforming mortgages are jumbo or super jumbo loans — mortgage loans greater than $647,200 (in most areas) and $1,000,000, respectively.
Reverse Mortgage
A reverse mortgage is a special type of loan that is used by homeowners ages 62 and older to borrow money against the equity in their homes.
This option is typically for those who have paid off their mortgage, so their home becomes security for the loan. The loan doesn't come due until the borrower moves out of the home, sells the house, passes away or cannot meet loan obligations.
Which Mortgage Type is Best For You?
To decide which type of mortgage is best for you, it is imperative to determine your long-term goals and compare the pros and cons of each type of mortgage against your financial situation. It is in your best interest to ensure that you can take advantage of a mortgage loan program that is available to meet your needs.
Analyze where you stand financially. Ask yourself how much of a down-payment you can pay and are comfortable saving up for. Also, determine how long you would like to repay the loan. The term of your loan can be 15 years, 30 years or another length. This choice affects your monthly principal and interest payment, your interest rate and how much interest you will pay over the life of the loan.
Decide whether a fixed-rate mortgage that will always have the same interest rate or an adjustable-rate mortgage that begins with a lower interest rate then increases after a certain time is best for you.
Check your credit worthiness. Does your credit report reflect a high enough score to qualify for a government-backed mortgage or a conventional mortgage to start? Knowing where you stand will better help you accomplish your goals.
While in the early stages of the home buying process, it is always very important to submit your financial information to your mortgage lender to get pre-approved. This will aid in your decision between the ‌loan(s) you qualify for. Your pre-approval letter will provide details on the purchase price, loan amount, interest rate, loan program and down payment that you are approved for.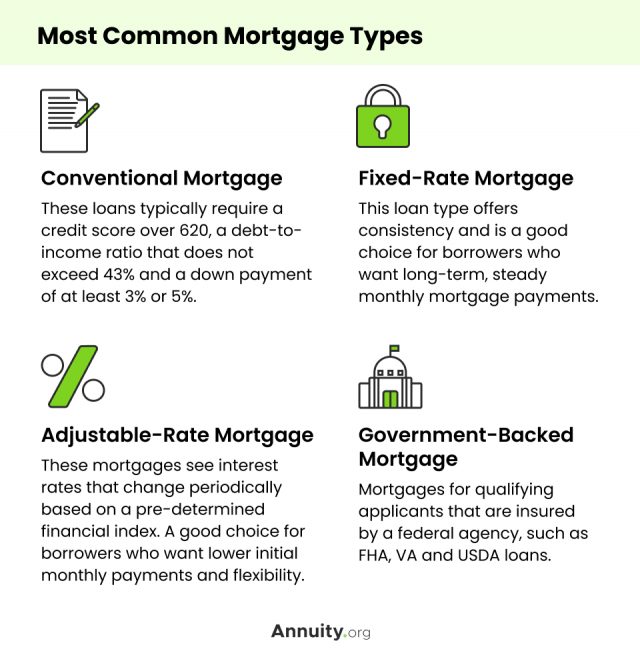 What Are the Requirements To Get a Mortgage?
There are main factors that impact whether you'll qualify for a certain mortgage which you need to consider. These factors include your income, credit score and credit history, the size of your down payment, any assets you hold and the type of property you're interested in buying.
Prior to starting the home buying process, establish a budget and determine how much income you bring in and how many assets you have. Request copies of your credit reports and review your credit history to ensure you have a healthy credit score and there are no negative remarks.
How much you have saved up for a down payment will also determine the type of loan and property you qualify for. Most mortgages require a 20% down payment, but some will allow a down payment as low as 3.5%. If you put down less than 20%, lenders usually require you to pay private mortgage insurance (PMI) to protect them if you don't pay your mortgage.
Whether you are a first-time buyer or a seasoned buyer, it is best to assess your current financial situation. For some it may seem like an overwhelming process, however, you may qualify for certain types of mortgages with lower requirements.
To improve the overall odds of being approved for a mortgage, it is best to establish a plan to work on building your credit if necessary. Sometimes, you may need a cosigner to help you qualify for the mortgage of your choice if you don't meet the income or credit requirements.
A good practice is also to focus on paying down your debts, which will lower your debt-to-income ratio — lenders look at this to determine how much you can borrow. Work towards a savings plan for your down payment to ensure you have enough to qualify for the mortgage of your choice.
Please seek the advice of a qualified professional before making financial decisions.
Last Modified: April 18, 2022
Share This Page:
5 Cited Research Articles
Annuity.org writers adhere to strict sourcing guidelines and use only credible sources of information, including authoritative financial publications, academic organizations, peer-reviewed journals, highly regarded nonprofit organizations, government reports, court records and interviews with qualified experts. You can read more about our commitment to accuracy, fairness and transparency in our editorial guidelines.