Selling a House
Selling a home is typically less complicated than buying a home. But it is still important to pay attention to several details that can affect your sale price. By taking the right steps, you can simplify the house-selling process and maximize your financial return on the sale.
Reasons for Selling Your House
There are a lot of reasons you may want to sell a house, from needing to move for a new job to taking advantage of a hot housing market.
Top 8 Reasons People Sell Their Home
Cashing in on home equity
Desire to live in a different neighborhood
Family changes — divorce, widowed, retired, kids
Flipping a new house
Moving for a new job
Moving to avoid repairs on existing home
Moving to be closer to family
Need for a larger or smaller house
Many people think of selling a house as a steppingstone to owning a larger or more expensive home. But downsizing for retirement or after your kids move out can mean lower bills and extra cash from the home sale.
However, selling your home can also have costly and long-term consequences. You should carefully consider several factors before deciding whether the time is right to sell your home.
Things to Consider Before Selling Your House
Housing Market

A seller's market — when you can get a higher price for your home – can be a double-edged sword. If housing prices are up in your locality, you may turn a profit on your home sale. But carefully consider what the housing prices are where you plan to move.

Interest Rates

Look at market expectations for mortgage interest rates. If interest rates remain near historic lows, there should be a sizable pool of potential buyers. If rates are expected to rise soon, buyers may rush to lock in a lower interest rate for their mortgage, making a sale quicker.

Buyer Demand

If home prices are rising quickly in your area, you may be able to take advantage of buyer demand to bid up the price of your home. Be careful not to set your asking price too high, or you may have a longer wait until your home sells. Gauge similar recent sale prices in your neighborhood.

Financial Situation

If you must move due to a new job or some other situation, then selling is a good option to avoid two mortgage payments. Selling can also help your financial situation if you've been laid off or need to downsize.

Recently Refinanced

If you've refinanced your mortgage recently, selling may not be the best option — mainly because of the closing costs you just paid for the refinance. Closing costs are typically 2 to 3 percent of your mortgage loan — typically thousands of dollars. And if you refinance your home while it's on the market, you may have to pay a penalty to the lender.
Selling your home — or any real estate — can require patience, especially during a buyers' market. Be sure to consider how long you can wait to sell your house and be prepared to move quickly when you finally accept an offer.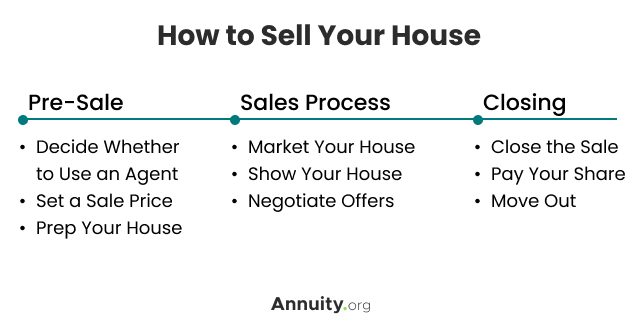 Deciding How to Sell Your House: With or Without an Agent
If you've decided the time is right for you to sell your home, the next step should be to determine if you want to sell it with or without a real estate agent.
Selling Without a Real Estate Agent
Selling your home without an agent is labor intensive and can take a lot of time, energy and money. But there are reasons to consider this route.
About 8 percent of home sales in 2020 were FSBO — or for sale by owner — listings, according to the National Association of Realtors.
Homes sold without an agent typically were on the market for shorter periods of time — less than two weeks. This was often because the seller knew the buyer. FSBO sales are frequently transactions between family members or buyers and sellers who have some other close connection.
FSBO home sale prices also averaged about 10 percent less than homes sold through an agent, according to the NAR study.
Selling With a Real Estate Agent
You will have to pay fees and commissions if you hire a real estate agent, but it may be a better bargain in the long run.
An advantage of using a real estate agent is marketing your house through professional networks. If you go with a FSBO listing, agents representing potential buyers may not show your home.
An agent is likely going to be more experienced at negotiating the best sale price for your home. Their professional skills also allow them to properly weed out unqualified buyers.
Agents will also take emotion out of the home selling process. You may be more likely to overlook your home's shortcomings, set your asking price too high or too low, or become discouraged by rejections from potential buyers.
Setting a Sale Price for Your House
You'll need to set a competitive price for your home based on its location. You can research this through recent sales in your neighborhood if you're selling the house yourself. If you use a real estate agent, they can suggest a price based on a local Comparative Market Analysis — a report on regional property prices.
You'll also need to factor in other costs that should be covered in the price.
Incidental Costs to Consider
Broker's commission — this is typically 5 to 6 percent of the final sale price.
Closing costs — sellers may have to pay up to 10 percent of the sale price to cover lawyer fees, transfer fees, property taxes and other expenses at closing.
Marketing costs — You will have to pay for professional photos, flyers, signage, staging and other marketing materials if you are selling the house yourself.
Taxes on selling your house — if you've lived in your house for less than two years, you may have to pay capital gains tax on the sale of the house.
You'll also need to plan for what you want to do with the proceeds from selling your house. Will you use it to purchase a new home or for other purposes such as investments?
Preparing Your Home for Sale
There are several steps you should take before putting your house on the market. These steps can help you get the best sale price and address any surprises that could hurt the sale.
Getting Your House Ready to Sell
Declutter

If you can live without it, get it out of the house. This will help the house look more open, organized and spacious to potential buyers.

Get a Home Inspection

The sooner you can identify potential problems, the more time you will have to fix them before the sale. This can help save you from surprise expenses or losing a sale.

Make Repairs or Upgrades

Strategize with your real estate agent about where to prioritize your repair budget. You may also consider upgrading or partially remodeling the home, which can sometimes justify a higher sale price.

Do a Deep Clean

You want the house to look and smell like it's new. Consider hiring professionals to give your home a thorough deep cleaning before it goes on the market.

Stage the House

Staging involves moving furniture out of key rooms in your home — living room, kitchen, master bedroom — and having them professionally decorated. You'll also need to stage your yard to improve curb appeal. While staging is an expense, it can bump up your sale price by 1 to 5 percent, according to a survey by the National Association of Realtors.
Once you have your home in the best condition possible, it's ready for professional photos. This should be the last step before you list the house for sale.
How to Market and List Your Home
Marketing your home for sale requires growing reliance on digital skills, along with traditional real estate marketing and face-to-face showings with potential buyers.
Marketing Practices for Selling a House
Coordinate professional photos of the property for listings
List your home on websites and apps
List your home in the MLS — Multiple Listing Service — database, which allows real estate agents and brokers to see the home is for sale
Use yard signage
Host an open house
Host a showing for agents or brokers
Host showings for potential buyers
If you have a real estate agent, they will typically take care of all these steps. If you are selling the house yourself, you'll need to do these yourself.
Post Your Listing Online
The internet has become the leading source for homebuyers looking to find a new house — 51 percent of recent homebuyers listed the internet as where they found their home in 2020, according to research from the National Association of Realtors. That's up from 37 percent ten years earlier.
The study also found that 43 percent of homebuyers looked at properties online before ever contacting a real estate agent.
Professional photos of your home can be an additional expense but can pay off if done correctly. Among homebuyers shopping for a house online, 89 percent reported photos were "very useful" in their choices, according to NAR research.
Showing Your Home to Potential Buyers
Home showings are critical to selling your house, but they can be complicated if you are still living in the home. In this situation, you'll need to keep your home in showroom condition.
You'll also need to move quickly when someone wants to schedule a showing. These can crop up at the last minute, leaving you little time to tidy up and be gone when they show up.
How to Maintain a Presentable Home
Clean frequently.
Pick up — and pare down — kids' toys.
Keep countertops and other surfaces clear of clutter.
Put away items from cookware to toothbrushes as soon as you're done using them.
Have a place to take the pets away from the home and yard during showings.
Have someone else show the house — even if you are selling the home yourself. Give potential buyers the chance to experience the space without distractions from the current owners. Their real estate agents typically will tour the home with them, but you can ask your agent to be there as well.
Expect to be flexible. You'll need to bend your schedule to meet the needs of your potential buyers.
Reviewing and Negotiating Offers
In a competitive housing market, you may get offers right away that can come in above your asking price. On the other hand, if housing sales are slow in your neighborhood, you may have to negotiate to get the best price.
Real estate agents can provide advice and guidance in how to approach any offer.
When you receive an offer, you have three options: accept it as is, reject the offer or make a counteroffer.
A counteroffer is your response to how much a potential buyer is willing to pay for the house. The buyer may want repairs made or other changes before buying. They may also offer less money for the house than you're asking.
You can offer to make requested changes or propose another sale price.
In any case, you should make sure your counteroffer is in writing and only valid for 48 hours or less.
The Highest Offer Isn't Necessarily the Best Offer
Don't rush to accept the highest offer you get. Look it over and consider several factors to make sure the highest offer is also the best deal for you.
Most people will be buying with lender financing — a mortgage loan. The bank or lender is going to want an appraisal before they turn over the cash. If the appraisal comes up short of the offer, the deal could fall through.
Also consider the closing date included in the offer — how does it fit with your plans to move out of the house or with your purchase of a new home?
The offer may also require you to leave certain appliances or other personal property in place. You'll need to consider replacement costs related to the move.
Closing on Your Home Sale
Both the buyer and the seller pick up a portion of the closing costs, but the seller has a larger share.
The typical closing costs for the buyer are 2 to 5 percent of the purchase price, and 8 to 10 percent for the seller.
That means the seller could be looking at $32,376 to $40,470 in closing costs based on the late-2021 median sales price of a home — $404,700, according to the U.S. Federal Reserve.
Common Closing Costs Paid by the Seller
Transfer taxes
Recording fees
Outstanding liens
Credits toward closing costs
Agent commission
Title insurance
Escrow and closing fees
Property taxes (prorated to date of closing)
HOA fees
Attorney fees
You should be sure to budget your anticipated closing costs into your home sale expectations. Talk with your real estate agent in the early stages of the home selling process about closing costs and other potential expenses you may expect.
Please seek the advice of a qualified professional before making financial decisions.
Last Modified: February 25, 2022
Share This Page:
9 Cited Research Articles
Annuity.org writers adhere to strict sourcing guidelines and use only credible sources of information, including authoritative financial publications, academic organizations, peer-reviewed journals, highly regarded nonprofit organizations, government reports, court records and interviews with qualified experts. You can read more about our commitment to accuracy, fairness and transparency in our editorial guidelines.