Home Equity Loan
The ability to leverage the equity built in your home is a significant advantage to being a homeowner. Whether you have major home improvement projects to fund, personal debts to consolidate, emergency costs or even need access to capital to start a new business, there's no limit to what you can use a home equity loan for.

The longer you hold on to your home, the more equity you have a chance of building. Your home serves as collateral, giving you the ability to tap into your home's equity to take out a home equity loan. This affords you the opportunity to borrow a large lump sum of money. The goal is to choose the most cost-effective solution to meet your needs while minimizing risks.
Home equity loans can prove to be beneficial as they offer potential tax advantages and lower interest rates than personal loans. They give you the potential to save on interest by consolidating your high-interest debts and have long repayment terms. Many lenders have strict requirements when taking out home equity loans, so before applying, it is best to ensure that you maintain a healthy, excellent credit history along with a low debt-to-income ratio to be considered for the most favorable rates.
Also, be aware that there may be additional associated closing costs and fees to consider when applying for a home equity loan. Regardless, there are many benefits and home equity loans are a good choice for large cash needs.
What Is a Home Equity Loan?
A home equity loan, also known as a second mortgage, is a loan for homeowners wherein the home's built equity is borrowed against as collateral. Your home's equity is simply the difference between the amount owed on the mortgage and the current value of your home. You own this percentage of the home's value. This gives you the ability to convert that equity into a lump-sum amount of money as a loan, which you typically repay with equal monthly payments over a fixed term.
How Home Equity Loans Work
Over time, the value of your home increases. For example, a home you originally purchased for $215,000 may now be worth $300,000. You've paid down your mortgage by $15,000, so now you have a total of $100,000 in equity. Once you build enough equity in your home to about 15% to 20%, you can now take out a home equity loan.
Most lenders will let you borrow between 75% to 85% of your home's value. In this example, you can borrow $75,000 to $85,000 of your home's $100,000 equity. At some point, you may have a situation where you need to borrow some cash. With the increased equity in your home, you can apply with a lender to borrow against the value of your home with funds delivered as a lump sum through a home equity loan.
You can use these funds for any reason, whether it is to fund a home improvement project, consolidate your personal debts, start a business or cover an emergency‌. As a second mortgage, the home equity loan requires a separate monthly payment, which is based on a fixed interest rate. The repayment term on a home equity loan is up to 30 years and the interest may be tax deductible.
What are the Pros and Cons of Home Equity Loans?
There are several pros and cons to consider with a home equity loan:
Pros
The interest payments may be tax deductible if you use the loan funds to "buy, build or substantially improve your home."
Your payments are predictable and won't change since you are borrowing one lump sum.
The interest rate is fixed and lower than the interest rate on a personal loan, since your home is the collateral.
Spending is flexible and you can use the money for any purpose.
Cons
You risk losing your home to foreclosure if you fail to make payments on your home equity loan.
The home value could decrease, which will cause you to have to pay more.
It's not a quick process. Home equity loans involve lots of paperwork, time and strict requirements. You'll need to have a good credit score and low existing debt.
Additional loan costs can add up, such as closing costs and lender's fees.
What Are the Differences Between Home Equity Loans and HELOCs?
The terms "home equity loan" and "HELOC" may sound similar, but, although both allow you to borrow money based on your home's equity, they have differences. Lenders disburse funds from a home equity loan as an upfront lump sum while they disburse HELOC funds as needed (like a credit card).
If you're unsure of the exact amount of funds you need, then a HELOC offers greater flexibility. With a home equity loan, you must be sure of the exact amount needed to borrow. The interest rates on a home equity loan are also fixed and the monthly payments are predictable since they are the same every month. However, on a HELOC the interest rates are variable, so the payments change‌.
You can expect to repay the funds on a home equity loan as soon as the loan is disbursed versus paying only interest during the draw period and then principal and interest afterward on a HELOC since you repay the funds slowly.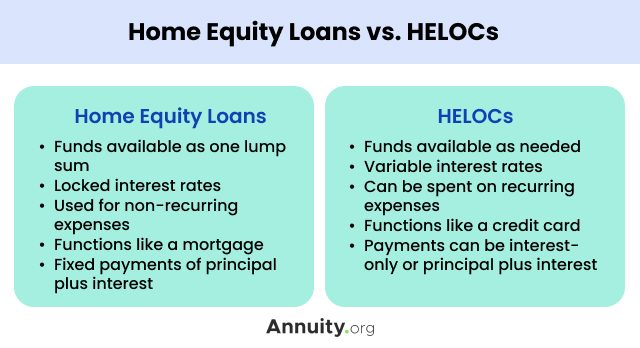 Who Is a Home Equity Loan Right For?
A home equity loan is right for you if you have a specific project in mind and are sure about the exact amount of funds you need to borrow since there is no limit to what you can use the funds for.
If predictable monthly payments suit your financial situation and you prefer a loan with a fixed interest rate that never changes, then this type of loan will be a suitable option.
If you want to consolidate your high-interest credit card debt into a lower interest rate, a home equity loan also gives you the opportunity to pay off your debts quicker.
Are There Other Alternatives to a Home Equity Loan?
There are alternatives to consider if a home equity loan isn't right for you:
Home Equity Loan Alternatives
Cash-Out Refinance

When the homeowner refinances their mortgage into a new mortgage (at a lower interest rate) then borrows more money than what they need to pay off the current mortgage. The first mortgage is paid off and the additional funds are paid out in lump sum as cash to the homeowner at closing.

Home Equity Line of Credit (HELOC)

A revolving line of credit secured by the home that gives you access to draw cash when and if you need it. You can borrow as much or as little as you need up to your approved credit line. During the draw period, you pay interest only. Then, during the repayment period, you pay both interest and principal. The interest rate on a HELOC is variable.

Personal Loan

Allows you to borrow a certain amount of money from the bank for your personal needs. You repay the loan based on an agreement to a fixed interest rate, set term and monthly payment amount.
Frequently Asked Questions About Home Equity Loans
What are the requirements for a home equity loan?
Lenders have varying requirements for home equity loans. Generally, to take out a home equity loan, you must have enough equity built up in your home — that means at least 15% to 20% in equity — to qualify.

Lenders will also check your credit report to ensure that you have a reliable history of paying your debts and that you maintain a good credit score. They tend to favor borrowers with a debt-to-income ratio (DTI) below 36%, however, some may consider a DTI of up to 43%.
How much can you borrow against the value of your home?
The amount you can borrow against your home is determined by the amount of equity you have in your home — the current value of your home minus the amount you owe on your mortgage. Other factors, such as your credit history, income and debt-to-income ratio, also determine your loan amount. Many lenders prefer ‌you borrow no more than 80% of the built equity in your home.
What do I need to know before applying for a home equity loan?
Before applying for a home equity loan, you need to know what you are going to use the money for so you can borrow the right amount since you only get one lump-sum amount, unlike with a HELOC which allows you to draw funds as you need them.

Always ensure that you have a healthy history of paying your creditors and debtors on time to keep a good credit score. Lenders want to be sure they are lending to a responsible person. Keeping your debt-to-income ratio low by paying down your debts will put you in a favorable position to be considered for a home equity loan.

Understand that, since a home equity loan is considered a second mortgage, failing to make payments on the equity loan could cause you to go into default and possibly even lose your home.
Please seek the advice of a qualified professional before making financial decisions.
Last Modified: August 1, 2022
Share This Page:
2 Cited Research Articles
Annuity.org writers adhere to strict sourcing guidelines and use only credible sources of information, including authoritative financial publications, academic organizations, peer-reviewed journals, highly regarded nonprofit organizations, government reports, court records and interviews with qualified experts. You can read more about our commitment to accuracy, fairness and transparency in our editorial guidelines.
Federal Trade Commission Consumer Advice. (2021, December). Home Equity Loans and Home Equity Lines of Credit. Retrieved from https://consumer.ftc.gov/articles/home-equity-loans-and-home-equity-lines-credit
Sandberg, E. (2020, June 19). How Does a Home Equity Work? Retrieved from https://www.experian.com/blogs/ask-experian/how-does-a-home-equity-loan-work/