Home Insurance
A home insurance policy pays for losses or damage to your property if something unexpected happens, like a natural disaster or home burglary. Having home insurance coverage can make the difference between needing to come out of your own pocket financially and having the insurance company cover most costs in the event of a crisis. Most lenders typically require proof of homeowners insurance to secure a mortgage.

As a homeowner, it's important to make sure your investment is always protected. Something as sudden and costly as a tree falling on your home in a lightning storm or someone becoming seriously injured from a fall while visiting your home could set you back quite a bit, especially if you don't have the savings to cover damages or hospital visits.
With home insurance, you will only be responsible for paying the deductible in the event of an emergency event like those listed above. When searching for home insurance, it's best to compare different insurance agencies and rates. And you should always ensure that you choose a policy that has adequate coverage for your property.
How Does Home Insurance Work?
Home insurance is made up of several coverages to protect you against different risks, sometimes referred to "perils" within the policy's documentation.
In the event something happens to your property or personal belongings, you file a claim with your insurer. The insurance company estimates and assesses the damages — and you pay any applicable deductible — then the insurance company pays to repair or replace your structure and/or personal property based on the type of coverage you have in your policy at replacement cost (current prices) or actual cash value (replacement cost minus depreciation).
Types of Home Insurance
There are eight different types of home insurance policies:
HO-1 Policies

Offer basic coverage, only protects dwelling.

HO-2 Policies

Offer broad coverage beyond basic forms, protects personal belongings and includes additional perils.

HO-3 Policies

Offer coverage for homeowners, protects dwelling, belongings, and liability.

HO-4 Policies

Offer coverage for renters, protects personal property and personal liability.

HO-5 Policies

Offer coverage for brand new homes. Most comprehensive and highest level of coverage.

HO-6 Policies

Offer coverage for condos, protects the structure, items inside and owner's personal liability.

HO-7 Policies

Offer coverage for mobile homes, trailers and modular homes.

HO-8 Policies

Offer coverage for older and historically significant homes built more than 40 years ago.
Average Costs
According to the 2022 National Association of Insurance Commissioners (NAIC) report, the average cost of homeowners insurance in 2019 (the latest data available) is $1,272 per year or $106 per month.
Determining Factors of Rates
When it comes to determining the rate you are quoted for your home insurance premium, there are many factors that influence this decision — and no two rates will be the same.
One of the biggest factors is rebuild or replacement costs. In other words, if your home was destroyed and determined to be beyond inhabitable conditions, how much it would cost to rebuild the property on the land. Other factors that play into your insurance premium include your credit score, your insurance deductible, your home's age and value, the construction type, where you live, extra features that might add risk and the value of the belongings in the home. Any safety features that you have in the home such as fire alarms, fire sprinklers, burglar alarms and deadbolt locks could also qualify you for available discounts in the quote.
What Does Home Insurance Cover?
The standard home insurance policy includes, but is not limited to, several coverages:
Personal Property
If your personal belongings, such as your jewelry, clothing and electronics, are stolen or your furniture is damaged in a fire, your home insurance will cover your personal property. You typically have the option in your policy to choose whether to repair or replace the item at the actual cash value or to be reimbursed for replacement costs, subject to policy limits and deductibles.
Personal Liability
Imagine you have a guest visiting your home who falls and suffers a broken leg, or maybe your pet or someone living at your home accidentally causes bodily injury to the guest which requires medical attention. In the event that the guest files a lawsuit against you, the home insurance policy will cover liability up to a certain limit. Generally, liability limits start at $100,000 — although higher levels of protection can be purchased.
Property Damage
During a lightning storm, the roof of your home may, unfortunately, get damaged by a falling tree. The home insurance policy will cover the damages and costs to replace or repair the roof to its original condition.
Someone could also inflict vandalism upon your home, causing damage to your property. In the event you file a claim in this scenario, your property would be covered by home insurance.
Additional Living Expenses
In the event there are significant damages to your home which prevent you from being able to inhabit it, home insurance will cover any additional living expenses that you may incur. For example, you may need to stay in a hotel until the repairs are completed. The home insurance policy will reimburse you for expenses, such as hotel stay and meals, that you had to pay out of pocket.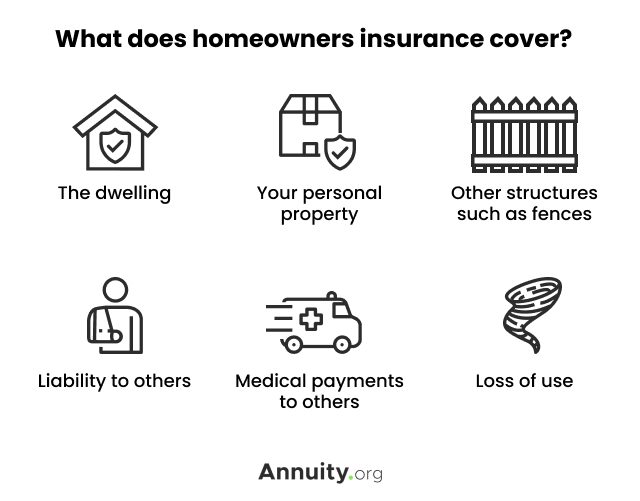 What Isn't Covered By Home Insurance?
It's important to know what home insurance does not cover. This knowledge will prevent confusion down the line should you experience any of the following.
Earthquakes
Most homeowners don't consider the perils of earthquakes since they are not common in most states. The same can be said for the possibility of sinkholes. Catastrophic events such as these can cause costly damage to a home, but neither is covered by the typical home insurance policy. Earthquake insurance can, however, usually be purchased as an addendum to the policy.
Flooding
The standard home insurance policy does not cover flooding. This includes water damage if your home is located in an area that is considered high risk, or if you have an overflow from the sewer system or drains. Flood insurance must be purchased in a separate policy from the National Flood Insurance Program to cover damages.
Maintenance Issues
As a homeowner, it's your responsibility to ensure that you are keeping up with the proper maintenance of your home. A homeowners insurance policy will not cover any wear and tear, mold, rot or damage to your home due to termites or rodents. Also, should your home suffer a power outage and your food spoil, that damage is not covered. Treating your home with TLC is important to prevent having to pay for uncovered costly repairs.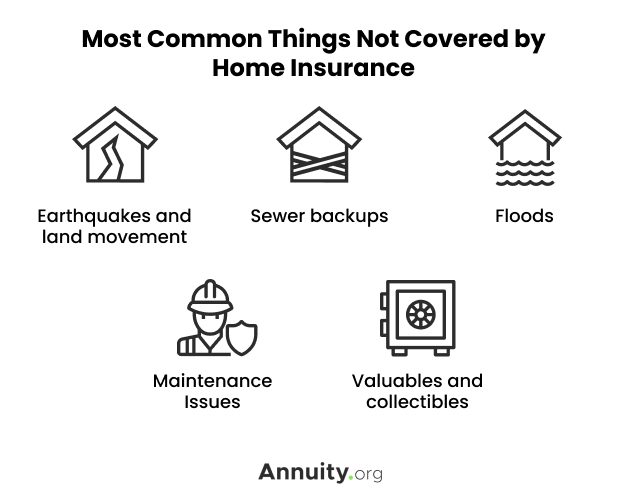 How Is Home Insurance Different From Other Insurance Types?
There are several other types of insurance policies available based on different needs. Understanding how each insurance differs from home insurance will help you ensure you select the adequate insurance to protect your home.
Condo Insurance
Condo insurance is an insurance policy purchased by the condo owner to protect personal belongings, such as clothing, furniture and appliances, or to recover costs from damage to the condo, cover living expenses and any medical payments for guests. It provides mostly the same coverage as homeowners insurance.
Flood Insurance
Flood insurance is a separate property insurance policy that can be purchased to cover damages and losses related to floods. With flood insurance, your home and personal belongings are protected in the event of water damage related to a catastrophic event.
Mortgage lenders may require homes located in high-risk areas to purchase flood insurance. A home insurance policy does not provide coverage for flood damage. Flood insurance can be purchased through the National Flood Insurance Program with the help of a local agent.
Property Insurance
Property insurance provides coverage to protect the structure and personal belongings of owners or renters against risks such as vandalism, theft, fire, smoke and other weather-related damage like wind, hail, snow, ice or lightning. It is essentially the same as homeowners insurance, and the terms are often used interchangeably.
Renters Insurance
Renters insurance is an insurance policy purchased by the tenant renting an apartment, condo or home to protect their personal property. It covers loss and destruction of personal belongings, liability from guest injuries and additional living expenses due to theft, vandalism or weather-related damage.
Renters insurance is different from home insurance as it does not cover the property structure and fixtures, only the personal belongings of the renter.
How Long Does It Take To Get Home Insurance?
Once you've decided on which insurance agency you would like to purchase insurance from, it typically can take a few minutes to a few days to buy a home insurance policy. If your insurer requires a home inspection, it could take more time to process your application. Once you sign your policy, the insurance agency will then provide the insurance declaration documents to your lender.
What To Consider When Comparing Home Insurance Companies
When comparing home insurance companies, the best starting point is to inquire with your lender whether they know of any good insurance companies that provide reasonable and adequate home insurance coverage in your area. From there, you can also do research on other home insurance companies based on reviews online from people who are current or past customers.
Choose three to four different insurance companies to compare. When you compare home insurance quotes, take into consideration the total annual cost, specific details of what is included as covered in the policy, the deductible amounts and the coverage limits. You want to ensure that your home is adequately covered by a reputable insurance agency with the best discounts — and that the policy is not out of your price range.
Frequently Asked Questions About Home Insurance
Please seek the advice of a qualified professional before making financial decisions.
Last Modified: May 6, 2022
Share This Page:
5 Cited Research Articles
Annuity.org writers adhere to strict sourcing guidelines and use only credible sources of information, including authoritative financial publications, academic organizations, peer-reviewed journals, highly regarded nonprofit organizations, government reports, court records and interviews with qualified experts. You can read more about our commitment to accuracy, fairness and transparency in our editorial guidelines.