Florida is one of only nine states with a substantial, valuable perk for annuity buyers: no state income tax. While taxation may not be every buyer's priority consideration when purchasing an annuity, it is still a significant factor that will vary by state.
As you plan for your Florida retirement on the beach, near the theme parks or somewhere in between, consider the annuity rules and options specific to the Sunshine State.
Buying an Annuity in Florida
Annuities are insurance products, and they are regulated at the state level. When you buy an annuity in Florida, the contract is subject to Florida's standards for charges, benefits and protections.
Florida generally places fewer restrictions on annuities, which may translate to less protection for consumers, compared with states like New York or California, which heavily regulate the products.
Annuity companies must be licensed in Florida to sell you an annuity in the state. The Florida Department of Financial Services keeps record of all insurance companies licensed to do business in Florida. You can conduct a company search via the Office of Insurance Regulation website.
If an agent recommends that you buy, replace or exchange an annuity in Florida, the agent must complete a suitability questionnaire. You and the agent must sign the form for the transaction to be acceptable in Florida, and the agent must give you a copy of the form no later than the date your contract is delivered.
The cover page of your annuity contract must contain certain disclosures and provide contact information for the selling agent, the issuing company and the toll-free helpline for the Florida Department of Financial Services.
Florida requires insurance companies that sell annuities to allow a 21-day free-look period for fixed annuities and variable or market value annuities. This allows buyers to devote extra time to reviewing the terms of the contract and to confirm that the annuity will fit their needs. During this period, the buyer can cancel without penalty.
Annuity Providers in Florida
A wide range of state-licensed providers know the Florida-specific regulations, and they can help guide you through the purchasing process. As you consider which insurer is right for you, you can gauge each company's financial strength through the provider ratings offered by credit rating agencies.
Annuity Products Available in Florida
| Product Name | Rate | AM Best Rating |
| --- | --- | --- |
| Guarantee Shield | 1.75% | A- |
| Multi-Year Guaranteed | 2.90% | A- |
| Multi-Select | 1.60% | A- |
| Platinum Assure | 2.80% | A |
| Guarantee Platinum | 2.80% | A- |
| Guarantee Choice | 1.90% | A+ |
Find The Right Annuity For You
Annuity & Other Retirement Taxes in Florida
Florida does not have a state income tax, which is a major perk for annuity owners and retirees. When you begin receiving payments from your annuity, you may be subject to federal taxation on that income, but you will not owe additional state tax.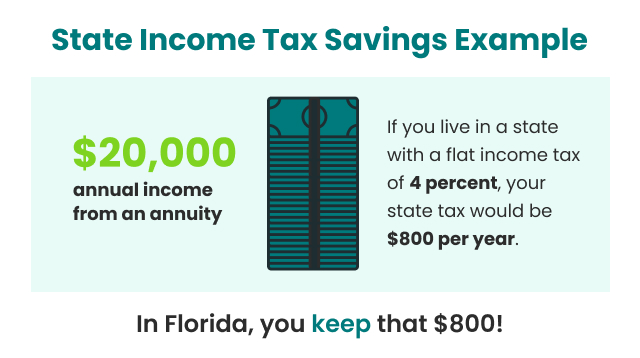 Moreover, Florida does not have a state premium tax, or a sales tax when purchasing the annuity, if the annuity tax savings are credited to the annuity owners.
After you retire in Florida, your Social Security benefits will not be taxed by the state. Florida has no inheritance or estate taxes.
Interested in Buying an Annuity?
Learn about the different types of annuities and find out which one is right for you.
Annuity Regulations in Florida
Florida, like other states, has regulations and suitability standards in place for annuity sales.
Prior to 2013, only Floridians over the age of 65 needed to meet the suitability requirements for annuity purchases. Then, the Florida State Senate passed a law to extend the standard to all ages.
The law states that an insurer or agent must "have reasonable grounds for believing the recommendation is suitable for the consumer, based on the consumer's suitability information."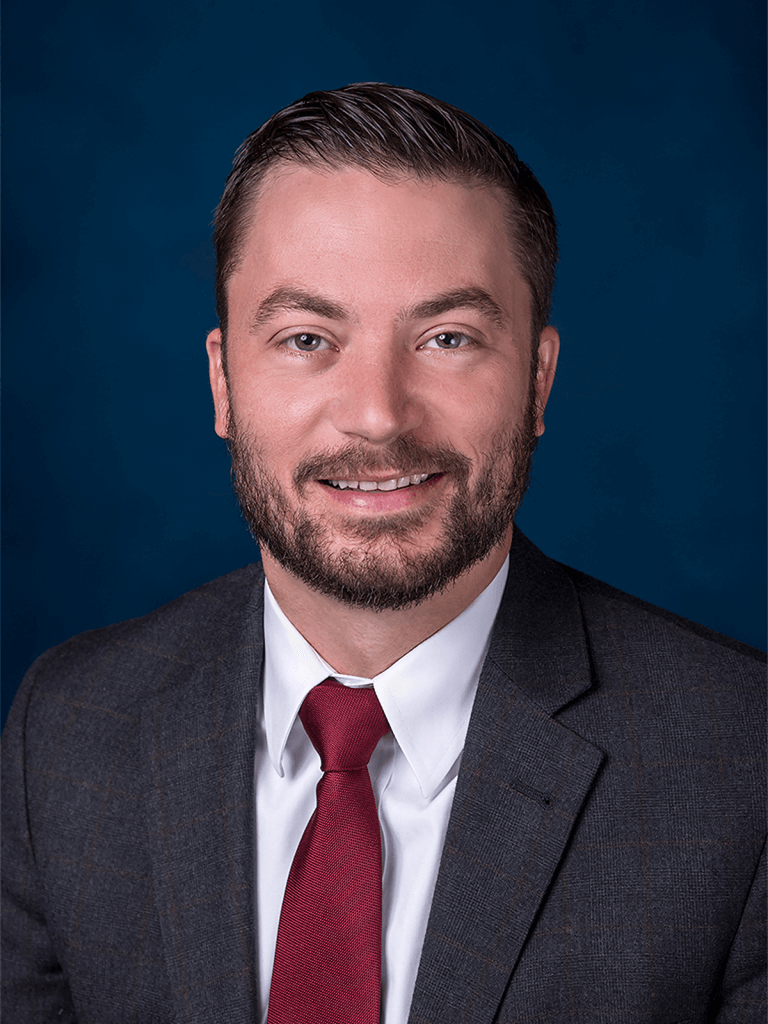 The National Association of Insurance Commissioners, or NAIC, further updated its Suitability in Annuity Transactions Model in 2020 to promote consistency among the states. While Florida's provisions generally align with best practices, the state has not yet formally adopted this regulation.
"But, obviously, the best interest standard is critically important to us as state insurance regulators," said David Altmaier, NAIC president. "And so, we'll have some conversations about timing with respect to Florida pretty soon."
Are Annuities Protected from Creditors in Florida?
According to Florida Statute 222.14, proceeds and cash surrender values for annuities and life insurance are exempt from judgement creditors. The specific protection is under Title XV Homestead and Exemption, Chapter 222 Method of Setting Apart Homestead and Exemptions. It reads: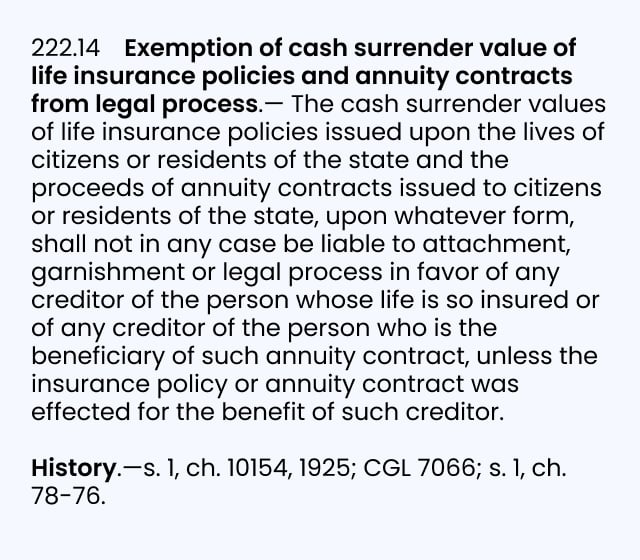 What Is the Florida Life & Health Insurance Guaranty Association?
The Florida Life & Health Insurance Guaranty Association was created in 1979 to protect Florida residents if their insurance company fails to cover claims. The state guaranty association currently protects eligible annuity contracts up to $250,000 per owner.
For example, if you own two annuities with the same company — one worth $200,000 and one worth $150,000 — the association may cover up to the $250,000 limit. You could then submit a claim for the remaining $100,000 against the estate of the insolvent company.
You must be a valid Florida resident on the date the insurer is declared insolvent and is liquidated to be eligible for coverage. You can still qualify for coverage even if you subsequently move to another state.
If you own a variable annuity, the Florida Life & Health Insurance Guaranty Association will cover only the portion of the annuity that is guaranteed by the insurer, or the fixed interest accounts. The guaranty association will not cover underlying investment portfolio options that are not guaranteed by the insurer.
Other Resources for Florida Annuity Buyers
Florida has regulatory authorities and departments that provide structure and support for residents. We've compiled a list of resources that provide direction and assistance with financial products, service companies, financial institutions and collection agencies.
The department has a consumer helpline: 1-877-MY-FL-CFO (1-877-693-5236) or 850-413-3089 for out-of-state callers.

The state's guaranty association website details the annuity consumer protections for Florida residents.

According to its website, "The Office serves Floridians through its responsibilities for regulation, compliance and enforcement of statutes related to the business of insurance." The site provides a company search function and other consumer resources.
Florida buyers can file complaints by telephone, online or email. Insurance companies must respond to the complaint within 20 days of filing.