What Is a Retirement Income Fund?
As the name implies, a retirement income fund (RIF) is a type of investment vehicle designed to provide a steady stream of income to individuals during their retirement. An RIF provides income in retirement by investing your savings in a portfolio of income-oriented assets such as bonds, floating-rate bank loans, dividend-paying stocks and real estate, and then periodically distributing the earnings from these assets back to its pool of investors.
Multifaceted investments like RIFs can be a key part of a retirement plan. However, RIFs are not designed to provide guaranteed income. Unlike annuities, RIFs can be highly sensitive to downturns in the market, which can lead to a loss of investment and erratic income streams.
Types of Retirement Income Funds
Generally, RIFs are structured as mutual funds, but other structures do exist, such as exchange-traded funds and limited liability partnerships. Regardless of the structure, RIFs are meant to provide their investors with a steady stream of income. The size and reliability of this income stream may vary, however, depending on the assets the fund is invested in and their inherent risks.
RIFs are branded with a variety of descriptive terms, such as high-income, income-oriented, multi-asset and balanced. The underlying strategies can differ, but the overarching objective is consistent — to generate consistent income as sustainably as possible.
To generate such consistent income, most RIFs consist of a heavy allocation of U.S. investment-grade bonds; a sizeable allocation of large, global stocks; a meaningful allocation of yield-enhancing, satellite asset classes; and a prudent allocation of cash and cash equivalents.
A hypothetical portfolio structure, which is commonly referred to as an asset allocation, is shown in the graphic below.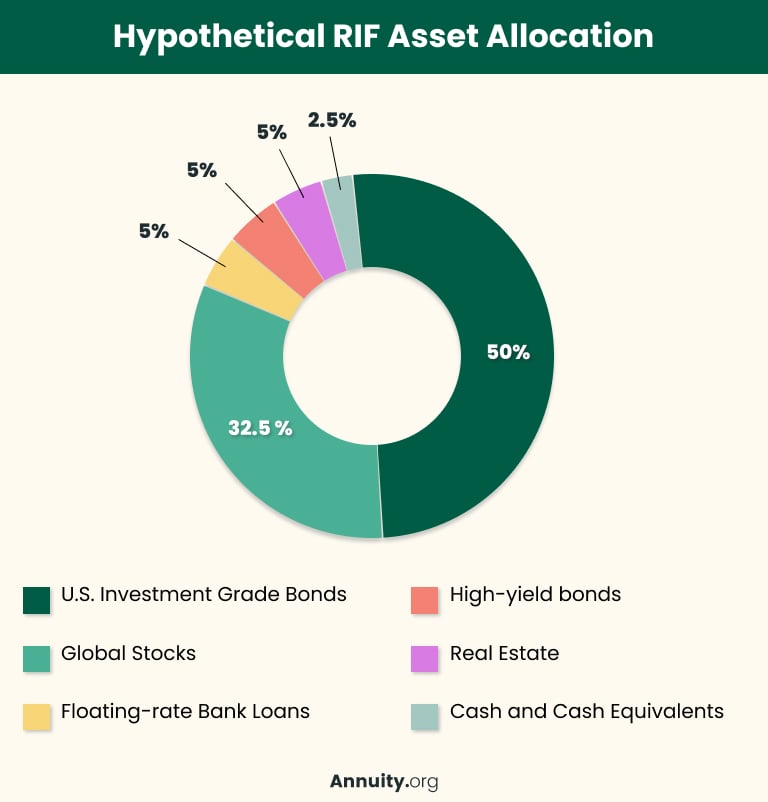 Fund Allocation Strategy
The sample RIF portfolio is anchored by its diversified exposure (50.0%) to U.S. Treasuries, corporate bonds, mortgage-backed securities and other publicly traded, asset-backed securities. These high-quality bonds are expected to generate the most significant amount of income for the portfolio — ideally, in increasingly large chunks as interest rates rise from historic lows.
The second-largest exposure in the fund is to global stocks (32.5%), which generate dividend income and provide growth potential to protect you from longevity risk, which is the possibility that you will outlive your retirement savings.
The third-largest exposure (15.0%) reflects the aggregation of three yield-enhancing assets — floating-rate bank loans, high-yield bonds and equity positions in real estate.
The remaining allocation is to cash and cash equivalents (2.5%), which provide a source of liquidity.
Benefits of Retirement Income Funds
The primary benefit of RIFs is the large amount of income they can produce in a low-risk manner. Because they are considered low-risk, RIFs can be invaluable to retirees who are looking for a reliable means to cover their day-to-day expenses and, possibly, fund non-essential purchases, too.
On the surface, RIFs definitely fit the bill. The funds offer the simplicity of an all-in-one portfolio with diversified exposure across several strategically coordinated types of asset classes. However, as outlined below, RIFs can have some notable drawbacks.
Drawbacks to Retirement Income Funds
The most prominent risk associated with RIFs is their exposure to price volatility, which can arise for many reasons, including fluctuations in the stock market, rising interest rates and liquidity concerns. Because of this price volatility, an RIF should never be considered a guaranteed source of income. While most of its underlying assets may exhibit a high degree of stability, an RIF will always exhibit some degree of downside risk.
The second most notable risk associated with RIFs relates to credit quality, which is a measure of a borrower's ability to repay a debt. Some RIFs may invest in the debt instruments of financially weak companies or government bodies in an attempt to boost yield, a situation that can lead to defaults and investment losses.
The third risk relates to asset allocation. While bonds and other interest-bearing debt instruments form the foundation of nearly all RIFs, stocks are another important component. Unfortunately, some RIFs hold an insufficient amount of stocks, which can limit the potential for growth and increase the risk that you will outspend your investment.
The final risk to note is one that can extend to all corners of the RIF universe — excessive fees. In an ideal world, you'd pay the lowest possible fee and generate the highest possible stream of sustainable income. However, not all RIFs are created equal, and not all investment products are fairly priced.
As a result, before you invest in an RIF, carefully assess its nature, the quality of its management team and the competitiveness of its fee structure. It's also important to recognize that RIFs can be either actively or passively managed.
Passive management is less expensive than active management, but active management is often best for RIFs, especially when the funds involve complex assets with unique risk profiles. The complexity of some RIFs may warrant a higher management fee, but in general, you should avoid RIFs with excessive fees.
Note
It's not uncommon for more complicated RIFs to levy an annualized management fee of 1%.
Closing Thoughts
Investing your money in a retirement income fund can be a valuable tool for retirees — as long as the RIF you select is structured properly and priced economically. Be sure that the RIF holds a diverse mix of assets to provide a sustainable stream of income, adequate growth potential and the ability to withstand market volatility, credit deterioration, pressures of inflation and illiquidity.
Finding an RIF that fits these requirements isn't an easy feat, but it can be done. Nevertheless, many retirees may be reluctant to rely solely on an RIF, as there is a risk that you will outlive your retirement income and simply run out of money. If you are highly risk averse, an immediate annuity or a deferred annuity may be a better alternative — or a reassuring complement — to an RIF. Learn more about these insurance products as an alternative to RIFs.